It's Not Just a Job - It's an Adventure!

Laura Gelezunas - PVNN

When you enjoy what you do for a living, it's really not considered working. And at Puerto Vallarta's leading tour company, Vallarta Adventures, many of the employees consider their duties a bit out of the ordinary.


Encouraging creativity, personal and professional fulfillment, teamwork, and a passion for exploring the natural beauty, diverse cultures, and history of Mexico, Vallarta Adventures provides employees with a work environment that is personally fulfilling and professionally stimulating.


Armando Cruz, a modern day Tarzan and Outdoor Adventure team leader, is one guide who feels that it's not just a job, it's an adventure. When asked about what it was like to be a part of this thrilling tour for two-and-a-half hours, three times a day, he said, "I like working here, this mountain top, high in the Sierra Madres, is what I call my office. Vallarta Adventures is pretty much the NFL of tour companies, and the best part of my job is that I get paid for doing it."


Part of Vallarta Adventures' Outdoor Adventure tour includes sailing through the air high above the trees and deep ravines. "As long as I have a zip line, I'm free for those 10 or 15 seconds that I fly across from one side to the other of the canyon," says Armando. "There's nothing else but freedom, I feel I'm like flying, and right after we go repelling, hiking and wading, I can show those feelings to the people who visit us... it's great!"


Along the trail he talks about the plants and animals found in the jungle and tells stories about the ancient people who once roamed the mountains. "Here I'm free to do what I like best, entertain people and share my Mexican culture with foreign people. I want them to see what we have here in Mexico and why this is a great country."


Originally from Mexico City, Armando decided it was time for a change and headed to the west coast. "I used to work in an office eight hours a day, all that commuting time on the highway, it was not all that fun," says Armando. "But now I drive a 4X4, that's pretty cool, I ride mules, I fly, I repel and it's fun."


This hyper guy is always looking for something new and exciting, but found this job the old fashioned way. "I saw an ad in the newspaper for tour guides and I thought it would be something cool to do," says Armando. "At the time I was working down town as a bartender and I pretty much discovered that my calling was working with people. After a couple of months, Vallarta Adventures gave me a call, and I got all excited about my new job. However, after the first week of training, I thought I was going to die because I discovered many different muscles in my legs, arms and torso, I was so exhausted."


The tour company takes safety and emergency rescue training seriously and puts all guides through many paces. Over the last three years, Armando has excelled in his chosen profession, working his way up from a Vallarta Adventures trainee, to a guide, to a tour team leader.


"We are so blessed to have a place like this to work in," says Armando. "It doesn't feel like a working environment, it feels more like spending your day in a huge playground." And he promises to make his part of the five-hour tour the best Outdoor Adventure you will ever experience.


For more information about the Outdoor Experience tour, click HERE. To find out more about the exciting job opportunities available at Vallarta Adventures Tour Company in Puerto Vallarta Mexico, visit Vallarta-Adventures.com.
---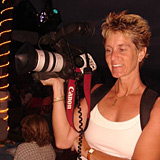 After having spent 10 years in the world of US broadcast news, Laura Gelezunas decided to unleash her skills on Puerto Vallarta by opening Video Diva Productions, a full-service, professional digital video company. Whether you're interested in a sales video, WEBmercial, music video, feature story, documentary, or corporate event video coverage, she has the experience, equipment and talent to coordinate a professional production. For more information, visit her website at VideoDivaProductions.com.