Vallarta Living | July 2008
People Need Help, Even in "Paradise"

Hartriono B. Sastrowardoyo - Asbury Park Press
go to original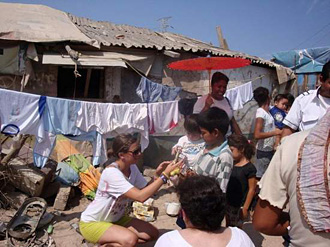 Carlie Himelman (crouching and providing assistance), 16, of Toms River went to Puerto Vallarta, Mexico, in June to help people who live at the municipal dump there, surviving on discarded trash.

Toms River - According to the official website of Puerto Vallarta, Mexico, "every day is cause for celebration." Tourists are drawn to this city on the country's Pacific coast, known for its beaches and bullfighting, golf and gastronomic festivals, surfing and snorkeling. Indeed, tourism officials call Puerto Vallarta a "Mexican seaside paradise."


Carlie Himelman, a 16-year-old township resident, and her mother, Marie, saw little of that in June.


"You walk out the door, and you see a sign welcoming you to paradise. But you don't see that where we were," said the elder Himelman.


The two spent 10 days taking part in an effort to help people who scrounge for items they need for day-to-day living at the Puerto Vallarta Municipal Dump, people who live on the optimistically named Hope Road at the base of the landfill. (The dump is about 25 minutes away from downtown Puerto Vallarta.)


There were about three clusters of homes on Hope Road, with 13 people living in one house by their count. Water for bathing and cooking were stored outside, in uncovered barrels and other plastic containers. Discarded tires formed the steps for another peeling cinder block house.


"I've gone to Puerto Vallarta since I was 3 or 4 years old," staying with the family at a time-sharing vacation property, Paradise Village Resort, said Carlie Himelman, soon to be a junior at Toms River High School South in the fall.


She added, "I've always seen the people that live there, and I always wanted to give back to them in some way."


Two years ago, the owners of Paradise Village Resort, the Paradise Village Non-Denominational Christian Church, and volunteers from Canada, Mexico and the United States formed Families at the Dump. Approved by the Mexican government, the organization provides various support — educational, medical, physical and spiritual — to the 225 families living at the dump.


From June 15 through June 25, Himelman, among other tasks, distributed sweatbands to those working in the dump as well as breakfast to the children. This was the first time Himelman worked with Families at the Dump.


Some of those working the dump are children themselves. One youth, a 16-year-old known as Blanca, is pregnant, perpetuating the cycle of impoverished life. But like the name of the road she lives on, there is hope.


"The future goal of the (Families at the Dump) mission is to provide training for the children and their families to learn new skills including English, mathematics and computer technology to give them better opportunities in the work force," the organization states on its Web site.


Families at the Dump continues, "With education and skilled training, they will have a better chance to leave the city dump and have a better future."


Himelman also brought donations of clothes. An earlier fundraiser at High School South raised about $220 for medical supplies, she said.


"It may not seem like a lot of money," but that amount was of immense help, purchasing needed items such as peroxide, Imodium, sterile dressings and first aid ointments, Himelman said.


The teenager said she plans during future visits to Puerto Vallarta to revisit the residents of the dump. Already, she has started a fund to aid Blanca. (Because Families at the Dump is supported by volunteers as well as the Paradise Village Resort owners, they claim 95 percent of all donations go to the workers and their families at the dump. A listing of their income and expenses is available on their Web site.)


"We're going to bring her diapers, anything she needs," Himelman said.

harts(at)app.com
Tell a Friend
•
Site Map
•
Print this Page
•
Email Us
•
Top