Health & Beauty | August 2008
Have you Seen Jaclyn Smith Lately? One Word .. Fabulicious!

Len - PVNN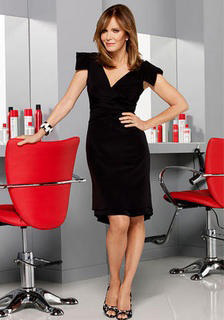 Mainly the show, Shear Genius, is about the confidence to stay current and carry off the total package. Jaclyn had all of that and more and, quite frankly, still does.

"Once there were three young girls ... now they work for me. My name is Charlie." Cue the music. This was the opening dialogue that ABC ran every Wednesday night at 7 pm eastern and 8 pm central time, from 1976 to 1981.


Never in the history of television had a simple TV show created three such beautiful, yet strong and different women. It was in the avant-garde of women's liberation. To this day, I do not think that anyone can compete with Charlie's Angels.


I guess at this point you are wondering where I'm headed now. Let me tell you this. It's not where you think. Oh, sure. Even I had the famous poster of Farah Fawcett with her nipples blazing and hair amazing.


Twenty years later, I find out that the hair, created by the famous José Eber, was constructed mostly of extensions. And as for the breast buttons showing under her jersey blouse, it turns out that it was simply cold in the studio. So go the myths of our legends, all too often.


Kate Jackson, the brainiest of the three went off to raise horses somewhere and make the occasional "B" movie for Lifetime Television. Kate was never in it for the spotlight, per se. She always reminded me of one of my gym teachers, and, as we all know, gym teachers are generally not all that glamorous and certainly not a mainstay on the red carpet. Think Princess Anne.


But, then there was Jaclyn. You know, the one Angel who had brains and could also wear a teeny tiny two-piece on the beach with the best of them. Did you ever notice that she always had a chase scene on the beach? Um, ponder ... as in jiggle. She was quiet, smart, and polite. Yet, at the same time funny and, above all else, well put together. All the time.


So now I'll explain where we are going. I know you are sitting there, scratching something, and wondering, "Why this trip back to the 70s? Is hair really headed back in that direction?" Even if it were, in our summer climate, I would highly advise against it. No, the 70s flip is gone. But, there is a lot that we can use, re-invent and modify for the new century. I know it sounds funny, but some of us, when it comes to our crowning glory, may be still stuck way back then. You know who you are, and you know me. Always trying to stir things up just a little. So update already!


Then - 1979



Now - 2008

My latest fascination with the one and only Jaclyn stems from another television show that I am completely hooked on. Normally not into reality TV, I came across the most amazing contest in boob tube history: "Shear Genius."


One show, one hour, once a week, decidedly the mother of all hair dressing competitions. How fun is this show for me? It's like comparing a flip flop to a high heel. It just can't be done. Picture it: twelve hair dressers from around the country are given two hair styling challenges each week that stretch their creative minds. They slowly get eliminated until someone is declared a "Shear Genius" at the end of the season. It's very competitive, and I won't even begin to discuss the emotions and sometimes downright bitchiness they lob at one another.


Mainly the show is about the confidence to stay current and carry off the total package. Jaclyn had all of that and more and, quite frankly, still does. The woman has got it going on. (That's slang for WOWEE!)


Let's start with the hair, OK? When she first appeared to the millions, her hair was full of big, loose, but very defined curls that cascaded down her shoulders in beautiful shades of auburn and mahogany. They seemed to be filled with bounce from a planet without gravity. How did she do it? I mean running hard down the beach with all that hair just bobbing in place? There must have been a stunt double or a wig, right? Wrong. The answer is much more simple, My People. Product, product, product. Let me explain.


Even though the weather is slightly humid this time of year and the thought of putting anything in your mane for a little bounce and shine fills you with trepidation, it is the key to this summer's perfect doo. We will call it, "the angel."


A good blow dry with a lightweight mouse or smoothing solution is where you start. Blow dry your hair in all the opposite directions that you are used to. I usually get the hair about eighty percent dry with the use of heat, and then, to completely finish drying your hair, I use the hair dryer's cool setting. Continue to push the hair in different back grain directions. This will create the base for our "angel."


Hair spray, root lift or light weight pomade and big fat rollers will finish off our perfect all day and all night angelic look. Take large sections from wherever. The base of the neck is the hardest, so start somewhere else and roll them against the direction they are growing in. At the roots, use a little spray or root lift, and let it dry naturally. Taking out the rollers after about a half hour and shaking lightly will create the perfect light weight, random barrel curls we want. Brush them down until they fall just right and bounce when you walk.


If you want to be a real modern Charlie's Angel, bend over and let all your hair fall forward over your eyes and face. Shake from side to side. Stand up straight, quickly, flipping it back over your shoulders. Jaclyn is still a C.A. at heart, and even today she swears by this technique. Finish the entire look off with a light coat of hair spray ... and voila. Perfection. You have just created the perfect "angel."


And speaking of perfection, let confidence and a feeling of glamour drip down, washing over your entire body. If you can get the BRAVO channel or know someone who can, catch a glimpse of the remarkable Jaclyn Smith on "Shear Genius." She's 62 years old! And she's gorgeous from head to toe: from her hair to makeup to the way she dresses (OMG, those sexy heels) and mainly the way she carries herself.


Use your head, use her as a role model and study a lesson in perfection. We can help you get started at blu. We've been doing it right here in the sultry tropics for three years now!

Photos compliments of bloggingsheargenius.blogspot.com and groups.myspace.com/JaclynSmithFans.
---

Given that Len's very first word was "more," and the second one was "pretty" it is no wonder that he now not only owns and runs the #1 salon and spa in Puerto Vallarta, blu by Len, but also writes a beauty column, "Use Your Head." Whatever you hair may or may not need, Len will know exactly what to do or where to go to find the answer - just send him an email at len(at)blubylen.com.
Click HERE for more articles by Len.
Tell a Friend
•
Site Map
•
Print this Page
•
Email Us
•
Top