Vallarta Living | August 2008
What Makes Banderas Bay So Special?

Jim Scherrer - PVN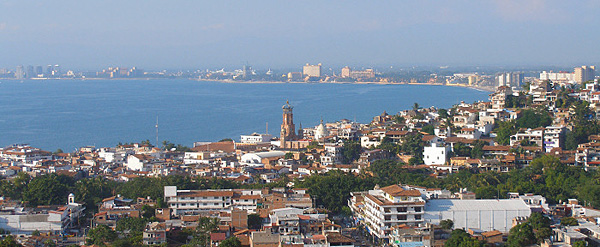 Banderas Bay has over 50 miles of beautiful shoreline, ranging from jagged cliffs to sandy beaches, with the city of Puerto Vallarta essentially in the center.

Some say that Banderas Bay was formed from a volcano; that it is so deep that no instruments have ever been able to accurately detect its depth. Others claim it to be two miles deep. They are all incorrect as it's merely an extension of a canyon running from the Banderas Valley or Ameca Valley with its deepest point near Cabo Corrientes, measured at 900 meters or approximately 3,000 feet.


Many of the local residents and many of the previously written articles about the Puerto Vallarta area will tell you that Banderas Bay is the largest bay in Mexico and the second largest bay in North America, only behind the Hudson Bay.


Obviously they haven't seen the Chesapeake Bay! Again, a slight stretch of the truth in that it's only the third largest bay in Mexico. At approximately 500 square miles in area, one could say that Banderas Bay is a bit smaller than the 6,000 square mile Campeche Bay and the same holds true for Chetumal Bay, the large body of water located south of the Yucatan Peninsula.


Most locals indicate that Banderas Bay is not only the largest bay in Mexico, but it's also the third largest bay in the world. Wow, now that's a real stretch, when you have bays the size of Bengal Bay with its area of 1,300,000 square miles. We hate to burst anyone's bubble, but, Banderas Bay might not even rank in the list of the world's largest bays; nevertheless, it's large and it's deep!


Okay, now that we have the facts out of the way, let's find out what makes Banderas Bay so special.


Unlike Florida, where the elevation might be 50 feet above sea level in the center of the state, the elevation changes in the Banderas Bay area are dramatic. For example, if you head toward the south end of the bay near Cabo Corrientes, you'll find extreme elevation changes. At certain points, you can go inland by a half a mile and find yourself 2,000 feet up in the Sierra Madres looking down at the bay as though you were viewing it from an airplane.


At that same point, if you go offshore by a half mile, you'll find yourself in 3,000 foot deep blue water. In other words, there is a 5,000 foot elevation change in a one mile distance. This creates a 45 degree canyon wall bifurcated by crystal blue water. On one hand you have the lush tropical mountainside fauna and flora, on the other hand you have the beautiful blue bay water; it just doesn't get any more spectacular than that!


The horseshoe shaped Banderas Bay has over 50 miles of beautiful shoreline, ranging from jagged cliffs to sandy beaches, with the city of Puerto Vallarta essentially in the center. The beaches account for approximately 60% of the shoreline thereby providing 30 miles of magnificent beaches lying on the perimeter of the bay.


Regardless of where the beach is located, you will have a panoramic view including the Pacific Ocean, the entire city of Puerto Vallarta, and the Sierra Madres as a backdrop.


Next, with 50 miles of shoreline, we ask, how much of this Wonderland is available to us? The highway running along the bay shoreline extends all the way from Punta Mita at the northernmost point, through Vallarta, and south to Boca de Tomatlan, which is a few miles south of Mismaloya.


Leaving Boca de Tomatlan, the highway heads inland and therefore provides no automobile access to the southernmost 15 miles of shoreline. Furthermore, all of the shoreline south of the Mismaloya area is still classified as Ejido land and is therefore not available to foreigners for purchase. Consequently, at this time, you can forget about owning any part of the southern 15 miles of coastline.


That still leaves us about 35 miles of Paradise, with 10 miles of shoreline located south of Vallarta and 25 miles of shoreline north of Vallarta. Aside from a handful of beautiful little secluded beaches south of Mismaloya, accessible only by boat, virtually all of the 30 miles of Banderas Bay beaches lie within this 35 mile strip which is available for purchasing by foreigners; and purchasing, they are!


Now, what differentiates this bay from the many large shallow water bays of the world is its quantity of humpback whales, giant manta rays, dolphins, marlin, sailfish, and a myriad of other fine game fish that live in deep water.


Not only does the bay average over 1,000 feet deep, but the water temperature, being on the same latitude as Hawaii, is ideal year round for these fish. Of course, if it's good enough for the fish, it's good enough for us! Swimming conditions in the bay are perfect, year round, with sunshine overhead for at least 330 days annually.


Finally, why the name, Banderas Bay? Bandera is Spanish for flag, therefore, it is the bay of flags. When the Spaniards first arrived in the area around 1525, it was occupied by various settlements of warlike Indians that carried spears and shields flying cotton flags of different colors, while defending their territories.


At that time, the Spaniards began referring to the area as the bay of flags or Banderas Bay. By 1530, the conquest was complete and for almost 500 years, there have been no serious conflicts between the Spaniards and Indians. To the contrary, they have intermarried for over 20 generations, to the extent where today, approximately 80% to 90% of all native Mexicans are Mestizos, a combination of Spanish and Indian. When the climate is absolutely perfect for at least seven months per year, it's only logical that they made love and not war!


To this day, the natives are still a very kind, gentle, and hospitable group of people and war, crime, or any other kind of confrontation is avoided at all costs. They are a very religious and peaceful society living the motto of "Mi casa es su casa," or my house is your house. Foreigners, regardless of whether they are tourists or immigrating retirees, are always welcome by the natives of this very special Banderas Bay region.
---

The founder of Puerto Vallarta Real Estate Buyers' Agents (PVREBA), Jim Scherrer is a retired entrepreneur who has owned property in Puerto Vallarta for 24 years. Utilizing his experience and extensive knowledge of the area, Jim has written a series of informative articles about travel to and retirement in Puerto Vallarta, which you can read on his website at PVREBA.com.

Click HERE for more articles by Jim Scherrer.
Tell a Friend
•
Site Map
•
Print this Page
•
Email Us
•
Top