Health & Beauty | September 2008
Len's Life: Don't Let This Happen at Your Wedding!

Len

I often write about what you should do with your wedding planning for your destination wedding in gorgeous Puerto Vallarta. But today, let's chat about a few things that you just shouldn't want to happen at your wedding ... no matter where it is!


First, the wedding party, namely the bridesmaids, matron of honor, whatever. Whomever you choose, they are going to be all different sizes and all different shapes. Some will be sleeker than others, but we won't go there. Just know that you must be careful with the dresses you choose for them.


An empire dress that is gathered around the bust and hangs loosely from just below that point is best. It will fit every shape, cover every size and look wonderful. What won't look wonderful is a tight skirt that makes somebody in the party look like two pigs fighting under a blanket, especially when they are walking slowly down the aisle. Neither is anything that fits tightly around the mid-section in front. Let's face it, Gals, some of our dearest and closest friends just have a pooch that needs to be concealed when we are trying to create beauty.


And the mothers. Wow, here we go. The mother of the bride should not look like she is in a glamour competition with the bride herself. Her dress should not be a full, blossoming designer gown, even if knee length, with a look that could overshadow the bride completely. She should look staid, and in excellent, controlled taste. Something like a satin suit with a tailored concealing jacket might be perfect. But bustles and flounces have no place on a Mom - that goes for either Mom, the bride's mother or the groom's mother.


Which leads me to the groom. Now, you may be lucky and have a hard-built, V-shaped finance that would look good in anything. But if that's you, Honey, consider yourself not only lucky, but in the minority. Most grooms, sweet as they may be, probably have a little pooch, themselves.


If you're going formal, a nicely tailored tux with those wonderful expandable slides in the side of the waist that can be pulled tight, along with a gorgeous, tight, concealing cummerbund is just the trick.


If you are going tropical, like so many of our weddings here in paradise, then get the guy to belt in his pants tightly and wear a beautiful, bountiful shirt with the tail out. He'll not only look sharp, but he'll also make you look more svelte than you are.


And finally, Girlfriends, there's you ... the bride. Oyez, if I could tell you about the weddings I've done where the bride wouldn't quite fit ... Oh, heck, I can tell you. After all, this is Len's Life!


Perhaps the most lavish wedding I've done in the entire Bay of Banderas was held in a rented villa in Punta Mita. The place was gorgeous. Looked like a white marble contemporary museum. The rent was $1500 USD a night. Need I say more? You can imagine how lavish the rest of the wedding was.


So you get the picture. This bride had worked with us on everything. The whole salon staff drove out to the villa way early to do the hair and makeup of everybody in the entire wedding party. They did all look stunning, if I do say so myself.


Then came time for the bride to carefully slip her wonderful designer gown over her head. It was split down the back and closed from there. Well, no, not really. It didn't close. Seems she had gone on a nervous eating binge after her last fitting, and there didn't seem to be any way that anybody in the house could figure out how to get this dress to close.


So Team blu took over. We inquired, and - as if by magic - somebody had actually brought a lace-up-the-back corset with them. We lifted the dress off the bride, put on the corset and then Clay proceeded to put his knee in the middle of her back and yanked those boobies to heaven. Then the dress went back on, and it closed with only minor difficulty. She may not have been very comfortable, but she was gorgeous.


Don't count on this always working out this way. And watch those fittings and what your weight does after the last one. The above photo is NOT actually a bride that I've ever worked on nor is she the bride we squeezed in the corset. But she's a great example of what too much eating or bad taste or a combination of both can make you turn out like. Remember that silicone only moves so far. Imagine having this picture in your wedding album for eternity ... much less such an invitation from your hubby's Mom! (below)


Remember, you can always contact blu, the salon and spa in Puerto Vallarta to help with the planning for your destination wedding. Just go to blubylen.com, click on "contact us," click on the button next to "wedding info" and write your text in the box. Or have your wedding planner call us directly in Vallarta at (322) 223-9660.


Till next time, stay on the right side of Len's Life!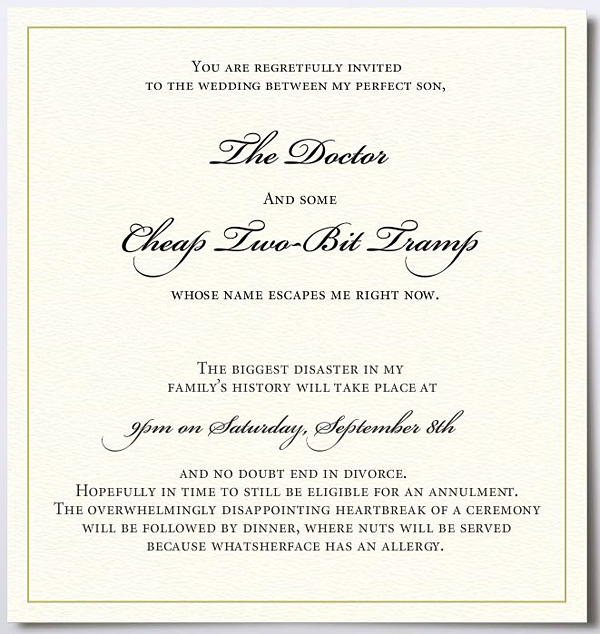 ---

Given that Len's very first word was "more," and the second one was "pretty" it is no wonder that he now not only owns and runs the #1 salon and spa in Puerto Vallarta, blu by Len, but also writes a bi-weekly beauty column, "Len's Life!" Whatever you hair may or may not need, Len will know exactly what to do or where to go to find the answer - just send him an email at len(at)blubylen.com.
Click HERE for more articles by Len.
Tell a Friend
•
Site Map
•
Print this Page
•
Email Us
•
Top