Entertainment | Restaurants & Dining | September 2008
Eating Well in San Miguel - for Less (Part 2)

Jan Baumgartner - opednews.com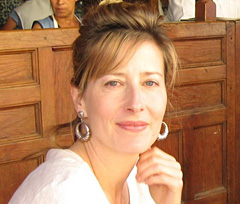 Jan Baumgartner

Calles Canal, Hidalgo, Reloj, Mesones, Insurgentes, Loreto, Correo and Sollano (cont'd)


Café Etc.(Reloj #37, $)
Small neighborhood café, great for breakfast or lunch. Inspired menu, creative specials board - an often intriguing, if not perplexing mix of herbs, spices, and other flavors that initially sound funky and yet somehow seem to work, delightfully surprising the palate. Laid back atmosphere, small outdoor patio, nothing fancy. The daily specials are consistently delicious. Great smoothies, omelets and salads. You can buy whole coffee beans to go or have coffee ground at the front counter. A good place to start your day, or slip into if you've been walking beneath a relentless afternoon sun and need a no frills place to grab a cool liquado or bite to eat.


Café Santa Ana (Inside the Biblioteca Pública, Insurgentes #25 at Reloj, 152-7305, $)
Lovely plant and tree-filled patio upstairs from the public library and directly across from Teatro Santa Ana. Feels like someone's private hacienda courtyard. Good food and large portions; savory burritos, the enchiladas verdes are packed with flavor, generous salads. Ideal place to relax with a cold cerveza or glass of wine and a smooth guacamole appetizer before a performance at the Teatro or Quetzal Room. Friendly, attentive service, intimate atmosphere. Very reasonably priced considering portions and overall quality of the food.


La Colmena Panadería (aka The Blue Door Bakery, Reloj #21, 152-1422, self service)
Okay people, now is not the time for discipline. Live a little. This family-run bakery, since 1901, will make you feel like a kid in a candy store, or an adult with a serious sugar addiction who is about to have a major relapse. Enjoy it. Flaky, mouth-watering pastries, rolls, donuts, cupcakes, cookies, breads and empanadas. Grab a metal tray and tongs and load 'em up. You can ruminate about how these decadent sweets have settled around your hips and thighs when you're wondering why you're having trouble fitting into your airlines economy seat. The sugar coated donuts are ethereal, feather-light, the custard filled pastries, sinful. Take your bounty to the cashier and don't be surprised to walk out the door with your brown paper bag filled with pastries for all of a buck or two. Slip on your dark glasses and walk quickly down the street clutching your brown bag. Do not make eye contact with anyone, particularly street dogs. Don't go to confession until after you've consumed the goods. There is such a thing as guilty pleasure. And it's dusted in sugar.


Bonanza (Grocery store, Mesones #43-A, 152-1260)
Ab-fab. Good variety of basic grocery items, some wines, great deli counter with local and imported cheeses and meats. Fantastic nuts and grain selection, dried fruits, chocolates, difficult to find herbs and spices by the ounce. Natural foods, too, a dozen eggs in a clear plastic bag run about 80 cents and burst with flavor, the yolks the color of coral suns, tortillas, some breads, crackers and cookies from La Buena Vida bakery, but it's all about the yogurt, my friends. Outrageous selection of quart containers of homemade yogurt that will make you sour on anything offered in the States. The plain is a wonderful item to have on hand - mix it with fresh fruit and nuts or use it for cooking or condiment in place of sour cream or créma. The mango, orange, banana, and peach yogurts, just to name a few of those usually in stock, are smooth, creamy and rich. If it's 2:00 a.m. and you wake up needing an ice cream fix or something else lusciously silky and cool on your tongue, these fruit yogurts are rich enough to pass the test. Great place to pick up bags of almonds, pistachios, chunks or shards of Mexican chocolate, roasted pumpkin seeds, dried apricots - all available in the well stocked health food aisle. Friendly cashiers; on occasion you'll find one of their children helping bag your groceries. It is customary to tip the bagger for their service - whatever small change you have handy is greatly appreciated, typically around 20-50 cents.


Bugambilia (Hidalgo #42, 152-0127, $$)
Charming, romantic plant-filled courtyard dining in a Colonial setting. Interior trees and plants twinkle with white fairly lights, the ceiling sparkles from tin star fixtures. Traditional Mexican fare with all the trimmings. Guitar player at night, usually quite good and CD's are offered for sale if patrons are interested. Fantastic service. The dishes are lovingly prepared and presented, large portions, excellent value. On a warm San Miguel eve, there's nothing more refreshing than their cool avocado soup, the best I've tasted, rich, velvety with a hint of lime, and their citrus salad. The enchiladas, too, are particularly flavorful but it is their house specialty, the classic Mexican dish chiles en nogada that they are best known for.


Chiles en Nogada is a unique creation and if you haven't tried it, throw your taste buds a party. It is decadently rich so don't plan of counting calories or leaving light. This luscious entrée uses the three colors of the Mexican flag, red, green, and white and is almost as delicious to look at as it tastes. Poblano chiles are stuffed with picadillo, a mix usually consisting of ground meats, aromatic fruits, nuts, and spices. A walnut based cream sauce sprinkled with juicy red pomegranate seeds slathers the meat plumped chiles.


Tío Lucas (Mesones #103 at Hernández Macías, 152-4996, $$)
Fun, lively restaurant with fantastic food and service. Beautiful dining areas and live music after 9:00 p.m. Owner Max Altamirano is delightful - suave, gracious, and flirtatious all rolled into one - a veritable Fernando Lamas. He makes you feel genuinely welcomed and works the room each evening moving from table to table to say hello, ask if you're enjoying your meal, bestow a "you look mahhvalous" as velvety as flan, or to give you a quick peck on the cheek. The bar and wait staff is equally as warm, genuine and attentive and are some of the hardest working in the business.


Food is tasty, consistent and portions muy grande. Their steaks are tender, flavorful and cut like buttah, sometimes wrapped in juicy strips of lean bacon, or smothered in garlic laced mushrooms, traditional Mexican fare never disappoints, desserts are splendid and the overall ambiance and energy of Tío Lucas makes for a memorable evening out. The live jazz is some of the best around. So offer up a cheek for the pecking, enjoy one or more of their tangy margaritas, a satisfying meal, and some cool jazz - it's worth every penny. As popular with the locals as with the tourists. Like El Dandy, you will become smitten by Max's charm as well as the attentive but not intrusive wait staff.


El Tomato (Mesones #62B, 151-6057, no credit cards, $)
Vegetarian. Small, cute décor, clean and wholesome foods that will make you feel like you've done your body good. All produce is disinfected. Daily lunch specials are great bargains, a few courses plus coffee or tea, aqua fresca, usually under $9 and more than you can eat. Bi-lingual owner Senora Lourdes Harrsch is friendly and easy going.


Tofu, veggie or grain burgers are packed with taste, plump and satisfying. Salads are fabulous, try their Niscoise. Great appetizers from guacamole to whole wheat quesadillas. The condiments will make a grown man weep. Tiny vessels of bright tangerine and celery-colored citrus sauces are an explosion of flavors and are the perfect accompaniment for anything and everything. Like Marie Antoinette's quirk for bathing in champagne, if one could haul these tangy delights home in 5-gallon buckets there would be no water shortage. Spoon them on burgers, veggies, salads, quesadillas, straight onto your tongue. These creations feel like a tiny circus in your mouth - without the scary clown.


A regular haunt for those who need the boost of a healing smoothie or tonic, a list of some 20 different concoctions are offered to help with an assortment of ills, aches or crises. Blended with fresh fruits, veggies, grasses, flaxseeds, honey, and a host of other healthy ingredients, a great place to detox if you've had one too many margaritas the night before at Tío Lucas, just across the street. Their tonic/smoothie for "hangover" is a refreshing pick-me-up loaded with vitamin C; scroll down the tonic list for remedies for anything from high blood pressure to nausea, arthritis to menopause. All they're missing is a cure for hammertoe. One of my regular stops and highly recommended.


La Europea (Wines and spirits, Canal #13, 152-2003)
Fine selection of imported wines, spirits, some deli items, canned condiments and snacks that make for fine appetizers in a pinch. Good prices, helpful staff. If you're serving up martinis, might be one of the only places to find decent gin, but expect to pay premium prices.


Bella Italia (Canal #21 at H. Macías, inside Plaza Colonia, 152-4989, $$)
Tasty Italian food, reasonably to moderately priced. Lovely courtyard dining, great service, open kitchen, lively atmosphere. Titillating if not intoxicating wine list. Reservations recommended. This charming restaurant is known for their delicious homemade pastas and succulent grilled meats, from hearty T-bones to duck breast to tuna steaks. Their goat cheese salad is a perfect starter. The delicate duck breast, grilled to perfection, is melt in your mouth dreamy and complimented by the savory kick of a tangy blueberry sauce. Save room for the tiramisu. While the food is satisfying, treat yourself to a night when they offer live jazz. It will blow your socks off - even though no one in their right mind would be wearing socks.


Doc Severinsen regularly performs here along with the fantastic Gil and Cartes. To guarantee a table during one of their performances, plan on reserving two weeks in advance by stopping in and making a "down payment" of ten dollars per head for those in your party. You'll get a receipt and your dinner bill will be credited for the amount. This is not your grandparents jazz. You'll see enthusiastic fans ranging from 25-85, sporting anything from pierced eyebrows and assorted unseen sundries, to blue hair and leopard print leisure suits - all digging the vibes of the still fabulous Doc, Gil and Cartes and their back-up ensemble. Hands down some of the best music you will find in San Miguel and coupled with the reasonably priced fare, a steal for your buck. Make this a special night out.


La Ventana (Sollano #11, 154-7728)
Small coffee café or beans to go. Organic, fair trade coffee from Chiapas. Delicious variety of roasts; order by the kilo (kilo=2.2 lbs.) whole bean or ground. For my money, the richest, most flavorful and full-bodied ground coffee to go.


Bagel Café (Correo #19, interior, 154-6524, $)
Nice plant-filled respite off the jardin. Slip in and have a fresh fruit or veg jugo or smoothie. Tender bagels and wholesome grain breads baked daily. Healthy sandwiches and sopas, daily specials. Laid back atmosphere conducive to hanging out solo with a magazine or a book, or just to savor a bit of quiet. Call ahead to order take out.


El Burrito Bistro (Correo #45, 154-8956, $)
Generous, if not obscene burritos, but in a good way, and reminiscent of my old Mission haunts in San Francisco. Gussy 'em up with the "extras" offered. Refreshing aqua frescas, beer and wine. Creative and delicious Mediterranean inspired salads and wraps, hearty sopas, tamales. Great value for portion and taste. Colorful interior, casual ambience.

Tell a Friend
•
Site Map
•
Print this Page
•
Email Us
•
Top