Vallarta Living | September 2008
My Friend Peter

Polly G. Vicars - PVNN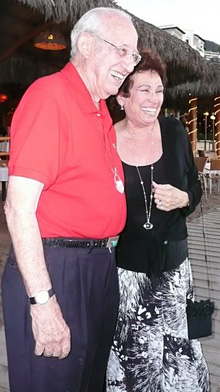 Peter and Buri joining my birthday celebration this year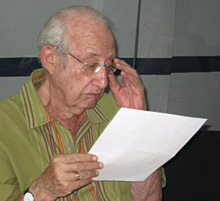 Peter giving the papers the once over for the collaboration between Becas and Punta de Mita Foundation 2008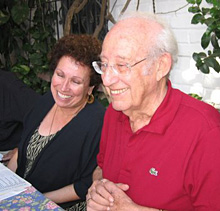 Buri & Peter Gray: Buri and Peter at a breakfast at La Hacienda 2005

Artist, writer, businessman, philanthropist are words easily and appropriately associated with the name Peter Gray. But the word that always comes into my mind for Peter is friend. From the first moment we met, which was an occasion when I timidly (yes on occasion I am timid) and with considerable trepidation, asked him if he would create and donate a painting for the annual Becas Ball poster. Almost before I could ask him, he agreed to everything and there was an immediate affinity between us.


Everything was downhill from there. Very shortly, he produced and presented the most wonderful painting: a colorful kaleidoscope of balloons, garlands, lights and stars framing boys and girls dancing and singing with traditionally clad Mariachis accompanying them. He called it "Let the Children Dance" and the Becas members loved it so much we used it for the theme of our March Ball reproducing figures from the painting for wall and table decorations.


A month or so later, Peter called to ask if he and his wonderful wife Buri might come by to talk with Husband and me. Peter told us that he had so enjoyed painting "Let the Children Dance!" that he had been trying variations on the theme and had come up with a painting which he entitled, "Piediendo Posada" that he and the critics to whom he had shown the painting felt would make a great print. Further Peter said that he and Buri wanted to donate the 500 prints he was having made to Becas to sell in the various galleries and boutiques of Vallarta. He went on to say that all the proceeds would go directly to the scholarship foundation. Quoting myself from my book, "We were flabbergasted! Overwhelmed! Astonished! On behalf of the Foundation, Husband and I gratefully (and quickly) accepted this incredibly generous offer." We sold all 500 posters, adding a hefty sum to the coffers and many, many local girls and boys went to school that year thanks to the generosity of my friend Peter.


He and Buri continued their support of Becas and soon became a part of the Foundation. They turned out to be the most wonderful additions to our group coming up with innovative ideas and then helping carrying them out. Of course Buri and I became almost instant best friends, but strangely this sophisticated, highly educated, successful Englishman who had attained incredible heights in the 40 years he worked for Proctor and Gamble and I just clicked. We didn't always agree, but we argued happily and both loved getting the best of the other.


His philanthropy to Becas continued with the 2002 publication of his beautiful book, "All is Safely Gathered In" and his donation of all the copies to Becas Vallarta which sold like hot cakes and once again filled the coffers enabling more young people to get their educations.


While doing so much for Becas, he also was an active member of the Navy League and of course the instigator and founder of the magnificent art gallery at the Central University of the Coast , University of Guadalajara, which has been appropriately named the Peter Gray Gallery and many acts of kindness and generosity done anonymously in our community.


He received and deserved so many accolades that would have puffed up most of us fragile humans, but not Peter. He quietly went about his business never asking for special treatment and always there for his friends and family. Our friendship grew and solidified and we spent many happy times in their spacious home or in our condo or in restaurants small and large or touring the Peter Gray Gallery with my visiting friends from the states. Peter had so many stories to tell and both Husband and I loved hearing them and urged him to tell some of them over and over. He was fun to be with. He was my friend, I loved him and I will miss him more than I can say.
---

Polly G. Vicars and her husband of 57 years, Hubert (a.k.a. "Husband") retired to Puerto Vallarta in 1988 and soon became active members of several charitable organizations. Polly is the author of "Tales of Retirement in Paradise: Life in Puerto Vallarta, Mexico" [a sell-out!] and "More Tales of Retirement in Puerto Vallarta and Around the World." Proceeds from the sale of her books go to the America-Mexico Foundation, a scholarship foundation that is their passion.

Click HERE for more articles by Polly Vicars, or click HERE to learn more about Becas Vallarta and the America-Mexico Foundation.
Tell a Friend
•
Site Map
•
Print this Page
•
Email Us
•
Top