Health & Beauty | October 2008
len's life: Sometimes $150,000 Is Not The Right Answer

len - PVNN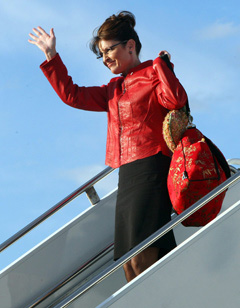 Republican vice-presidential candidate Sarah Palin spent $75,062 US on a shopping spree at Neiman Marcus in Minneapolis and $49,425 from Saks Fifth Avenue in New York. (Christopher Tomlinson/Grand Junction Daily/Associated Press)

You've heard me before on the subject of self-confidence and its importance to your personal beauty and style. Here's a perfect example. The Republican National Committee (RNC) spent $150,000 USD on clothes for Governor Sarah Palin to get her ready for the RNC Convention and her political appearances and rallies afterwards. Now, before you think "Here he goes again on a liberal rant," let me assure you that's not what has me upset, and that's not what I'm doing.


The simple truth is that Gov. Sara Palin is a self-described soccer Mom, who dresses in whatever she likes when she's hauling the kids around and running household errands, but one who has made it big time in Alaskan politics, knowing exactly how to dress herself up and make herself feel good in front of the public. She walks well in heels, holds her shoulders back with her chest up (my prescription for any woman's instant self-confidence) and looks very good in tailored suits as well as casual pants and tops.


Why, then, I ask you, did someone on the RNC staff decide that they needed to "dress her up" further in $150,000 worth of designer clothes? "It looks like nobody with a political antennae was working on this - just one more sign of the hapless decisions in this [the McCain/Palin/RNC] campaign [staff]," said Ed Rollins, who ran President Reagan's campaign in 1984, during which Nancy Reagan looked like she had just stepped off a runway, but did it all with the Reagan's own money.


Perhaps it was because of Cindy McCain, whom I admire, both for her self-confidence and her style. Cindy is a very, very wealthy woman. There's nothing wrong with that, as long as she pays her taxes and gives a fair share to charity, both of which she evidently does. But she likes designer clothes a lot and spends tons of her own money on them, as she has every right to do.


She planned to wear Oscar de la Renta to the Convention, along with a Chanel white ceramic watch and lots of bling. Vanity Fair has estimated the cost of her one convention outfit at $300,000. But that was her money. So why, oh why, did the staffer at the RNC prevail in insisting that they dress the otherwise well-dressed Palin in pricey Valentino, among other designers, for the convention? And why, even more, oh why, did the Governor from Alaska go along with it?


There is only one reason I can think of. She didn't, maybe still doesn't, have the required self-confidence in her own taste and her own style to really feel good about herself. She fell prey to the trap of thinking that just spending more money could make her more beautiful, more appealing, more confident and more attractive to the electorate. That idea is as wrong for her as it is for you.


I urge you to think about yourself first. You are the one that is important. You must feel good about yourself if you are ever to look attractive to others. Fashionistas have known this for centuries. It's all about how you carry yourself, how you walk, how you hold your head upright, how you are careful that your clothes drape elegantly and how you rely on your own sense of personal beauty and style.


I'm afraid that our Republican Vice Presidential nominee may have been driven to the point of no hope. After further encouragement from the idiots in the RNC campaign staff who, I am sure, couldn't even understand one word of what I'm saying here, it has now been revealed that the highest paid contractor working for the campaign for the past month has been Sarah Palin's hairdresser! I read the amount this hair stylist was paid, and I assure you I could have done a better job for a whole lot less!


The same goes for the clothes. The editor of a major international fashion magazine recently said that she could add up the total to $150,000 when she knew the designer label on each piece, but she added that, "I sure could have made her look as good for a whole lot less." And the famous model Iman said, "It's the most ridiculous thing I've ever heard." She went on, "...the clothes she's wearing don't say $150,000."


Maybe that comment is more about the woman than the clothes. If you don't feel self-confidently beautiful even before you put on the clothes, then putting an outfit costing thousands of dollars on your back can't help. I, frankly, think Sarah Palin was doing just fine and feeling confident and beautiful before the Republican National Committee stuck it's ugly masculine nose in the mix and screwed up everything ... even the politics.


So what am I really saying? I repeat, this article is not about my political views. It's about beauty. It's about you. Everything is about you and how you feel in your own skin. You should spend whatever you can afford of your own money and whatever you feel you want to spend to help your natural self-confidence improve your looks.


Color your hair, stop by blu and pick up some make-up that I'll show you how to put on yourself (for much less than several thousand dollars a session!), get a massage, a facial, a manicure and a pedicure. Do whatever you want for you. For, you ... yes, My Dears ... you are the First Lady of your own life.
---

Given that Len's very first word was "more," and the second one was "pretty" it is no wonder that he now is the Stylist Manager in the #1 salon and spa in Puerto Vallarta, blu, but also writes an entertaining and informative beauty column, "len's life." Whatever you hair may or may not need, Len will know exactly what to do or where to go to find the answer - just send him an email at len(at)blubylen.com.
Click HERE for more articles by Len.
Tell a Friend
•
Site Map
•
Print this Page
•
Email Us
•
Top