Health & Beauty | October 2008
len's life: Politically Incorrect? You Betcha! (wink, wink)

Len - PVNN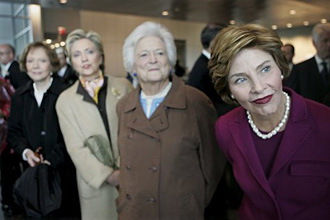 Laura Bush and former first ladies, from left, Rosalynn Carter, Sen. Hillary Clinton, and Barbara Bush, at the dedication ceremony for the William J. Clinton Presidential Center and Park in Little Rock, Ark., Nov. 18, 2004. (whitehouse.gov)

Usually I am a fairly level-headed screaming liberal. I mean, basically, if you don't hurt me, my friends, small children or animals, then everything is cool. What? You didn't know that those feelings and beliefs characterize a liberal? Well, now you do. I have been accused on more than one occasion of getting on my "soapbox" to make everyone else feel ill informed, at best, and stupid, at the far extreme.


Believe me when I tell you that this has never been a goal in my life, but simply a happy bi-product of always having an opinion. And opinions I DO always have.


With the most important U.S. election of our lifetime just a few weeks away (do NOT forget to VOTE), I thought it could be fun to look back at the past First Ladies to see if there was any kind of correlation between their good or bad hair and the quality of their husbands, the Presidents.


Don't ask me where this idea came from, but when I thought it out a little more and examined the past sixty or seventy years, there did seem to be a pattern. To wit, I said to myself, "The masses need to know this before they vote." So, here we go...


We could go back as far as Roosevelt, but let's face it: Eleanor was an amazing and powerful woman, but not the most glamorous in the herd, ya know what I mean? Tripping over Harry and Bess Truman, President Eisenhower and his wife Mamie - what a great name - began the early "glam up" in the White House.


He was a great man, and she, the perfect hostess, wife and First Lady. She brought pretty ball gowns and pearls back into vogue and made sure they were always on display. I don't have much to say about her hair because ... well, let's just leave it at that.


OK, here comes Camelot - the Kennedys. JFK with his blue eyes and beautiful locks of thick hair. His perfect smile publicly, at least, displayed the consummate father figure. Then the world got a glimpse of the infamous Jacqueline Bouvier.


Never, and I do mean never, has there been a more glamorous time in the annals of our First Ladies. The suits, the dresses, the hats, the state dinners planned to the tiniest detail ... and that hair. Jackie O's "bob" must be the most copied hair-do in the history of hair-dos. It was simple, classy, accessible to all and, most importantly, new and different. Right up until her death in 1994, she managed to stay ahead of the curve - always a fashion icon.


Then came the Johnsons. We were instantly thrown back into the Eisenhower years as far as style went. The county got old all over again. In came the greased-back hair for the President. And Lady Bird, a fabulous women indeed, looked like she used the same hair dresser as Mamie Eisenhower.


It would be the styles of the men that would define the next eight years, and my conclusion is this: The greasier the hair, the slimier the politician. Just think back: Johnson, Nixon, Ford. Well Ford doesn't count, because he had Betty. Thank God!


Next came the Carters whom, as we all know, did not believe in hairspray. They just seemed to believe in peanuts and Billy Beer. So much for their White House years, even if they did later turn out to be, probably, the most influential humanitarians of the past sixty years.


Hop ahead to Nancy Reagan. One simple word: N-A-N-C-Y. Couture and fine grooming once again reigned in the White House. And Nancy was in charge of all of it. Her obvious ties to Hollywood were no more evident than in her penchant for looking like a glamorous First Lady all the time. The Oscar de la Renta gowns and the on-call hair dressers made for a very good-looking eight years. Now, still living in California and fighting the good fight on behalf of Alzheimer's patients around the globe, she continues, at age 87, to be a pin-up girl from the silver screen and the White House.


Now for the Bushes. Grandmotherly prints meet librarian chic. That's enough of that. Let's get to Hillary.


Never has there been a more polarizing female political figure than Hillary Clinton. Yes, in the early years she was one of those "it doesn't matter how I look" kind of gals. But it didn't take long in Washington before she, too, had a bus filled with make-up artists, hair dressers and ball gowns. And has anyone seen that once bland Chelsea lately? She's morphed into a stone cold foxy lady. A tribute to the beauty the Clintons can achieve when they want to.


Either Michelle Obama or Cindy McCain will, no doubt, bring a new and fresh feel to the White House. I'd vote for either of them for First Lady, if that were the real contest.


However, I cannot even think of or discuss Sarah Palin. I would like to stay on the BanderasNews Team, and my views on this woman are not fit to print. If anyone ever deems to let her through the door at 1600 Pennsylvania Avenue, I can only hope that they will someday be able to get the smell of Moose hide and Wolf blood out of the carpet.


Do remember this simple rule: the woman beside the man is the true wielder of power. They can and do turn heads in whatever direction they see fit. Rock on, First Ladies. Forever may you reign.


Till next time, this screaming liberal urges you to VOTE if you still can. Remember, Americans: you cannot bitch about anything that happens if you do not vote. And to my Canadian readers, I hope you had a wonderful Thanksgiving.


I hope you all stay on the inside of len's life.
---

Given that Len's very first word was "more," and the second one was "pretty" it is no wonder that he now not only owns and runs the #1 salon and spa in Puerto Vallarta, blu, but also writes an entertaining and informative beauty column, "len's life" Whatever you hair may or may not need, Len will know exactly what to do or where to go to find the answer - just send him an email at len(at)blubylen.com.
Click HERE for more articles by Len.
Tell a Friend
•
Site Map
•
Print this Page
•
Email Us
•
Top