Puerto Vallarta Real Estate | October 2008
Tiger Woods Discusses His New Course in Baja

Christina S.N. Lewis - Wall Street Journal
go to original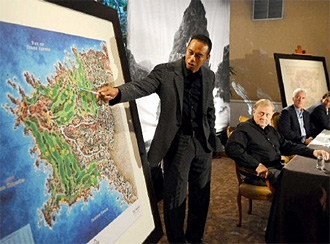 Tiger Woods describes an ocean-front golf course he's designing on the Pacific coast of Mexico. (Associated Press)

Tiger Woods will design an oceanfront golf course on the rocky, Pacific coastline of Baja California in Mexico, his third golf-course project. The luxury development, called Punta Brava, will sit on the tip of a peninsula south of Ensenada, about 70 miles south of San Diego.


It will include roughly 125 homes with prices beginning from $3 million for a one-acre vacant lot and $3.5 million for a condo. There will also be a clubhouse, restaurant, spa and a 20-unit private hotel. The development's site was inaccessible by land until developers built a road. The plan is for people to arrive by boat, drive or fly in to a private airport about 20 minutes away. Opening is slated for 2011; sales began in mid-October.


The developer is the Flagship Group, whose principals include Red McCombs, co-founder of Clear Channel Communications and former owner of the San Antonio Spurs, the Denver Nuggets and Minnesota Vikings.


Mr. Woods recently discussed what makes a good golf course, his favorite design style and what he looks for in his own home. Excerpts: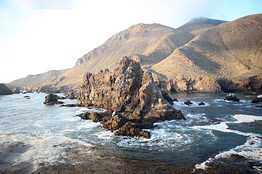 The Wall Street Journal: Punta Brava is the third golf course you have announced you are designing in as many years. You are doing a course in Dubai and a course at The Cliffs community in North Carolina. What's your chief goal in designing these golf-course developments?


Mr. Woods: The key is to design great golf courses all around the world. And we've been lucky enough to have great partners in a lot of sites. My plan is only to do a select few. I don't have a lot of time to do a whole bunch of golf courses. I devote so much of my time to these. I'm kind of a hands-on kind of person. I always want to do the best that I can in all of my life and this is no different.


WSJ: What kind of preparation is involved in designing these courses?


Mr. Woods: A lot of site visits, looking at routings. Trying to provide the golfer with great views and utilizing the land to the best way we possibly can. I'm trying to build a challenging golf course that people will remember and also make Brady [Oman, principal of Flagship Group] happy on his end.


WSJ: Have you talked with any of your friends on the PGA Tour about this? Have they offered any interesting advice or suggestions?


Mr. Woods: I haven't really talked to anyone on the tour about this since I started the project. Prior to my entering the golf-course design business I was asking them for any experiences. I talked with a lot [of players], from Arnold [Palmer] to Jack [Nicklaus] to Gary [Player] to [Tom] Fazio to [Greg] Norman to Pete Dye.


WSJ: Is there any particular problem that you've noticed while designing this course that you're trying to fix or improve?


Mr. Woods: The biggest challenge is that it's a very small piece of property with some land forms and features that we have to work around. That's why it will be only 6,800 yards, which will be on the shorter side from modern standards.


WSJ: I understand the cheapest homes on this course start in the multi-million-dollar range? Why did you choose to do a development that focuses on the high end?


Mr. Woods: I just wanted to do something that was on this amazing piece of property. Brady allowed me to work on this project. It's been unbelievable. It's so beautiful there. You see the ocean from all the 18 holes. That's something we didn't ever want to lose.


WSJ: Are you planning to have a home in Punta Brava?


Mr. Woods: Yes.


WSJ: What do you look for in a house?


Mr. Woods: I want my home to be comfortable, first off. And now that I have a family, being safe is very important. That is near and dear to me.


WSJ: How did you react to the U.S. team's unexpected win over Europe at the Ryder Cup?


Mr. Woods: The team did a great job. The players were playing well and finally putting well. That's the biggest difference with the teams I've been on. They made a lot of putts from all different lengths. I think that that's what it comes down to. I also think it was a great blend of having six veterans versus six rookies.


Some of the guys did text me that I know very well and said that I wish you could've been there to have fun with them, on Sunday night particularly. We lost battles together pretty badly. It would've been nice to have been on a team that has won. I haven't been on a winning team in a while, since 1999.

Write to Christina S.N. Lewis at christina.lewis(at)wsj.com
Tell a Friend
•
Site Map
•
Print this Page
•
Email Us
•
Top