Vallarta Living | Veteran Affairs | October 2008
Against The Odds

David Lord - PVNN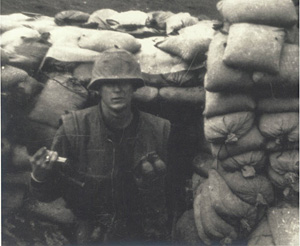 Bill Meade at Khe Sanh in 1968

My story started a few days ago, I received a simple email with the heading "41 years ago," it was something I nearly didn't open, thinking it some past event or old news item from a stranger. The contact was made by the wife of the most important combat Marine I had ever known, a Marine who showed courage under fire - in a war that had no glory.


The Marine Corps gave a twenty day leave to enlisted men to say our goodbyes to friends and families in 1968, it was then that "the culture of Peace and Love" being made up of our peers made sure we "the enlisted" were held apart, ostracized for merely wearing our military uniform in public.


We learned about the protesters on this leave, they marched against the war as we headed over to S.E. Asia. If you thought the suspensions were one-sided by the protesters it wasn't, because in transit aboard chartered aircraft, wearing our combat gear,(except for weapons) we were watched by armed Military Police, preventing any Marine from leaving the terminal at Anchorage, Alaska.


The civil unrest grew and was boiling over after the assassination of Dr. King, we were forgotten by America during the civil riots at home, despised by some. In this war we Marines were alone, Americans had not yet separated us from the Politicians that ordered us there, support the troops was yet to come.


Uncommon valor amongst the Marines of Charlie Company, 1st Battalion, 26th Marines of the 5th Division went unnoticed as we struggled during the Siege. The Fifth Marines had fought at Iwo Jima in the Pacific, now twenty five years later, the 5th Marines manned the combat base at "Khe Sanh."


Under this Siege we endured more incoming than all the munitions fired in all the battles of the Pacific, by all forces during W.W. II. The tonnage of bombs dropped, rockets impacting, mortar rounds incoming, projectiles fired was compressed into 77 days and nights of mind-numbing hell. This Siege by forty thousand hard and battle tested North Vietnamese Troops were General Giap Divisions, they had us surrounded, in a ever tightening noose, we must hold or be overrun. Two young Marines, who had entered boot camp together, trained side by side while preparing for the Viet Nam War, were going to live or die in each other's company.


Bill Meade and I are now 40 years past that longest battle of the war, I searched for him for decades, turns out we both made it home, were both wounded and disabled from gunshot and both surviving against the odds. This is our reunion as it happened:

Dear David,
A friend of ours (Bill Buford) sent us a link to your website. What a surprise! Do you remember my husband, Bill Meade? He was with you when you were shot in Viet Nam. I had met you before your trip to Viet Nam. Bill & I will celebrate our 40th wedding anniversary in Feb. We are in Oklahoma, have two children and two grandchildren. I am still working, but Bill is "retired"! A couple of years ago he was awarded 100% disability from the VA. Bill was shot a short time after you were. Occasionally he will tell "stories" about the two of you.

I wrote:

My God, Bill I have thought of you a million times, thank God you're o.k., and please keep in contact, God I have looked for you for so long, you were the only one to have the guts to come pull me out after getting hit... Jesus, how long I have worried if you were o.k., I am so happy to hear from you... (I then gave details of my family.)
Semper Fi Brother,
David

His response:

Dear David,
It's great to hear from you. I'm sorry that I haven't replied sooner. It's taken some time for me to adjust to this, I've lived in a world with nothing but memories for 40 years. Then all of a sudden I find the real deal, my friend. It's kind of like a new world. Now I've got to learn how to live in it, I'm glad that you've got your legs.


Viet Nam has played through my head like movie reels, night and day. I've dreamed about it at night and wake up looking at a world obscured by barbed wire. I only say this, because after all this time I have forgotten more than I know. Sometimes, I don't know if things really happened, or if I dreamed them. So if I get something wrong, forgive me. It's not intentional.


I'm sorry but I don't remember Simms. I know I should since he was right there with us. I guess it's one of those blanks.


Do you remember Adolphus? He was the new guy that had only been there a couple of weeks. He was the one that told us he wasn't gonna make it. Well, he didn't. He went in about 20 feet to the right of us and straddled a spider hole. Charlie shot him up through the groin and blew him away.


Do you remember when we got caught on top of that mountain by an incoming barrage? We both dove for the same hole and barely made it. You had your M-16 by the sling but couldn't get it in the hole. It blew everything away except the end of the butt stock, swivel, and part of the sling. The new Marine with the Mohawk haircut was 5 or 10 feet in front of us and was killed.


The last memory that I have of you was when I glanced over my shoulder as I went back in. You were lying hurt below the drop off, and had a 1911 A-1 45 pointed dead on at some Marine or corpsman, (telling them to help you). I couldn't hear the words but I got the message. That's the man! A Marine's Marine! Somehow, I knew you'd make it.


David, you said you owed me. You got that all wrong. If you ever owed me anything, you paid it back a long time ago, and many times over. I'm proud to have served with you, and would do it again. To live or to die.
Semper Fi,
Bill
---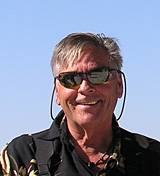 David Lord has been a National Veterans Service Officer doing veteran's benefits in Mexico for over a decade. David is a combat veteran, wounded by gunshot in Viet Nam 1968 and is a retired Marine. The Veterans Administration has played a critical role in his life, by his having both medical and compensation benefits. He uses his personal experience in the claims process along with having legal and credentialed Accreditation by the Department of Veterans Affairs. His use of Congressional approved Veterans Organizations, to steer veterans and dependants through the maze of regulations and entitlements due them from military service is outstanding. For more information, email him at david.lord(at)yahoo.com.
Click HERE for more Veteran Affairs with David Lord »»»
Tell a Friend
•
Site Map
•
Print this Page
•
Email Us
•
Top