Vallarta Living | Veteran Affairs | October 2008
Why I Feel Let Down by Senator McCain

David Lord - PVNN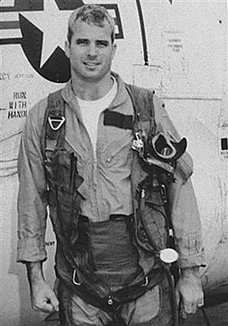 John McCain poses next a Navy squadron airplane in 1965. McCain, a former fighter pilot, was captured by the Vietnamese, tortured and imprisoned for more than five years. (AP)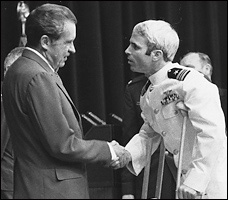 Following his release from a POW camp in Vietnam, John McCain is welcomed home by President Richard Nixon on May 24, 1973. (Getty Images)

I am a combat Marine of Viet Nam War. I have given a dozen years helping the causes of veterans, and as one of those that fought in the same war as McCain, I pay tribute to those that served America in battle; those that actually faced the guns of the enemy and still charged ahead through the mud, or up a steep mountain side, or felt the sand slipping beneath their boots when running at an enemy position.


Combat for McCain is quite different from mine, an adrenaline rush from takeoff to landing, all the way to and from a target at supersonic speed, thrilling is a fit description, with possible moments of terror if anything goes wrong. Some pilots risk life while in sonic pursuit of an enemy target, if lucky they return to their safe haven of hot meals and secure quarters.


McCain, unlike most pilots, did more than drop tons of munitions from miles above, more than press buttons in sequence to fire weapons from an unseen multi-million dollar supersonic platform to unseen targets. He actually had to endure and survive capture as a P.O.W. in North Viet Nam; he knew the sacrifices made by those that fight the wars.


This is why I feel let down by Senator McCain and his voting record. We Veterans should have had a most powerful advocate in Senator McCain. The former Pilot an Admiral's son had all the experiences to champion Veterans struggles; instead he divorced himself from issues we Veterans needed made into law. He draped himself in the Flag using his Military Service in all its glory to win office.


Here is what McCain claimed September 26th 2008: "I know the veterans, I know them well, and I know that they know that I'll take care of them, and I have been proud of their support and their recognition of my service to the veterans, and I love them, and I'll take care of them, and they know that I'll take care of them."


McCain was tortured in prison and broken into confessions, after being humbled by the enemy. He lived in that hell for more than five years, I think, each day mentally resolving to never be broken again. If elected President, He will never be humbled or broken, no surrendered, no way, this time death before dishonor.


Time after time on the campaign trail you will hear him say "I will always fight", "I will never give in", "I will never back down against the Enemy, never retreat", "I have always fought for you since age 17", "I face all enemies foreign and domestic", "I will bring the troops home in Victory" and "We will keep our troops there (Iraq) a hundred years." His words are to be believed, and he will use war whenever, with whomever he perceives as a threat.


He claims the surge has saved us in Iraq from the disgrace of retreat. He is a warrior, he is seventy two and war seems always a comfortable option and possible solution. Watching McCain he displays classic P.T.S.D. symptoms, I know firsthand as a combat Veteran. You can see his Veterans voting record at vetvoice.com.

V.A. Caught Again!

October 16th 2008: More of Delay, Deny, and hope you die! Ever wonder why your claim takes so long or you have never gotten an answer to a claim? Maybe it is the hundreds of thousands of Veterans claims waiting in line, the same delay year after year. Office of the Inspector General (IG) begins its investigating, saying the misplaced documents, and anyone who violated Department policy on protecting documents will be held accountable, they say.


The documents were discovered by employees of VA's IG office during an audit at three of VA's 56 regional benefits offices, which process applications for disability pay, VA pensions. IG auditors found a handful of documents waiting to be shredded, which might have affected the fate of veterans' applications.


Patrick W. Dunne, VA's Under Secretary for Benefits, immediately directed all of VA's regional offices to suspend all document shredding while IG and VA officials determine whether the problem is more widespread. Full article at vawatchdog.org.

Type 2 Diabetes Alert Notice

Hines (V.A. Chicago area) will be sending outreach letters to approximately 28,000 "in-country" Vietnam veterans who have received treatment for type II diabetes within the VHA health care system but are not currently receiving compensation for that condition. This from just one V.A. Hospital. Imagine the numbers of Viet Nam Vets all over the U.S.A. and living abroad, with 56 major V.A. hospitals across the Country (if you had service inside Viet Nam your eligible for benefits.)
---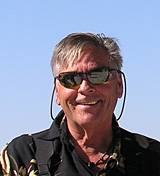 David Lord has been a National Veterans Service Officer doing veteran's benefits in Mexico for over a decade. David is a combat veteran, wounded by gunshot in Viet Nam 1968 and is a retired Marine. The Veterans Administration has played a critical role in his life, by his having both medical and compensation benefits. He uses his personal experience in the claims process along with having legal and credentialed Accreditation by the Department of Veterans Affairs. His use of Congressional approved Veterans Organizations, to steer veterans and dependants through the maze of regulations and entitlements due them from military service is outstanding. For more information, email him at david.lord(at)yahoo.com.
Click HERE for more Veteran Affairs with David Lord »»»
Tell a Friend
•
Site Map
•
Print this Page
•
Email Us
•
Top