A Very Busy Week For the VES Team

Ed Thomas - PVNN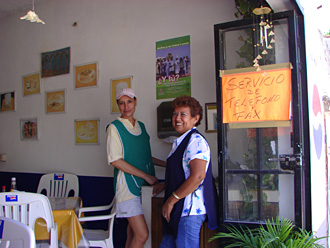 Upcoming VES Health Fair Events

• Saturday, October 11th, 10 am-2 pm, Plaza Principal, Colonia Las Palmas


• Friday, October 17th, 10 am-2 pm, San Salvador and Brasilia, Colonia 5 de Diciembre


• Sunday, October 26th, 10 am-2 pm, Unidad Deportiva Jardines, Colonia Jardines


• Sunday, November 2nd, 10 am-2 pm, Manantial and Lima, Colonia Buenos Aires


• Saturday, November 8th, 10 am-2 pm, Paseo de las Palmas and Libramiento Luís Donaldo Colosio, Col. Barrio Sta. María

Puerto Vallarta - This was a very busy week for the guys at V.E.S., who performed a total of 321 HIV rapid tests in three days.


While conducting the health fair in Aurora on September 13th, VES executive director Paco Arjona was approached by a representative of union coordinator Wenceslao Palomares Meza, who asked him to come down to the C.T.M. (Confederación de Trabajadores de Mexico) union hall and address the rank and file during their monthly meeting on September 25th and 26th.


Paco, knowing how big of a step this is in the educating of people about HIV/AIDS prevention, invited CAPASITS (Centro Ambulatorio para la Prevention y Atencion del VIH/SIDA e Infecciones de Transmission Sexual) clinical-social worker, Mina Delgado, and Dr Ricardo Uribe Jefe de la Jurisdicción Sanitaria de Puerto Vallarta of S.S.J. (Secretaria de Salud Jalisco) to go along with him and the VES crew.


Together they addressed as many as 4000 union members and conducted 233 rapid and confidential HIV tests during the two day conference. Though the team emphasized that these tests are voluntary and that one cannot be forced to take the test as a pre-requisite to employment, there were a number of people who wanted to be tested but felt uncomfortable doing so at that time. These members were directed to go to the VES office for HIV testing at their convenience.


Over the 2 day period, VES provided 80 of the different businesses represented with a packet of 3 posters and testing site locations to be hung up by their union representative. Also they gave out 6000 condoms and 1500 flyers explaining the YO ME AMO campaign VES is conducting. If you see the banner YO ME AMO at an establishment than they are giving away free condoms and lubrication courtesy of VES. Currently they are at bars, hotels, coffee shops, hair salons, dental clinics and medical institutions, so if you see one, go on in and get some.


During the 2 day conference, Paco was approached by several of the other union coordinators, bus drivers, taxi drivers and gastronomic union members from around the Bahia de Banderas area, including some chapters from Nayarit, who asked the VES team to go to their monthly meetings and conduct the same type of education and offer free rapid testing. This is great news because this type of education is helping to eliminate the stigma and discrimination surrounding those affected and infected with HIV.


On September 28th, the guys were in Ixtapa where they conducted 88 rapid tests with the help of Dr. Galileo, Alondra, Miriam and Hugo from CAPASITS. This event was part of the mobile detection clinics that are held weekly in different colonias throughout the Banderas Bay region. Upcoming events include:


• Saturday, October 11th, 10 am-2 pm, Plaza Principal, Colonia Las Palmas


• Friday, October 17th, 10 am-2 pm, San Salvador and Brasilia, Colonia 5 de Diciembre


• Sunday, October 26th, 10 am-2 pm, Unidad Deportiva Jardines, Colonia Jardines


• Sunday, November 2nd, 10 am-2 pm, Manantial and Lima, Colonia Buenos Aires


• Saturday, November 8th, 10 am-2 pm, Paseo de las Palmas and Libramiento Luís Donaldo Colosio, Col. Barrio Sta. María


• Saturday, November 15th, 10 am-2 pm, Plaza Principal, Colonia Infonavit


For more information, call (322) 223-0535, visit the VES WEBSITE or stop by the V.E.S. office at Hidalgo #457-1 in downtown Puerto Vallarta Mon-Fri from 9 am-2pm & 4-7pm and from 9 am-2pm on Saturdays.
---

Puerto Vallarta's HIV/AIDS non-profit organization, Vallarta Enfrenta el SIDA, and CAPASITS, work together to provide high-quality medical care, counseling and psychological support, education and prevention programs, and outreach to at-risk communities in the Banderas Bay area. For information, assistance, or to volunteer or donate, please visit VallartaEnfrentaSida.org. To learn more about VES, click HERE.