Health & Beauty | November 2008
len's life: Why Be Pampered? Because You're Worth It!

len - PVNN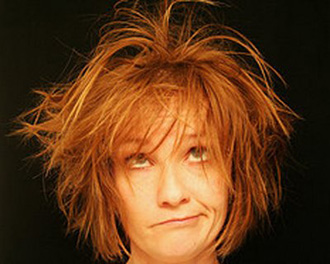 If you do not use professional products, then it only stands to reason that your hair will look like road kill from an Alabama highway.

As a seasoned stylist for more years now than I care to mention, I am often asked a very simple question: "why?" It's just one word with no real significance other than to invite a response.


When we were little, our Moms would answer with the ever popular, "Because I said so, that's why." Followed not long after by, "Do you want me to really give you something to cry about?" A few years later, it became so easy for all of us to respond to both our parents with the endearing, "Oh, it's my life. Your life is almost over." But I digress...


This week, with the most important election of our lifetime, with the fate of the free world as we know it somewhere in the balance (so much for no drama), I thought I would take on the role of parental mentor. I'll try to explain why the world is round, how we got here in the first place and all the rest of those pesky "whys" that remain unanswered.


Seriously, I'm assuming that all who are reading this are actually interested in keeping themselves beautified and luxurious-looking at all times, so I'll limit the spectrum of "why" questions to the beauty biz. Estα bien? OK, here we go.


The number one question I get over and over again is, "Why won't my color stay fresh looking all the time?" I often try to stay away from sarcasm as much as possible (yeah, right!), because I find it is not a very useful tool when trying to educate. But, the only answer I have is this: "Does it really have to be fresh looking all the time?" See, I told you honesty in education is not always that useful.


The simple truth of the matter is this. If you do not use professional products, then it only stands to reason that your hair will look like road kill from an Alabama highway. A slight exaggeration, but not too far from the truth. By this I mean, with regular shampooing (no more than three times a week, maximum four) and religious conditioning, there is no reason for your hair not to look like a million bucks all the time.


Do not buy store-brand combination products, thinking you can save the planet and the rain forest. They do not work. Let me say that again. They do not work. You'd be better off using a bar of soap once a week if you just won't buy decent salon products. At least it will strip out all the oil and gunk, but then you had better condition. Talking to your barber, stylist or beauty professional will always get you what you really need.


A good rule of thumb with your hair professional is to be honest. A good stylist can spot box color a mile away, so don't try to hide the fact that you're doing it yourself at home. It simply gives us more ammunition to have a whole lot of fun at your expense when you leave.


What? You don't think barbers, as well as women's stylists, have a good laugh when they see the "Just for Men" or Clairol Colorific that's been left on just one minute too long? You bet they do. I've seen it often.


If you think barbers are more subdued than beauticians in the amount of fun they have at clients' expense, well, you're just living in a dream world. It might look like all cigars and testosterone, in the barbershop, but these guys are cut-throat. In a fun way of course.


Remembering that we live in the tropics is good to remember, too. A long time ago in a galaxy far, far away, a young boy named len wrote his first little column. It was entitled, "It's the Salt, Stupid." Now that you can't keep your color looking fresh, do you finally believe me? Hair color craves moisture.


While I agree we live in a climate that has a teensy bit of humidity (see my sarcasm at work?), our chemically colored hair just doesn't get enough to stand up to the salt that surrounds us everywhere. It's the only drawback to living in paradise. I mean, really, if the worst thing in your world is having to add some moisture to your hair from time to time, then your original "why" question is really silly. Don't you think?


The second "why" is a little more complicated. "Why does my color change slightly every time I have it done?" Well, the truth of the matter is this. Sometimes something as simple as what we did the night before can change how our color will process and look like the next day.


I know, I did not believe it, myself, at first, but it's a scientific fact. Kind of sounds like your Mom saying, "Because I said so," but it really is true. Our bodies are amazing machines and our hair is a living and breathing part of that mechanism.


What we put into ourselves daily will affect not only artificial color but, also, the texture, density and growth of this thing we call our crown. Kind of makes you rethink that Mac Rib burger, doesn't it? Maturity is a drag, but it is also a fact of life. Our hair matures with us, and with that comes certain non-negotiables.


Now, don't go all nuts on me with this whole double standard thing. I know that my personal diet sucks, and I have certainly been known to have the occasional Martini-Rita from time to time. But I'm not about to do a 180-degree flip-flop and start adding wheat oil or kelp to everything I ingest.


However, I have been making slightly smarter choices in diet and in matters of consumption lately, and I can really see a difference in my hair. I know, most people would be doing this for their health. To me, that's a plus, but looking good and having my hair just fabulous is so much more important. Po-ta-toe, Po-tah-toe. It's what keeps the world going round.


This brings us to "Why pamper?" I believe we have already answered that question, don't you? This is not rocket science folks. It's because you are worth every gosh-darn penny, and you deserve to look and feel good all the time. Did I just swallow a Sarah Palin Pill? "Gosh Darn?" Oh, My Gosh.


I'm off to Honolulu for a week. Don't hate me, just be jealous. After all, this is Len's Life! Mumsy, my sister Lisa and I are heading to the land of grass skirts for the Sweet Adelines International Competition. My Dad will be there, too, but he'll be golfing while we're singing and shopping. Jealous yet? Anyway, till I get back I want you to remember this. Pampering yourself is not, I repeat, NOT, vanity. It is simply making your world a better place than it was when you woke up this morning. Think about it.


Next up: Just what is this PHASE 4 stuff all about at blu? Till then, "Want a lei?"
---

Given that Len's very first word was "more," and the second one was "pretty" it is no wonder that he now is the Stylist Manager in the #1 salon and spa in Puerto Vallarta, blu, but also writes an entertaining and informative beauty column, "len's life." Whatever you hair may or may not need, Len will know exactly what to do or where to go to find the answer - just send him an email at len(at)blubylen.com.
Click HERE for more articles by Len.
Tell a Friend
•
Site Map
•
Print this Page
•
Email Us
•
Top