Health & Beauty | November 2008
len's life: Phase 4: What's in it 4 You?

Len - PVNN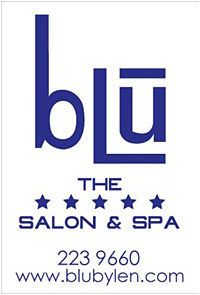 Don't miss the Phase 4 Begins Now party and fashion show on Saturday, November 29 from 8-10 pm. This party is free and open to the public.

I think as we grow more mature - yes it happens to even the best of us - change is a monster under the bed screaming, " So now what're you going to do?" I always get a little nutty around this time of year. I know.


Now you're saying, "And when does he think he's not nutty?" Say what you like, the simple fact is this: life moves really fast, and if you aren't careful, it will be over before you realize it. You know the mantra: Enjoy the NOW; it's all you can be sure of. Why my philosophical slant in this column? Because blu is entering a new phase, and Team blu has decided to bring all of Puerto Vallarta along for the ride.


Many of you have been asking me, "What's this 'Phase 4 Begins Now' that I keep seeing in your ads?" Well this, My Pretties, is where the fun begins. Phase 4 is the latest innovation that is being brought to you by the mind of this nutty writer, hair stylist and party thrower! It's both a celebration of our 3 wildly successful years in business and, at the same time, the totally exciting beginning of blu's 4th year. Phase 4 is a new outlook and a new attitude entering our 4th high season, not to mention a great reason for a huge party.


Outlook. Defined by len as "looking at anything in a different way, shape or form." It means that change is coming. Looking back at our explosive success made this a daunting task. What do you do when you already feel on top. Duh! You go up, Silly One. By up, I mean look at everything you ever wanted and start checking off the list. The most interesting thing about outlook is that it can cover everything. Work, play and life. What did you want to accomplish? Where did you want to go? Are you there? What's keeping you from getting there? All of a sudden, finding a new outlook is easier than falling off a log.


Phase 4 will encompass a new beginning in attitude and service, combined with blu's regular level of controlled insanity. Yep, you heard me ... controlled insanity. The last few months I've been reminded daily how much fun coming to blu can be.


Throughout the summer months I've noted the friendly local faces that pop in for the air conditioning, along with a good joke and maybe a little hairdressing on the side. As the summer faded and the humidity gave way to the return of our winter residents and visitors, blu has become what I had most hoped for. A meeting place, of sorts, for all of those who are pretty, who want to be pretty or are thought by some to be just plain crazy for believing they can be pretty. But blu teaches that if they believe, they can be downright beautiful, from the inside to every last inch of the outside.


When we first opened our doors, the look and feel of blu by len was its attitude. We knew we were the best thing to happen to Puerto Vallarta, and nothing was going to stop us. Some tried very hard to stop us, but in the end good business sense, patience (something I'm not known for) and an amazing level of service took us through what was blu's most challenging period.


The lyric "if you can make it here ..." really defined that first year. We were a determined little band of hairdressers that wanted to have fun, make tons of pretty, do it with style and class like Vallarta had never seen - and make some money along the way.


Simple business tenets, but as time goes on, living the dream sometimes begins to feel like work. Knowing how I hate work - unless it's doing hair and make-up - things had to change. My staff, my new business partner and I are happy to report a new attitude and level of service ... here, waiting to be released on the masses in Phase 4.


With free valet parking coming soon, new and updated technology, new wines at your beck and call in the salon and a new and improved design spruce-up inside blu, all I can say is Phase 4 Begins Now! Our Grand Opening Night was billed The Party. Our first anniversary brought a street party and fashion show that one local paper headlined "blu Goes Wild!" The second anniversary was marked by an invitation-only party called The Rejuvenation of Beauty, featuring me - always one to walk on the wild side - receiving a live Botox "facelift."


Well blu is in a party mood again, and when that happens, you need to be ready for anything. Saturday, November 29, 2008, is the night to put in your calendar now. On this particular night, there will only be one place to be from 8 till 10 pm. And that's on the sidewalks and in the street in front of blu, the five star salon and spa, at Olas Altas 513. This party is free and open to the public. What a great way to start off the season - with free blu Mojitos, free blu Margaritas and free red and white wine.


But wait! That's not all. No siree. blu is also ready to show off a little ... with fashion, hair, jewelry, fashion and - oh yeah - more hair. At exactly 9 pm, we'll have a fabulous fashion show. Each stylist will have their own models upon whom they will have worked their own form of magic. And, let me tell you, from the designs I've seen, they will all be a sight to behold.


Learning from our first fashion show, this year we'll have a raised runway behind the curbside fencing in front of the salon, so everybody can see from anywhere - complete with special lighting, music and even a smoke machine! You'll see it all: from what you can wear on the streets of Vallarta to what the runways in Europe are showing us. It will all will be revealed at the Phase 4 Begins Now party and fashion show.


Remember how we started this ramble ... musing on the philosophical. Reminding ourselves to "enjoy the NOW." Well, you will have no reason not to enjoy the NOW on Saturday, 29 November, 2008, if you just reserve 8 till 10 pm to be oh-so-brave and step into Len's Life! I welcome your company.
---

Given that Len's very first word was "more," and the second one was "pretty" it is no wonder that he now is the Stylist Manager in the #1 salon and spa in Puerto Vallarta, blu, but also writes an entertaining and informative beauty column, "len's life." Whatever you hair may or may not need, Len will know exactly what to do or where to go to find the answer - just send him an email at len(at)blubylen.com.
Click HERE for more articles by Len.
Tell a Friend
•
Site Map
•
Print this Page
•
Email Us
•
Top