Health & Beauty | November 2008
len's life: Red = Beauty a la mode, But blu = Fun Begins Now

Len - PVNN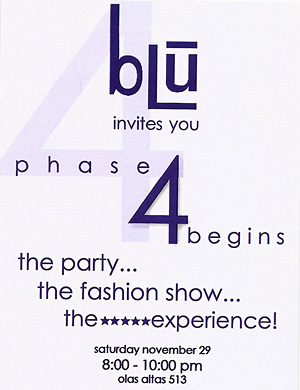 Don't miss the Phase 4 Begins Now party and fashion show on Saturday, November 29 from 8-10 pm. This party is free and open to the public.

I love a party. Any party at any time for any reason to be exact, but then most of you know that about me already. Here in Vallarta we always seem to crank up the party zone right around mid-November. There is always a correlation between our Mexican National guests celebrating their revolution and those from the U.S. stuffing themselves with way too much turkey and accoutrements.


Right up there in this mix is the sight of grown men running around a 100-yard field, chasing after a pigskin and occasionally slapping each other on the butt, complete with a half-time show that is obviously produced by hairdressers and Broadway choreographers. That's the part I like ... but I digress. More on the party scene later.


First, it seems appropriate to me to answer even more questions that come across my Mac Book screen at this time of year. With so many places to go and people to see, more and more people are conscious about how they look and "all that."


If only they would do this year around, my job would be so much easier. But, alas, that is not the case. Men still have ponytails and women still wear horizontal stripes when they know full well they should not.


My chosen profession over the years has been to illuminate and counsel those who would listen ... particularly those who would ask about all things pretty, like "How do I do this or that with my hair?"


So here is a question that has come to me in multiple forms this season, along with my humble (yeah, right!) opinion as to the preferred solution:

Dear Len: As we head into the holiday season, I am thinking of changing my hair color. For the past six months, I have had chestnut brown hair with caramel highlights. I like it, but I am now a little bored and ready for a change. I am one of your readers who believes in SPF 120, so my skin is fair, and I have dark brown eyes. Are there any new color trends this fall that might help me make the bold change I am hoping for? Please be kind.


Signed,
Denise, in Nuevo Vallarta

OK, Denise, here we go - and since you pleaded, I will be kind. I applaud your desire to keep changing your color, and I admire your courage to be looking for something new and innovative for the holidays. This season, it's all about red - bright red, coppery red, red orange and red violet.


Now, before you go hopping on the donkey train of trend followers everywhere, I want you to talk with your stylist first to figure out what shades of this hot color are the best for you.


Please keep in mind that even though a color may be in vogue, that does not necessarily make it appropriate for you. As you have heard me mention on countless occasions, a wrong color choice can make even the most perfect of haircuts look bad. And vice versa. Your professional stylist will know what will work before every applying it to your precious mane.


Based on what you have told me about your coloring, I would recommend that you keep your base color a warm brown, as it is, and have fun with some more vivid highlights. This will allow you, at once, to stay current and fresh-looking for daytime, but also sexy and vivacious for the later hours, if you know what I mean. I hope this helps you with your desire to shake things up a little. Just remember, DO NOT DO IT YOURSELF! Step away from the box, Girlfriend ... now!


Love ya, mean it,
len


I love getting letters from readers who actually ask for and listen to professional advice, before they just go and do something that turns out atrocious!


Now I would like to get back to my principal concern ... as always ... parties! I have already been to more than my fair share of events this year, and I must say that so far I have been pretty impressed with what I have seen as far as the party look and attire is concerned.


Cassandra Shaw had her One Year Anniversary Party (at her new Basilio Badillo location) this past Friday. What a blast. Celebrations, shopping and glamorous people all in the same place. Almost a hairdresser's wet dream. Never mind, sorry.


But, seriously, I must remark on how fabulous Cassandra, herself, looked. Bedecked in gorgeous jewelry from her own shop is usual for this girl, but for the party she had on the sexiest little black dress, with a wispy, organza, zigzagged hemline. And her platinum spiked hairdo was flawless. Now that's the way to hit the season running!


Across the street at Lucy's CuCu Cabana, Lucy and her crazy husband, author Gil Givens, were celebrating 15 years in business for her shop. And, Lucy's mother was one of the most glamorous, inspiring and happy women I have ever had the honor of meeting. In a long, elegant white cotton dress, holding her Mexican artisan cane for stability, she was literally dancing on the sidewalk to the music of the little Mexican band.


Wow, to be partying and looking that good at 93! All of us could learn a lesson from this amazing woman. As I constantly remind you, beauty really does begin on the inside and work its way out.


Which brings me to the subject du jour. blu is also celebrating an anniversary. The beginning of our fourth year in business, creating innovative looks and design. As many of you have already seen, blu has been undergoing a major salon updating herself. It's not just our hair that needs a new look and attitude from time to time.


So here's the deal. When blu throws a party, we tend to go over the top. I mean what's the point of inviting 300 of your friends to close down Olas Altas, if you're not going to give them something to talk about for a long, long time ... right?


It's show time, and blu is geared up and ready to show off a little. With local merchants helping with dresses and jewelry and blu taking care of the rest ... I guarantee you a good time will be had by all. And you never know, you may have more fun than you expected, and you may see a little more than you thought you would. Is that a big enough tease for you?


See you at Olas Altas 513, on Saturday, November 29th at 8:00 pm for free Margaritas, Mojitos and wine. The fashion show - complete with raised, underlit, plexiglass runway - begins promptly at 9:00 pm. It's Phase 4 Begins Now. 4 years of Fabulous. It will be like no other Anniversary Party ever on Olas Altas. Come see what it's like to be drenched in len's life!
---

Given that Len's very first word was "more," and the second one was "pretty" it is no wonder that he now is the Stylist Manager in the #1 salon and spa in Puerto Vallarta, blu, but also writes an entertaining and informative beauty column, "len's life." Whatever you hair may or may not need, Len will know exactly what to do or where to go to find the answer - just send him an email at len(at)blubylen.com.
Click HERE for more articles by Len.
Tell a Friend
•
Site Map
•
Print this Page
•
Email Us
•
Top