Vallarta Living | November 2008
Irreverent Chef: Signs... Irony in Advertising?

Liana Turner - PVNN



The Irreverent Chef, a.k.a. Liana Turner, is the chef and owner of Paradise Bakery and Catering. For more information, call (322) 222-5133 or visit VallartaCatering.com.

There are some things I just don't understand yet about Mexico. One of these things is the practice of naming a business after a disease or any other dire fear, especially when the business is selling food. Is it supposed to be funny?


It is possible to attract people with humor. If you can amuse folks, they will like you. If you can make them laugh they will love you, but in order to use this strategy, it has to be genuinely funny.


Life threatening diseases are not usually very funny. Or could it be some form of the "opposites" game, like children play, when they drive parents crazy for hours by saying exactly the opposite of what they really mean?


The thing is that humans' brains are very impressionable, and a large part of what we take in goes into the subconscious, and we still receive messages from there whether we know it or not. My brain has a hard time allowing me to enjoy a meal in a place that threatens to poison me.


I am sure that these are all very fine and reputable businesses, and no one should think badly of them, but I couldn't help but wonder...


Here are some business names that fall under the category: "Why? Why? Why?"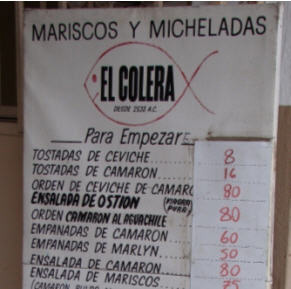 El C๓lera is the same as Cholera in English. In any language, it's not something we want to have. I have Heard great things about the food here, though, and the prices are very reasonable.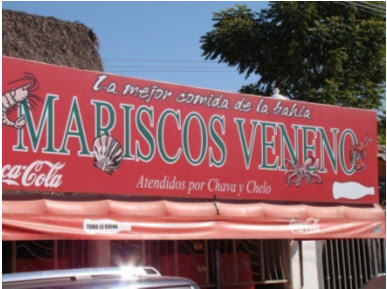 Mariscos Veneno in Bucerias... Translates to English as "Poison Seafood."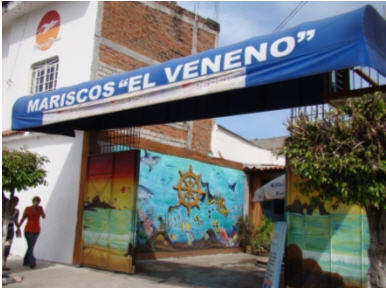 It is such a good name, that they put one in Vallarta too! I have eaten there, and it was good.


There is another restaurant in town that has, for some unfathomable reason, been re-named Dick's Halfway Inn. (For this I have no public comment.)


There is a real estate company called Sand Castle Dreams. Ummm... aren't sand castles subject to being washed away with the next tide or heavy rain? This is a company that sells property in just about every resort area of Mexico, so they must be doing something right.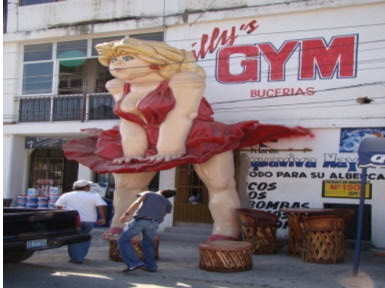 This huge "woman thing" is just so bizarre that I couldn't help but include it. It defies understanding. I am not sure what it advertises, but it is standing in front of a gym in Bucerias, on the main highway, ocean side, in the event that you might feel a need to go see it for yourself...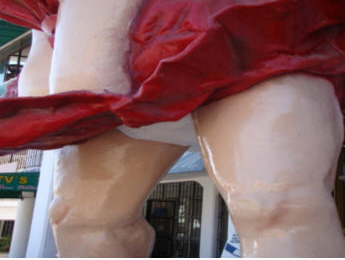 And just in case you were curious, like the guy in the above photo...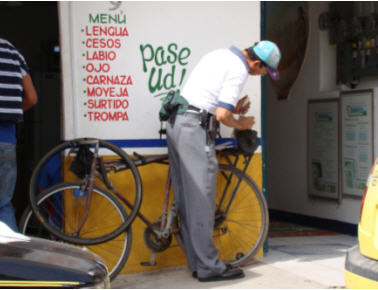 I only included this photo of the taco place in Pitillal because I found the list of taco choices "interesting." Tongue, brains, lip, eye, bait (there must be some other translation for that one), gizzards, nose, or if it all sounds so good that you just can't choose, you can have an assortment. Yummmmm! P.S. The man with the bike is sharpening a knife on a stone that he has connected to the bicycle.


This one is just for fun... What does it mean? Turn right here for the library, gift shop and crack house?


So, if you are planning on naming a business, please do some research, and since we are a multilingual and multi-cultural city, it would be a good idea to check out several languages and ask native speakers what they think of the prospective name. It could avoid embarrassment and other more serious problems later on.


Thanksgiving Notes from Paradise Bakery: Now is the time to order your Thanksgiving turkeys. We can only prepare a certain amount, so it is first come, first served. The turkeys are roasted to perfection, and come with mashed potatoes, stuffing, gravy, dinner rolls, vegetable and pumpkin pie, or any combination. Other special requests welcome. For pick up or delivery.


The Irreverent Chef, a.k.a. Liana Turner, is the chef and owner of Paradise Bakery and Catering. Serving the "Best Cinnamon Rolls in Vallarta," along with delicious sandwiches, salads, main dishes and yummy sweet treats every day but Sunday, and providing all styles of catering services, from pre-prepared meals to-go for informal gatherings to full service elegance for dinners, cocktail parties, wedding receptions and special events, Paradise Bakery & Catering is located at Sierra Aconcagua 299, Prolongacion Brasil, Colonia Lazaro Cardenas, Puerto Vallarta. For more information, call (322) 222-5133 or visit VallartaCatering.com.

Click HERE for more articles by The Irreverent Chef
Tell a Friend
•
Site Map
•
Print this Page
•
Email Us
•
Top