Health & Beauty | December 2008
len's life: The Calm Before the Storm

Len - PVNN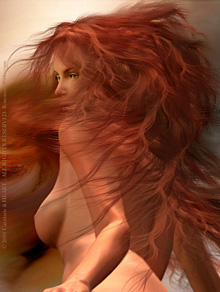 Go Red: With Christmas behind us, and 2009 less than a week away, it's time to have some fun.
With Christmas behind us, and 2009 less than a week away, am I the only one asking myself, "where the hell did it go?" I know it happened, but exactly what happened? With no slowing down and the snow birds still arriving, it is now when we begin to separate the men from the boys ... and the women from the girls, as the case may be.


Throughout the years, my job has been to inform, advise and, whenever possible, criticize that which many here in paradise call good fashion, good looks and good hair. I always try to steer my commentary in a positive direction, so that we can learn something from the information that comes from these pages. There have been times when a more cranky tone may have been detected. I mean, really, a horse is a horse, no matter what kind of lipstick you put on it. Oops, there I go again.


I have had a steady stream of questions from avid readers this year and that has certainly been personally satisfying. It's fun having people ask questions before they do it themselves or have someone unqualified do it to them.


For this week's advice, I thought it would be fun to turn to Spring. Yes, you read that right. Spring. It is right around the corner, and Pantones, the world's king of color, has released the much anticipated Fashion Color Report for Spring 2009. This Bible of Color, if you will, features the top 10 colors for the spring and summer seasons of 2009.


"New York's fashion designers encourage hopeful attitudes with lively colors, while sophisticated, grounded hues address the need for stability in times of economic uncertainty," said Leatrice Eiseman, Executive Director of the Pantone Color Institute.


Say what? I think she means that the world's designers think we need to look - and, therefore, feel - happy right now. While there is much uncertainty around the globe, I want you all to remember where you are. The Tropics. That means white pants or shorts are good all year around. It means if you are going to wear red, then - dammit - wear real red. If you want a blue not frequently found in the universe, then wear it with power and confidence. Life is going to get better. Pantone says so, with color - and Pantone rules!


Why the trip down fashion color lane? Because what happens in fashion dictates what will happen to hair. I used to think it should be the other way around. Alas, Dolce and Gabbana wield a little more clout than Estee Lauder.


With red (which includes any tone in the red family) being the "mane" color du jour of the hair gurus in 2009, this new fashion attitude with brighter colors and ever higher shoes is a welcome change. Even teamed with more subtle and grounded fashion tones, stability still trips all over the fun of "Sex in the City."


Thank goodness. I, for one, have been waiting for this new, brighter attitude for some time. We were getting a little to bogged down in all of the stuff going on in the world, and there had to be something to lift us out of that Dubya bog. We finally have permission ... like I ever need permission ... to have fun again.


Bring on the vibrant greens, the super lemons, fuchsia red and palace blue. There is not a palette on the planet that is off limits. The flashier you look and the more electric your presence, the better off you are going to be in this writer's book.


The storm I referred to in the title implies that the color wheel is spinning in all its glory. It's spinning so fast that the familiar line, "what's the best color for me," sounds old-school and boring. Jack up your clothes, swimsuits, sunglasses, hats and jewelry. We'll take care of your hair. Long, short, blonde, black, brown or red, the gloves are off, and it's time to have some fun. Do you have what it takes to turn the page? To really go where you've never gone before? I know that 2008's catch phrase was "Yes, we can." I have the new one for 2009. In fact, I think I'll put it on a T-shirt: "PROVE IT ... NOW!"


Be on the lookout, My Dear Friends. Len's Life can be a dangerous place to visit. My Third Annual Top 10 Fashion Mistakes of PVR is taking shape. Make no mistakes. No one, and I mean no one, is safe this time. If you ask around town, I'm sure the gossips will confirm this little item. Oh, the joy of gossip.


Hum, sounds like a future column to me. That's a subject I could really dig. Shaking yet?
---

Given that Len's very first word was "more," and the second one was "pretty" it is no wonder that he now is the Stylist Manager in the #1 salon and spa in Puerto Vallarta, blu, but also writes an entertaining and informative beauty column, "len's life." Whatever you hair may or may not need, Len will know exactly what to do or where to go to find the answer - just send him an email at len(at)blubylen.com.
Click HERE for more articles by Len.
Tell a Friend
•
Site Map
•
Print this Page
•
Email Us
•
Top