News from Around Banderas Bay | December 2008
Baseball Equipment Finally Donated to New Puerto Vallarta Little League

Bob Cohen - PVNN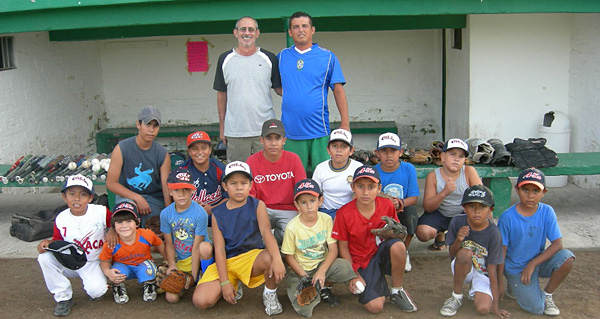 Bob Cohen and Miguel Angel Vargas with the group of young Little League recipients of a donation made a year ago of kids baseball equipment.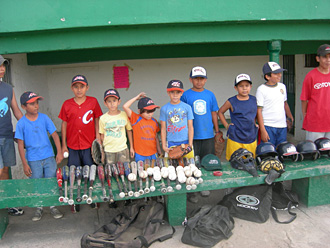 The kids with the donation of bats, gloves, balls and caps waited long enough to take this picture before running off and playing with their new equipment.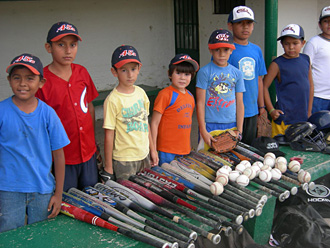 Now that is a lot to build two Little League teams, but more is needed and the Puerto Vallarta Little League needs the publics help.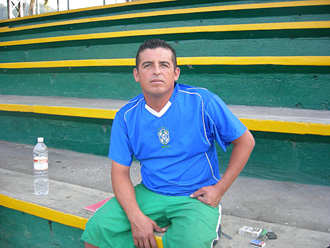 Miguel Angel Vargas, an ex-Little Leaguer is the organizer and founder of the first Little League in Puerto Vallarta in the last 10 years.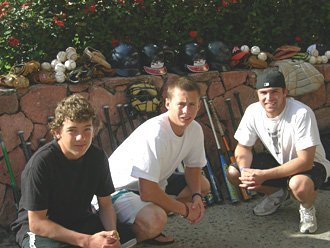 Many thanks to Kevin, his brother Jake, their friend Patrick and Mom and Dad Peters for bringing bags of baseball equipment to donate while on vacation.

It was exactly a year ago when the Peters family from the San Francisco Bay area of California brought and donated a lot of kids' baseball equipment to be donated to those in need. The article appeared in BanderasNews in early January of 2008. This writer went out to Nuevo Vallarta and picked up the gear on a Sunday morning, promising to accomplish the task of donating free baseball equipment as per the family's wishes. (See the original article HERE.)


What a nightmare the simple pleasant task turned out to be! I went to the sports stadium, schools; lurked in parks, asked friends and friends of friends, but those that were playing baseball all had equipment. People even offered me money to sell them some bats, balls and gloves, but in staying with the altruistic nature of the quest, I declined and kept asking.


We had a very similar donation a couple of years ago of soccer equipment that was met with gratitude and appreciation, and I had trouble understanding why we couldn't find poor kids that liked baseball to donate equipment to. The answer soon came after my requests went unanswered; Money! Dinero! It doesn't take much to field a soccer team, but it costs quite a bit to put a full baseball team on the field and ready for action. The cost for one team would be about $15,000 pesos and that only includes four used bats, nine used gloves, a dozen balls and some caps.


Finally, Carlos Contreras, a sportswriter for the Tribuna, a local Spanish newspaper handed me his cell phone at a press conference we were attending and on the line was Miguel Angel Vargas. Miguel spoke enough English and I spoke enough Spanish to arrange to meet at the baseball field at the sports stadium that afternoon. I brought the bags that included 20 aluminum bats, 15 gloves, 20 baseballs, catcher's gear and 20 baseball caps that I had kept stored for the last year.


Meeting Miguel Angel was an absolute pleasure and the year that I was waiting to donate the equipment seemed to be just right after meeting the 38 year old ex-Little leaguer from Puerto Vallarta. After an absence of Little League in Vallarta of 10 years, Vargas was in the process of starting a new Little League, and for kids that couldn't afford to play on any existing teams in leagues.


Miguel Angel was doing it correctly as well. He secured affiliations with Williamsport, Pennsylvania, the home of the World Little League and is authorized by that governing body to begin. Next was the affiliation with the Federation of Mexican Baseball and the Federation of Jalisco Baseball. Locally he signed an agreement with the City of Puerto Vallarta in the forming of sports division. Applied for was the Association Civil, which is the same as a non-profit status.


Games will be played on the large baseball field that has been yearning for kids to run on the lush green grass for years. Vargas has 100 kids signed up to play and also has an additional 8 public schools. They are practicing with the minute amount of baseball gear that they have on Mondays, Wednesdays and Fridays from 4-6 PM and have friendly games on Saturday at 10 AM. The goal is to start league play by the end of January.


We have a problem that needs the public's help. The institution of Little League is something I was brought up with as have many Americans. It was as common to play Little League as it was to go to school.


Here in Puerto Vallarta THEY CANNOT AFFORD TO PLAY!


They need donations, they need sponsors for teams, they need help to carry on a tradition that Miguel Angel has taken upon to start once again. He was a Little League star as a kid and still plays catcher in men's leagues. He has the dream that it can happen, but we need the public's help. He will not be paid a salary; he is doing this from fond childhood memories and love of the game and love of the kids.


Many people own businesses and since the organization is non-profit, it will be a tax write off. The name of sponsoring businesses will also be painted along the outfield wall at the stadium. Many from the North come down and often donate to local charities. Bring or buy a few baseball gloves to throw in your luggage when you come for your visit.


Little League is an organization that will do as much to strengthen ties between countries, as sports breaks down barriers of bias and dislike. A team from Reynoso, Mexico reached the finals in the 2008 Little League World Series but lost. Why not start when the kids are young? Look at history! Rent "Field of Dreams"!


For more information to sponsor or donate, contact Bob Cohen at bob(at)banderasnews.com.
Tell a Friend
•
Site Map
•
Print this Page
•
Email Us
•
Top