Vallarta Living | December 2008
Ann Marie Danimus: You are Not Going to get Her Down!

Twila Crawford - PVNN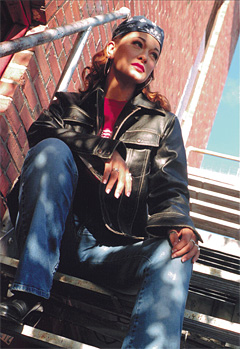 Ann Marie is looking forward to the future at Santa Barbara Theater. If you'd like to volunteer, send an email to contact(at)santabarbaratheater.com.
Ann Marie Danimus is spunky, feisty, talented, and knows what she is doing at Santa Barbara Theater as CHANGE is taking place. Resistance almost always occurs with change.


The message needs to get through that Ann Marie is the owner and the creative director... and she makes the decisions. She is bringing in more actors, more shows, and more employees.


Unfortunately, some around the community theater world here have spread rumors. Some of it is malicious with lies being spread widely. Ann Marie knows the sources of most of it, but believes it is best to just keep your head down and do your work the best you can.


This entrepreneur has skills and experience to perform on stage and to manage the theater, performing since age 8 and running several businesses over a period of 13 years.


Some people have expressed concern regarding her health challenges. She needs a kidney transplant. The actress has dealt with diabetes for 25 years, while having a successful career and life. Her kidneys began failing about 10 years ago.


On November 28, 2007, she began Hemo-dialysis (blood dialysis.) Ann Marie has a tube (catheter) in her stomach. She also has had five surgeries since 2007. "Some of this is painful," she points out in her own way. In the past, she has received dialysis at San Javier Hospital. She is complimentary of that staff. She also brings down equipment from the US. She goes to the US once a month to meet with doctors.


Her cousin, Dennis Tiegeler, also part owner of the theater, has offered a kidney. No time frame is in place.


Ann Marie, among other negative things said about her, has been accused at the theater of being lazy and that she should not be running the theater. She says that "It is always easy to be a couch critic. People usually have strong feelings about how they would run something; especially when that something means a lot to them. But it isn't always easy to know all of the challenges from the outside looking in."


This owner has Mikki Prost step in as manager for the theater when she is out of town and T.J. Hartung handles overall sound and lighting. Ann Marie says she is usually at the theater working from 11 am-11 pm and she rests at times in a studio office. All of these things seem to be a subject of gossip.


What is Ann Marie really made of?


She was born in Oregon, was adopted in Seattle and moved to Oklahoma. She earned a degree in communications from Washington State University. She sang in choirs from age 8. She also sang with the Seattle Opera as well as the Seattle Symphony, and was part of a choir directed by famed Paul Winter.


Ann Marie owned four businesses in the U.S. and in Mexico, planning weddings, providing publicity, doing graphics design, and being creative director at Santa Barbara Theater. She has held management positions with many companies including Jack's and Hooter's Restaurant.


Former Spotlight Productions founder, Kathleen Hennen, befriended Ann Marie for some of her productions. When Kathleen Hennen became ill (she now lives in Washington State, widowed a second time), Ann Marie directed a Christmas Show for Spotlight Productions. Ann Marie remembers this production very fondly and it was the first time she directed at Santa Barbara Theater.


She then became entertainment director around 2003 at the theater. A Christmas Cabaret called All the World's a Stage was my first show I both produced and directed," she says. She says, "Persons still talk about Nancy Patterson in the role of Mrs. Claus, leaving Santa Claus for Rudolph the Reindeer, played by her husband Tommy." She also put together Movie Musical Madness, with encapsulated versions of West Side Story, Oklahoma, Chorus Line and Grease.


Ann Marie Today


Ann Marie and her cousin, Dennis, purchased Santa Barbara Theater in April 2007 through friendly relationships with the lawyers of the building owners and a solid friendship with former owner Ed Hutmacher. A small group of theater persons had explored purchasing the theater that same year, but it did not come about. She says the building owner has been helpful. Previously from years ago, finances and legalities were in disarray. She pays a compliment. "When I took over, Ed Hutmacher (former owner) had cleared up the financial mess at the theater."


One of her dreams is the restaurant, Broadway Cafe, at the theater. With a 50's theme, it features home style cooking such as Chicken Pot Pie, Meat loaf, a spicy grill and big dinner sized crisp salads with a variety of ingredients. Diners can enjoy 50's and 60's music and ambiance. Theater dinners with a show begin in January, with a ticket price of $35 USD for both.


Lunch of salads and sandwiches with all natural meats will begin later. Breads will be made on-site including sour dough from sour dough starter that has been in her family since the 1850's. The menu also features specialty mustard from her Aunt's company called JP Fossil Creek Sweet-Hot Mustard. The menu is by Ann Marie with her and her families favorite recipes.


She also hopes to expand the theater as a Performing Arts Center with acting, dancing and singing classes. "We already have a full schedule of acting classes in English and Spanish for kids, teens and adults taught by Liv Boughn and Yoga classes on Monday, Wednesday and Friday taught by Mikki Prost."


The season has been slow so far and most shows have not received the crowds were are accustomed to. January, under Ann Marie's guidance, brings the beginning of new shows and a brand new late night program. Right now we are featuring the infamous drag queen comedian RV Beaumont Thursday, Friday and Saturday at 10:30 pm.


Gossip and maliciousness have continued, but Ann Marie believes the new year will get the theater in place for her.


Considerable interest has been shown in what happened one night when the Bambinos were performing. Police with guns and regulators arrived. Ann Marie believes she was sabotaged by someone who is familiar with the theater. The matter was cleared up, and the theater activities continued the next day. No (as speculation goes) drugs were not involved in this situation, Ann Marie says.


Gossip has centered around Paul and Freddie's departure from the theater, especially on the computer boards. They now are at The Palm. Ann Marie says she found out at 7:20 pm Saturday night that were not showing up and she was left refunding money to theater patrons. The technical staff had been setting up at the time and were also uninformed that there was no show until that time. She says she hasn't seen them since. Ann Marie dispels the story that she didn't pay them. She says, "They still owe the theater money."


Since the no-show, the businesswoman has been plagued with rumors that she doesn't pay theater participants. She says, "I have paid everyone." Ann Marie acknowledges that some former employees have caused considerable division concerning the theater all around town. "Not everyone is going to agree with the way I run things, but if you want to be employed here you have to follow the rules and that includes respecting the people you work with whether they be your boss or your co-worker."


Ann Marie is planning ahead. She has written two previous screenplays. She now is working on a third, based on another era in the theater here, called Sex, Drugs and Broadway Tunes. A character in the screenplay is based on Ann Marie... the Broadway tunes part, of course.


Ann Marie is an amazingly positive person who wants to move on and looks forward to the future at Santa Barbara Theater. She understandably needs volunteers to help her with the theater. If you want to help, email contact(at)santabarbaratheater.com.


The upcoming schedule in January includes: Grease, Maybe Baby, It's You, Rocky Horror Picture Show, Pearlene Dubois, Alex Ryder, and many more.


Happy New Year to you from Ann Marie, and come to see the new shows at Santa Barbara Theater. For more information call (322) 223-2048 or visit SantaBarbaraTheater.com.
---

An award-winning journalist, Twila Crawford lives in Puerto Vallarta, where, in addition to contributing articles to BanderasNews, the PV Mirror and other local publications, she writes Out and About in Puerto Vallarta, an informative column that offers inside information about who, what, why, where and when it's happening around Banderas Bay.
Click HERE to read more articles by Twila Crawford.
Tell a Friend
•
Site Map
•
Print this Page
•
Email Us
•
Top