Vallarta Living | December 2008
Record Breaking Becas Breakfast

Polly G. Vicars - PVNN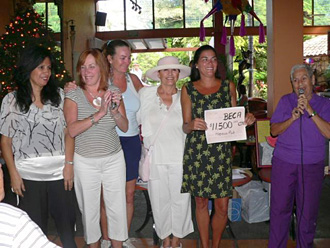 Isabel Manore, of Casa Isabel fame, with friends presenting a check to Becas for $11,500 dollars raised in her annual Becas Vallarta Mexican-Canadian Fiesta in Toronto in honor of their friend Bill Spence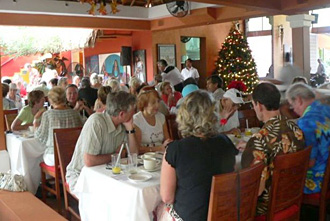 The River Cafe hosted 149 "do gooders" for a breakfast that fed both soul and stomach as the monies raised all goes to provide scholarships for Vallarta's young girls and boys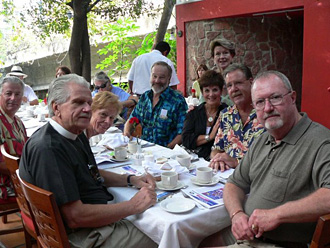 Father Jack and the Becas supporters from the Iglesia Cristo del Mar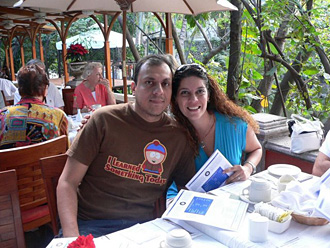 Ivan Alcantara and Becas member Analuisa Espinoza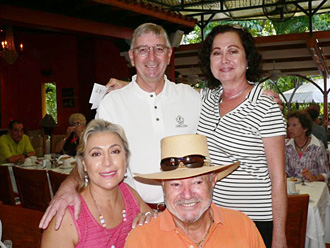 The moving forces behind Becas Vallarta and the America-Mexico Foundation: Jerry Lafferty and Cucquita Preciada, Treasurers and Mariel and Carlos Fregoso, Presidents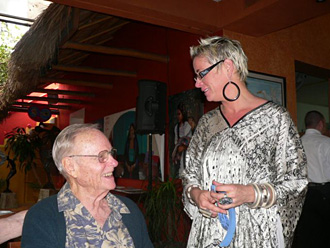 Cassandra Shaw, artist, entrepreneur and donor to Becas chats with supporter Jerry Wilson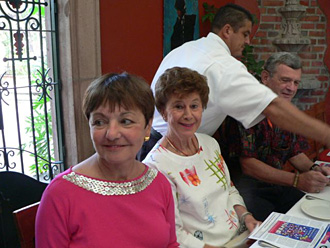 Ann Lafferty, Joy Johnson and Harvey Prawer enjoy the Becas Newsletter and the good food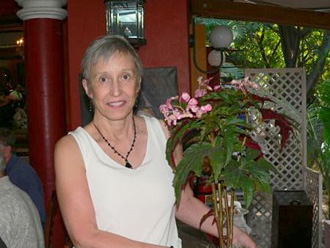 Sandy Miller of Kentucky, Colorado and Puerto Vallarta won the Botanical Gardens' prize of a lovely begonia to grace her new home in the elegant Molina de Agua
Lenny and Nellie Ambrose, staunch supporters of Becas and champion sellers of raffle tickets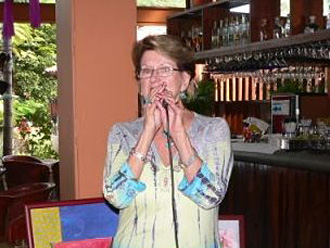 Mary Megin de Franco tells the group about the upcoming March 5, 2009 Becas Ball at the Westin Resort and Spa
Evangelina Sánchez and her fantastic staff at the River Café served hot and delicious breakfasts of shrimp and spinach crepes or chilaquiles or cheese omelets with mushrooms, plus all the fixings, to 149 Becas supporters.


This number broke the record 132 breakfasts served at the first breakfast of this season. Daiquiri Dick's, the site of our next breakfast on January 14, 2009, best be prepared as we intend to break this record too.


It was an animated group that filled the festively decked out River Café to support Becas Vallarta (The America-Mexico Foundation.) The mission of this nearly 50 year old foundation is to fund the educations of Vallarta's young people who have everything needed to become successful and responsible adults, except for one thing - - money!


It was so great to see Becas supporters from all segments of Vallarta's populace together for this worthy cause. Becas member Analuisa Espinosa brought local computer entrepreneur Ivan Alcantara of Artefactodigital and his Mom and Pop, Luz del Carmen Wolf and Helmut Wolf, to partake in the delicious food and the fellowship.


Father Jack Wehrs, rector of the Iglesia Cristo del Mar (Anglican Church of Mexico) brought a whole group from the church as they, thanks to Mary Megin de Franco's influence, have become great Becas supports.


June Rosen Lopez and Cassandra Shaw, both local entrepreneurs and makers of original jewelry were there, as were long time and well known beauty salon owners Enrique and Cuquita Huerta.


Isabel and Dave Manore brought a large contingent of friends from Toronto, many of whom had helped them raise the astonishing amount of $11,500 dollars presented to Becas at this breakfast. They raised that impressive amount at their Annual Canadian-Mexican Fiesta in their famous pub, The Madison, in Toronto. Thanks also to the other breakfast-goers whose names might not be in this report.


Raffle tickets salesman extraordinaire, Lenny Ambrose of Puerto Vallarta and Walnut Creek, California, did his always great job of selling tickets to almost every person at the event. Of course he had the support of his wonderful wife Nellie who helps him do everything as well as several other Becas supporters, including Cheo Rangel and Sergio Valle.


Thirty-two lucky breakfast goers were thrilled to win prizes from a dedicated group of Vallarta restaurants, businesses and supporters of Becas including Andales, Archi's Wok, Banana Cantina, Botanical Gardens, Café Catedral, Café des Artistes, Casa Isabel, Cassandra Shaw Jewelry, Coco's Kitchen-Barrio Sur, Curves, Daiquiri Dicks, El Arrayan, Época, Estefan, Florart, Hank & Conrad, June Rosen Lopez Jewelry, La Piazetta Ristorante, La Palapa, Lucy's Cucú Cabaña, Marcelo Mico Pilates, Ocean Friendly Tours, Primavera Nursery, River Café, Red Cabbage, Tony's Please and Xocodiva Artisan Chocolates.


'Mil Gracias' to each of these people who continue to support Becas even during this economic downturn. And while giving out our thanks, a great big one to Eva and Margarito at the River Café for the outstanding job they and their professional staff did preparing for and serving this breakfast!


Becas Vallarta/America-Mexico Foundation was well represented by Presidents Mariel and Carlos Fregoso and Treasurers Cucquita Preciado and Jerry Lafferty as well as almost all of its members. Secretary Sylvia Sorenson and her wonderful husband Vern were there as were Pat and Richard Bendix, Ann Lafferty, Analuisa Espinosa, Margaret Tolton, Mary and Alfredo Franco, Cecile and Rod Scriban, Harvey Prawer representing Elinor who was ill, Ed Cannon representing Joan who was also ill, Cheo Rangel and Sergio Valle representing Buri Gray, Irene and Carl Johnson, Linda and Terry Wirth and of course Husband AKA Hubert Vicars. Linda is responsible for the great photos that accompany this article.


Mary de Franco closed the event with information about the upcoming Becas Crystal Ball that will be March 5, 2009 at the Westin Resort and Spa. Tickets are already selling briskly so she urged the attendees to get their tickets early. Wouldn't a couple of tickets to this important and fun event make great Christmas presents for good friends who already have everything they need?


Call Mary at (322) 222-8203 or me at 223-1371 for more information and tickets. Have a beautiful holiday season, keep well and get ready for the next Becas Breakfast at Daiquiri Dick's on January 14, 2009. Call Mary or me for those tickets too!
---

Polly G. Vicars and her husband of 57 years, Hubert (a.k.a. "Husband") retired to Puerto Vallarta in 1988 and soon became active members of several charitable organizations. Polly is the author of "Tales of Retirement in Paradise: Life in Puerto Vallarta, Mexico" [a sell-out!] and "More Tales of Retirement in Puerto Vallarta and Around the World." Proceeds from the sale of her books go to the America-Mexico Foundation, a scholarship foundation that is their passion.

Click HERE for more articles by Polly Vicars, or click HERE to learn more about Becas Vallarta and the America-Mexico Foundation.
Tell a Friend
•
Site Map
•
Print this Page
•
Email Us
•
Top