Health & Beauty | January 2009
Here It Is ... The Top Ten Fashion Mistakes of 2008 (Vallarta Version)

len - PVNN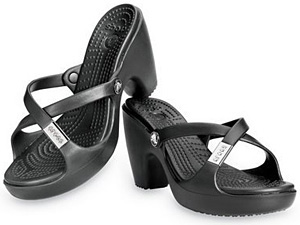 Once again, Crocs made this year's list of Top Ten Fashion Mistakes. These wretched little shoes took the top two spots on my 2007 Top 10 Fashion Mistakes report, but, in spite of the 2008 high-heeled version, they are still ugly.
More often than not I am often faced with a blank screen and an idea. A lot of people have asked me this year, "How do I come up with all this stuff?" I'll be honest with you. Most of the time it comes in a dream, or I'll see something from my Katie Couric style-like window on the world (at the salon) and say, "That's it; there's this week's column."


I certainly don't run around with pencil and paper like some version of Lois Lane, always looking for the story. That is entirely too much work. No, I simply let the words come to me, as if delivered by Brad Pitt or some other topical hunk, and then go from there. It just seems to work better.


This particular column, however, never needs any research, thought or hard work on my part. The wonderful residents and visitors of our fair city are never at a loss for providing the fodder needed for such a trashing as awaits you in the Third Annual Top Ten Fashion Mistakes of 2008. This one, Folks, just roles out of the brain. Scary, right? Well, get ready. Here we go, from the bottom up to Number 1.


#10: Crocs
Last year these wretched little shoes came in at the top two spots simply because they are simply ugly. Well, People, they're still ugly, and on adults they continue to look ridiculous. When adults want to look like Fred Flintstone for the rest of their adult lives, well, there really is nothing left for me to do. But you have to admit I am getting better about not worrying about it too much. Right? At least they are number 10 this year, in spite of the 2008 high-heeled version and the knock-offs you can now find on every street corner in our fair city.


#9: Bad Manners
I know you are wondering what this has to do with fashion, but believe me it does. Screaming at restaurant waiters or coffee house employees is just plain rude, wherever you are. And it makes you, not them, look ugly. It's coffee, for God's sake, not brain surgery. Likewise, screaming at innocent beach dwellers about whose chairs are whose just ruins everyone's day, including yours. Not to mention talking about other people's wrinkles, way too loudly at the beach. Also bad manners. All this leads to a very simple lesson: shut up, learn to say Please, and pepper your conversation with Thank You. You'll be a lot better off in Mexico and a lot better looking, believe it or not. Gracias.


#8: Way Too Much Make-Up
Honey, it's called Revlon or even Mac, but definitely not Dutch Boy. Too much of a good thing is always a mistake. If you need a lesson on how to apply your make-up, then get one. If you are unaware of the right colors for you, then find out. Whatever your issue is with this simple glamour product, please know this: It should be applied with the proper instructions and some good, not cheap, tools. Please throw away your Home Depot paint brushes and find a more civilized way of applying your favorite blue eye shadow, not to mention your underlying powder foundation. A mink brush is the only tool for this. Get used to it.


#7: "Grande" Women in Way Too Short Mini Skirts
Sorry there is no other way to explain this one. I mean, really. Manufacturers around the world should be forced to stop producing anything above the knee, especially mid-thigh, in size 12 or above. Also, for the Grand Dame, solid colors are the only way to go, and that's it. If you insist on wearing a Mini Skirt, and you add stripes, well please stay out of the Romantic Zone, as I am in no need of another migraine. Ya know what I mean?


#6: Tied nicely to #7, the Muffin Top MUST STOP.
While I applaud the apparent bravery of the men and women who wear a T-shirt or top that misses the top of their skirts or pants by several inches, it is truly one of the most unattractive fashion statements imaginable. That's true not only here in Mexico, but around the world. This may sound icy of me, but what else would you expect. I just speak the truth. It does not scream sexy or fashionable. It screams lazy, grossly overfed and just plain "out of it." Clue in, Guys and Gals. While I agree that tan phat is better looking than white phat, no phat should show when you are dressed in your street wear!


#5: The Thong on The Wrong.
This is a relatively new problem that has been creeping up on us for awhile. The problem here is that it is accompanied by a crack problem at the same time, and I'm not talking about dope ... or plumbers. Like it or not, brightly colored dental floss ... oops, I mean thongs, are her to stay in the shops - especially those for tourists. And, although they might be pretty and sexy with lace in the bedroom, they are not to be seen. Especially when accompanied by the aforementioned Muffin Top!


#4: Chipped Nail Polish and "Gum-Smacking"
I don't know why this bothers me so much, but it does. If you have gone to the trouble of putting nail polish on or having it done, thanks for the thought. Why, then, why? would you walk around a few days later with them looking like you have been changing a tire on your car or working in your garden? It simply is very unattractive. If you cannot keep your nail polish "polished," then just don't bother. And, please, whatever you do, throw the gum away when you walk out your door. You simply look tacky walking down the street chopping on gum. There is nothing more Red Neck than chipped polish and Brittany Spears wide-mouth-open gum chewing. I mean, what Tropical trailer park do you live in?


#3: Bad Showing Roots.
This has moved up a little on my list this year. The reason? It is getting funnier and sillier looking every year. Last year, it was mostly relegated to the young. They would do it at home (big mistake), and then let it grow out in some sort of teenage rebellion. Fine. But now their mothers' are beginning to think they are Shakira, and moving towards middle age with 3 inches of roots with dried and fried blonde ends. A bit of dark roots with blond hair can look fashionable. But, Middle Aged Ladies, remember that your roots are going to grow in gray. See thy colorist.


#2: Boxed Color.
We're almost there. If you think going to a colorist is something you can do yourself by buying color at Mega in a box, know that is the worst thing you can do. I have said it a thousand times in the past, but evidently it is not sinking in. "Step Away From The Box, My Dears." Your excuse of not being able to afford professional color is bogus. We professionals will steer you in the right direction. I hope that this will not continue. I fear it will, and in that vein, I will call you on it every time I see it. Did I mention that I have no problem doing that? Be afraid. Be very afraid. Len is on the loose in this town!


#1: Here we are at number one. Could I have the envelope please? The winner is ... Chisme.
You never know what you are going to learn reading these columns. This is a Spanish lesson, as well as a lesson in how to look more beautiful. Chisme is Spanish for Gossip. Its colors are green, grey, black and yellow. Kind of like a bad bruise. Why is it considered a fashion mistake? Because it is written all over your face. Remember, those of us who live in glass houses should not throw stones. So, if you are going to throw stones, get ready for some larger boulders coming your way. And neither the stones nor the boulders are going to make you look fashionable.


How many times have I written it before ... let me count the ways. Beauty starts on the inside and works its way out. That's why this year's Top Ten List includes so many things that simply require thought in order to know what's right and what's wrong. Be beautiful by thinking ahead and creating your beauty inside. It will glow on the outside, too.


I am off to Atlanta for two weeks for some serious R&R ... as well as some medical help to make me feel more energetic. Girls and Boys, I am tired. I hope while I am away that some of you will read this and laugh. If you're not laughing now, then there's a good chance you are in one of the ten groups above. Please do something about it. Make Len's Life that much easier. See you soon, when I return in mid-January.
---

Given that Len's very first word was "more," and the second one was "pretty" it is no wonder that he now is the Stylist Manager in the #1 salon and spa in Puerto Vallarta, blu, but also writes an entertaining and informative beauty column, "len's life." Whatever you hair may or may not need, Len will know exactly what to do or where to go to find the answer - just send him an email at len(at)blubylen.com.
Click HERE for more articles by Len.
Tell a Friend
•
Site Map
•
Print this Page
•
Email Us
•
Top