Vallarta Living | January 2009
Becas Not Letting the Economy Get Us Down

Polly G. Vicars - PVNN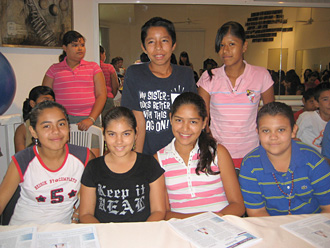 Becados who benefit from these donations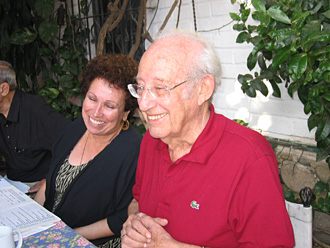 Becas Compadres Buri & Peter Gray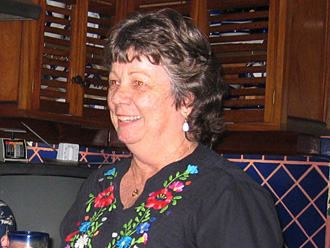 Comadre Judith de Galeana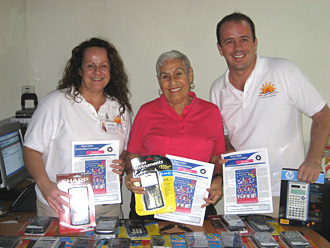 Tim and Lina Longpré and I display the donated calculators
Several friends of mine and consequently of Becas Vallarta, have asked whether this economic downturn is causing trouble raising scholarship funds. I am happy to report that just the opposite is true. My eternal optimism is proving itself as both friends and strangers are stepping up to see that our almost 50 year old foundation not only survives, but thrives.


When I went out to sell advertisements for our 2009 Newsletter, I was surprised that I was able to sell even more ads this year, than last! Seems the businesses in Vallarta agree with us that education is the key to progress and they are willing to invest their money to support us.


I ask you and all of the other Becas supporters to, in turn, patronize these loyal Becas donors. Stop by, use their services and say thanks to: Banana Cantina, Biblioteca Los Mangos, Carl Timothy of Timothy-Fuller Real Estate, Cassandra Shaw Jewelry, Gallería Dante, La Piazzetta, Lucille Shipley Art Workshop, Marcelo & Ruben Mico Pilates, Maripepa Gonzales' Florart, Peyote People, Sam Skidmore Real Estate & Rentals, Melchor Cortes' Spanish School Vallarta, The Computer Store and William Michael of Coldwell Banker La Costa Real Estate.


We recently received a generous check from George R. Jamieson, owner and operator of Dick's Halfway Inn on Basilio Badillo. Along with his check, he expressed a desire to be a part of this community and offered his further assistance by helping us with fund raising projects. Thank you George. We encourage our supporters to show their appreciation by dropping by your restaurant for a meal.


I received a call from Tim Longpré, owner of PVRPV, a vacation rental service, who asked me to stop by his office to pick up 25 scientific calculators that were donated by one of his clients. These brand new, top of the line calculators will be given to appropriate scholarship students in high school or university. Once again Becas people, drop by Tim's new office on the corner of Francisco I. Madero and Piño Suarez for all your rental needs.


As soon as our Newsletter went out, we began to receive donations from supporters from many places. Some gave for scholarships, some in honor of lost loved ones and some for Christmas gifts.


In November and December we received donations from Allen & Patricia Bartlett of Littleton, CO, Carolyn Flury of Cincinnati, Ohio, Davis & Diane Moccia of Cincinnati, Ohio, Debbie & Kenneth Kitchen of Austin, TX, Earlene Walker of Freemont, CA, Geri Thayer of Tiburon, CA, Jack Malone of Villa Hills, KY, Jennifer & Michael Selover of Kirland, WA, Len & Nellie Ambrose of Alameda, CA, Pat & Janice Reding from Roseville, CA, Thomas Rasch of Alameda, CA, Virginia Sall of North Oaks, MN, Lorna & Ernie Honecker of Ft. Lauderdale, FL, and Bill & Annette Semeyn, Elinor & Harvey Prawer, Joy & Warren Johnson, Margaret Tolton, Polly & Hubert Vicars, Ron Morgan, The Galeana Family, The Torres Family, Vern & Sylvia Sorenson and Jerry Wilson, all from Puerto Vallarta. ¡Muchas Gracias a todos!


Last week my computer Guru, Ivan Alcantara, proprietor of Artefacto Digital, a computer sales and service company, called to tell me that he had $60 USD for Becas as a result of a sale of his Net2phone system. He added that in the future he will give Becas that amount for every system he sells.


It seems that more and more individuals and businesses are recognizing the advantages of having an educated populace here in Vallarta and are willing to help fund our scholarships. I have had a wonderful system from him for several years and have found it to be very easy to use and Ivan exceedingly helpful. He assigned to me a telephone number in the city of my choice in the States enabling my friends to call me as if I were in the U.S. I have 300 minutes a month of calls to the States or Canada for only $9.99 a month with 800 numbers not counted. I use a regular telephone and use it for all my banking, credit card, insurance and business calls. It is one of my greatest conveniences. So if you would like to have a US telephone number to call your friends and businesses associates, give Ivan a call at (322) 223-8362 or 044-322-779-7677 and he will tell you more.


I have written before about our "Becas Compadre" program where supporters who donate $5000 USD or more join a select group of people who, like the compadres of the Mexican culture who pledge to watch over a child, in our case, over our scholarship students. This is a special status that is taken very seriously in Mexico and creates a bond that many times exceeds a blood bond.


Everyone wondered if we would continue to get new Becas Compadres in these hard times but I am pleased to tell you of our latest compadres (comadres for the distaff side): The late Peter Gray and his beautiful wife Buri, the Galeana family in honor of their father and husband, Angelo and Dr. Clark Lipe in honor of Dr. Gordon Bocox.


Whether honoring a loved one and/or expressing your personal belief in changing lives through education, becoming a Becas Compadre is a fantastic way to go. So huge thank you to our latest Compadres and a heartfelt invitation to others to join this special group!


To add to that good news, Becas Breakfasts are continuing to be sell-outs. After fabulous breakfasts at Coco's Kitchen-Barrio Sur and The River Café, we are now looking forward to another sell-out event at Daiquiri Dick's Restaurant on Los Muertos Beach on Wednesday, January 14, 2009 at 9:30 am. Tickets, only $150 pesos, are going fast, so call me at 223-1371 or email me at phvicars(at)gmail.com to reserve your space.


We will have great raffle prizes from local businesses that also continue to support us and Daiquiri Dick's will serve you a hot and delicious breakfast of your choice of Chilaquiles, Scrambled Eggs with ham and cheese or Huevos Rancheros. Each comes with hash browns, toast, juice and coffee. So both you and Daiquiri Dick's will be contributing to the ongoing success of Becas Vallarta with everyone having a great time!


So to keep my optimism going, come to the breakfast, send in a donation, become a Becas Compadre and get your tickets for the March 5, 2009 Becas Crystal Ball!
---

Polly G. Vicars and her husband of 57 years, Hubert (a.k.a. "Husband") retired to Puerto Vallarta in 1988 and soon became active members of several charitable organizations. Polly is the author of "Tales of Retirement in Paradise: Life in Puerto Vallarta, Mexico" [a sell-out!] and "More Tales of Retirement in Puerto Vallarta and Around the World." Proceeds from the sale of her books go to the America-Mexico Foundation, a scholarship foundation that is their passion.

Click HERE for more articles by Polly Vicars, or click HERE to learn more about Becas Vallarta and the America-Mexico Foundation.
Tell a Friend
•
Site Map
•
Print this Page
•
Email Us
•
Top