Vallarta Living | January 2009
Celebrating the Life of David Leonard: Artist, Humanitarian, Tennis Fanatic

Bob Cohen - PVNN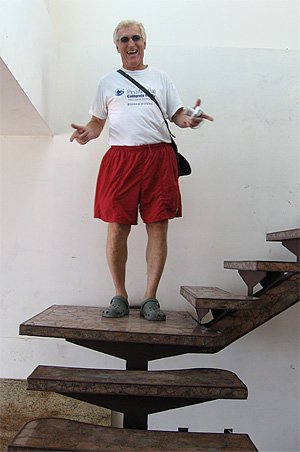 Click image to enlarge
David Leonard: Artist, Humanitarian, Tennis Fanatic
Puerto Vallarta lost one of its kindest, friendliest and respected residents as David Leonard, passed away on Sunday, January 4, 2009 at his home after a short battle with lung cancer. David was an artist, humanitarian and tennis fanatic in the 16 full years he lived in Puerto Vallarta.


Born in New Jersey in 1940, David's first job as a young teen was as a barker on the Boardwalks of the Jersey Shore, a job that, unrecognized to him at the time, helped develop his open and caring personality that so many people that came into contact with him were able to appreciate.


Shortly after, still in his late teens, David moved to Hawaii for four years where he met his wife Shirley and they married when he was 19 years of age. The barking in Atlantic City paid off for him as he very successfully sold cemetery plots while in Hawaii before the couple moved back to a farm in Bucks County, Pennsylvania. They had five children before Shirley was tragically killed in an auto accident. David, with the help of his second wife and members of his family raised the children. While in Hawaii, David did a number of things including taking flying lessons which he turned into a career.


David was a pilot for the small Allegheny Airlines and when they were purchased by U.S. Airlines, he continued his flying career for 25 years. On one flight that he piloted he was hijacked to Cuba, but returned unscathed. After retiring from the airlines and remarried, David moved to Park City, Utah where he was involved in the real estate business and also enjoyed skiing as well as tennis. A number of years later, he relocated to his final place of paradise; Puerto Vallarta, arriving here in 1993.


David spent quite a bit of his early years in Puerto Vallarta on the tennis courts at the John Newcombe Tennis Center, which is now the Canto Del Sol Tennis Club and there he met many of his first and longtime friends.


Intrigued with art, especially mosaics, David began a hobby that developed into yet another career after he attended a seminar in San Francisco, California. He learned about integrating and utilizing the use of glass in his mosaic art. In his early years of mosaic work, he ran a Bed & Breakfast for three years which was aptly called Hacienda Mosiaco.


In 1999, before the Children of the Dump incurred much interest, David was invited to sit on the Board of Directors, which he gladly accepted as he took to heart these young kids going off to school without breakfast. The Board quickly folded, but David did hands on volunteer work for three years with the children.


He was assisted by Cristina Borbolla, a very dear friend who was with him until his death. Other new friends and new Puerto Vallarta residents Don and Cynthia Bennett supported his work with the children and were also with him daily in his final days. Others helping to nurture him at the end were Sam "Lalo" Edwards, Jim and Barbara Hill and several others - Marie, Ji, Sandy, Gabriela, John and Carol Ann from his many areas of interest. In his efforts to nourish the children local restaurants provided crucial support but none more than Ruben Fregoso, the owner of the popular Pipi's Restaurant. Cristina was able to get the Rotary Club involved and then the project picked up more popularity, but David's enthusiasm and nurturing were crucial in helping the project to survive and grow. His concern about the eyesight of some of the children led him to persuade another Puerto Vallarta resident, ophthalmologist Dr. Jaime Miramontes Contreras to contribute his services free of charge, including some surgical procedures.


David's art career began to flourish, as his mosaics were exhibited at the Dante Gallery. He expanded his work designing and installing vivid mosaic glass tables, chairs, staircases and whatever was asked of him in homes in Conchas Chinas, Nuevo Vallarta, Punta De Mita and other areas. A picture is attached of David standing on a staircase he designed, showing the genuine smile that so many had come to know.


David's work can still be seen (and we hope for years) at Vitea Restaurant located just past the Navy Museum on the new Malecon extension. Every table and chair in the restaurant was designed and installed by David Leonard. One can view and eat on his work and enjoy a gourmet meal at Wolf Vitea's restaurant with an ocean view.


I knew David for only four years and we became friendly on the tennis courts. Every August, he flew to New York to see his closest friend Noel Bacchus and the two tennis fanatics would always attend the U.S. Open for at least a few days of play. Noel spends two months a year in Puerto Vallarta and has for so many years. Needing help with some of David's background it was Noel and Don Bennett who were able to fill in the blanks in all the 69 wonderful years of David's life so I could write about it.


Noel told me that "his genuine love of people and delight in meeting and talking with them was unsurpassed by anyone he had ever known. David was also quite generous in every aspect of his life." He concluded tearfully with "I loved that guy!"


Planned this week on Thursday, January 15th at 2:00 PM will be a gathering of friends of David Leonard's on the beach to sprinkle his ashes and reminisce and share stories about him, in a celebration of his life. This will be at the beach Playa Camarones fronting the Canto Del Sol Resort about 50 yards south of the hotel, so all the tennis players that David knew throughout the years can easily attend. If you were a friend of David's please join us for the celebration of his life on Thursday.
Tell a Friend
•
Site Map
•
Print this Page
•
Email Us
•
Top