Vallarta Living | Veteran Affairs | January 2009
The Adjudicators Stopped by Court Order

David Lord - PVNN
"War is an ugly thing, but not the ugliest of things. The decayed and degraded state of moral and patriotic feeling which thinks that nothing is worth war is much worse. The person who has nothing for which they are willing to fight, nothing which is more important than their own personal safety, are miserable creatures and have no chance of being free, unless made and kept so by the exertions of better people than themselves"
- John Stewart Mill, English economist & philosopher (1806 - 1873)

The Adjudicators Stopped by Court Order


One of the most irritating facts about the Veterans Administration is the unchecked power used by Adjudication Bureaucrats to override doctors' statements that are used to support a claim for disability.


We know Veteran's should always use supporting statements by a doctor. By this I mean one of the following: 1) it is as likely as not that a condition exists, 2) and the condition is the direct result of, or, 3) the condition directly resulted from Military Service.


These connections often result in disability income compensation from serving in the military. We now find out that the V.A. has at will, over-ridden thousands of medical opinions by a non qualified medical expert known as V.A. Adjudicators. They dismiss the Doctor's opinion in favor of their own by merely having read a Veterans claims file, thereby defeating the purpose of any doctor's expert opinion. The V.A. was permitting the ignoring of real doctors' opinions based on many years of observation of a Veteran's health and robbing that Veteran of a fair adjudication process.


Nieves-Rodriguez v. Peake, December 1, 2008, No. 06-0312
United States Court of Appeals for Veterans Claims (CAVC)


The Court held that the probative value of a medical opinion primarily comes from the physician's reasoning. A claims file review cannot compensate for lack of a reasoned analysis required in a medical opinion. Factually accurate, fully articulated, and sound reasoning for the medical conclusion, not the mere fact that the claims file was reviewed, contributes probative value to a medical opinion.


The Court held that a private medical opinion may not be discounted solely because the physician did not review the claims file. Likewise, a VA medical opinion may not be preferred over a private medial opinion solely because the VA examiner reviewed the claims file. It is what the examiner learns from the claims file in forming the expert opinion that matters, not just reading the file.


The Court also held that VA does not have a general duty to inform every claimant that seeks or provides a private medical opinion of the availability of the VA claims file. The Court noted that particular medical information contained in a claims file may be significant to the process of formulating a medically valid and well-reasoned opinion and directed that a veteran should take care to personally provide those medical facts of which a physician should be aware in formulating a medical opinion.


Remember: All Veterans that have lost a case know the feeling of dispare, if your claim was denied, appeal with this ruling in mind. The Appeal process is limited so veterans must seek help quickly and do not give up without a fight. Veterans living in North America and Canada can call me toll free at 1-866-834-8531 or send me an email at david.lord(at)yahoo.com.


Public V.A. Hospitals?


On January 22, 2009 Barack Obama was sworn in as the nation's first black president with millions of jubilant supporters in attendance. The skeptics are mostly under whelmed by Barack's popularity, and less enthused about his preaching of "Yes We Can!" They are being overwhelmed by the state of the sinking economy created by the senseless Bush Administration.


We know that the remaking of America means the re-leveling of mountain peaks and filling in of valleys to homogenize and the blend away differences, from income taxes to opportunities, all must be leveled amongst the tax payers of America.


The greatest change in American history is underway and it is so big that no one can get their arms around it. The Nationalization of the banks and car industries is well underway by virtue of the TARP funding. The special interest lobbyist are locked out of the Oval Office - or so they say.


Fair and equal health care reform are the promises making the most popular headlines. President Obama may very well get universal health care going and I think he will do so by opening the Veterans Hospitals to the public. It has been the only successful model of health care in America that functions with a high degree of success.
---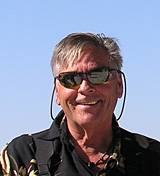 David Lord has been a National Veterans Service Officer doing veteran's benefits in Mexico for over a decade. David is a combat veteran, wounded by gunshot in Viet Nam 1968 and is a retired Marine. The Veterans Administration has played a critical role in his life, by his having both medical and compensation benefits. He uses his personal experience in the claims process along with having legal and credentialed Accreditation by the Department of Veterans Affairs. His use of Congressional approved Veterans Organizations, to steer veterans and dependants through the maze of regulations and entitlements due them from military service is outstanding. For more information, email him at david.lord(at)yahoo.com.
Click HERE for more Veteran Affairs with David Lord »»»
Tell a Friend
•
Site Map
•
Print this Page
•
Email Us
•
Top