Vallarta Living | Art Talk | February 2009
Amorcito Corazon Delights PV Art Lovers

PVNN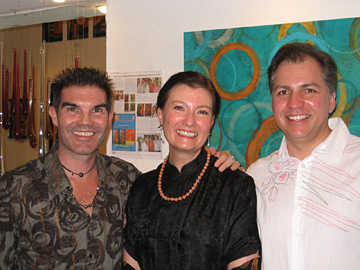 The Amorcito Corazon art exhibition runs through February 24th at Sol y Luna Contemporary Gallery, Josefa Ortiz de Domínguez 155-A in Old Town Puerto Vallarta.
On February 11th, Sol y Luna Contemporary Gallery opened an extraordinary exhibit by artists Sushe Felix and Don Quade presenting "Amorcito Corazon," a two-person show featuring mixed media paintings and collages that reflect their fascinations and love of the Mexican culture and landscape.


This might have been the largest opening night of the season. Locals and visitors alike will enjoy these two talented artists, who capture the imagination with their vibrant images and colorful compositions recalled from their respective journeys through Mexico.


Both artists are profoundly impacted and inspired by the beautiful people, gardens, wildlife and colors that are inherent in Mexico's environs, specifically in and around Puerto Vallarta. Their latest works on wood panel and canvas convey an art form that is replete with love of culture, life and natural wonders.


When asked about her work, Sushe says, "My paintings for this show are unique and very special to me in that it is specifically based on my impressions of Mexico and my trip to Puerto Vallarta. Last year I had a wonderful experience visiting Mexico for my first show at the Sol y Luna Gallery. I wanted my newest artwork to reflect my positive impressions of the flora and fauna I saw, along with sights of the city itself. I love using intense and richly layered colors to create compositions that contain movement and vitality."


"Traditional and brightly hued colors of Mexico can be seen in the flowers, birds and insects, and also in the buildings and streets of Puerto Vallarta where the city itself seems to be constantly moving. My compositions are stylized and I aim to simplify my subject matter in such a way that I give the objects and landscapes their own unique personality - I strive to make art that is joyful and imaginative." Sushe adds, "I want this series of paintings to reflect my memories of the beauty of Mexico and hopefully to capture them for the viewer as well."


Sushe's paintings are acrylic on canvas. The larger pieces have dowels on the top and bottom and hang like a scroll. This approach gives these works a unique and exotic look, at once traditional and contemporary, eastern and western. The lushness of the tropics, plus the spirited iguanas, butterflies and other creatures who inhabit Felix's paintings, compel us to linger in their presence as we would in the environment itself.


This year's exhibition marks Don Quade's third exhibition with Sol y Luna Contemporary Gallery. His latest works, recalling familiar patterns and shapes, are infused with his love of the natural world: swirling leaves, the curly-cues of vines reaching to the sky, and blossoms that burst forth as captivating as Puerto Vallarta fireworks.


Of his most recent work Quade says, "My art is a reflection of my interest in the geometry and fascinating shapes that are found so abundantly in nature. Traveling throughout Mexico is one of my greatest pleasures so for this show I wanted my paintings to reflect my great love and appreciation for the Mexican culture and specifically to highlight the unique and vibrant color combinations that work so well in the beautiful ocean-side city of Puerto Vallarta."


Quade also adds about the composition of his paintings, "Using the garden as metaphor for life, I wish to impart to the viewer the beauty, fragility and fleeting moments that life offers us; and I hope that I have captured those moments in my abstractions. It is my greatest desire to encourage others to appreciate and relish nature´s simplest and oftentimes most sublime offerings."


Alejandro Baez, owner and director of Sol y Luna Contemporary Art Gallery and Art for the Uninhibited Gallery, is proud to represent such talented international artists as Sushe Felix and Don Quade. Alejandro has known these two talented artists since he lived in Santa Fe New Mexico, where he launched his own career as the director of a prestigious gallery on famous Canyon Road. Sushe and Don soon became two of Alejandro's favorite artists of those he represented, and through the years they have all become great friends.


Sol y Luna Contemporary Gallery is honored to represent them exclusively in Mexico, along with many of the other fine artists in the Sol y Luna family of artists. Alejandro confirms, "I love presenting exhibitions for Don and Sushe together and consider their two-person shows to be combined solos, as their artwork does not compete but rather compliments each other, much like Sushe and Don's personalities. Not only do they come from the United States especially for their unique art show Amorcito Corazon, but they bring with them their families and a large group of friends. "We all have a great time and I am sure that this year it will be the same!"


The art exhibition will run until Saturday, February 24th. For more information please call 044-322-113-0475 or (322) 222-1302, send an email to solylunapv(at)yahoo.com, or visit solylunapv.com.

Since 2006, Alejandro Baez has been bringing his years of art experience and education to the Puerto Vallarta art scene by highlighting a collection of contemporary and erotic art by both Mexican and international artists at his two Puerto Vallarta art galleries Sol y Luna Contemporary Art and Sol y Luna Art for the Uninhibited. For more information, click HERE or visit solylunapv.com.
Tell a Friend
•
Site Map
•
Print this Page
•
Email Us
•
Top