News from Around Banderas Bay | February 2009
There's a Poet in Everyone

Sylvie Scopazzo - PVNN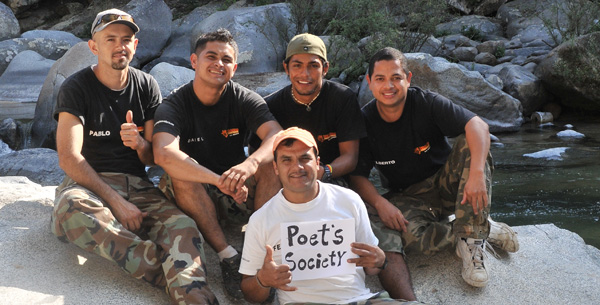 As it turns out, the guys at Canopy Los Veranos are not only gorgeous, but also romantic - and talented - poets. (Daniela Sanchez)
What does one do when it seems this economic environment has many employees concerned over job eliminations and uncertain of their immediate futures? Los Veranos Canopy is getting creative and trying new ideas to provide praise to their dedicated employees.


One of the most important responsibilities as a manager is maintaining a dedicated, motivated and content staff. Completing this task well, will show in the service we provide our clients and friends.


It used to be easier. Yes, verbal praise and pats on the back go a long way. However, a little extra cash in the form of a bonus can be high on the motivator list. So what do I do now? Like many other businesses we are watching our spending and no longer able to provide "cash praises."


Lucky for me, I came across a book titled, 1001 Ways to Reward Employees, written by Bob Nelson. This book is about motivating employees without relying as much on cash incentives. Within 15 minutes of reading, an idea had popped into my head! Valentine's Day was just two days away and wouldn't it be great to have a poem writing contest!


The first thing I did was create a poster with cute little hearts all over it saying, "VALENTINES DAY CONTEST. THE BEST POEM WINS A DINNER FOR TWO." The second thing I did was PANIC! The contest was the next day and I hadn't thought about where to obtain dinner prizes! This is where I had to again get creative.


I had to find a restaurant that would be willing to do an exchange with our company. I was sure there was another manager or business owner in Puerto Vallarta also seeking low cost methods to motivate their employees. Los Veranos Canopy tickets in exchange for a dinner! What could be more perfect?


Le Bistro and Daiquiri Dick's, apart from being two of my favourite restaurants, are owned and operated by very wonderful people!! Humberto Esparza, the owner of Le Bistro, and Daiquiri Dick's Chef/Manager, Hnoi Latthitham, took me up on the deal without hesitation.


The day had come! Poems were pouring in. I was quite surprised by the response! Everyone got involved! Kitchen staff, guides, bartenders, maintenance crew even the zoo department!


For some it was easy and for those who refused, I made them sit at a table with paper and pen in hand. I knew it would just take a little push. Ha! Ha! One particular staff member said, "No, no, no. I'm not romantic, I can't do this!" It turns out that Mr. "I'm not romantic," (Canopy Tour Guide Supervisor Eduardo Villegas,) came in 3rd place with the following poem:

Ufff...! Imagínate!
Wow...! Imagine!

Cuando el silencio abraza
When the silence embraces


Mientras escucho los secretos del viento
While I listen to the secrets of the wind


El calor de tus ojos observo
The heat of your eyes I observe


Que me miran desde lejos
That they watch me from afar


Y en esta noche fría y obscura, recuerdo y siento, cuanto de te quiero
And in this cold and dark night, I remember and feel, how much I love you


Now how's that for not being romantic?


The poem written by Canopy Tour Guide Daniel Dueñas came in at 4th place with:


No necesito un arnés ni una simple polea para sentir que estoy volando
I don't need a harness or a simple pulley to feel I am flying


Tu amor y tu Mirada
Your love and the way you look at me


Es lo que necesito para seguir andando
Is what I need to keep me going
---
Canopy Tour Guide Pablo Dominguez was the 5th Place winner with:

Para La Mujer
For the Woman

Que de todas las cosas es
Out of everything


La mas hermosa, no hay nada como ella
she is the most beautiful, there is nothing like her


Sus ojos son como dos estrellas
Her eyes are like two stars


y su boca que provoca
Her mouth provokes me


Yo daría la vida por ella
I would give my life for her


Cada que la veo me alegro
Every time I see her, I am happy


y quisiera estar con ella en una isla desierta
and would like to be with her on a deserted island


y estar bien alerta por si llega un intruso
I would be alert for any intruders, and if an intruder would appear


Serrarle la puerta
I would close the door


24 horas tiene el día y cada hora
A day has 24 hours and every hour


Pienso que eres la vida mía
I feel you are my life


Mujer sin ti moriría
Woman, without you I would die
---
The 2nd place winner was our zoo caretaker, Moises Alvarez, with this poem:

Me Dueles!
You Hurt Me!

Mansamente, insoportablemente, me dueles
Calmly, unbearably, you hurt me


Toma mi cabeza, córtame mi cuello
Take my head, cut my neck


Nada queda de mí después de este amor
Nothing is left after this love


Entre los escombros de mi alma búscame escúchame.
Among all the debris of my soul, look for me, listen to me.


En algún sitio mi voz sobreviviente, llama, pide tu asombro, tu iluminado silencio
Somewhere, my surviving voice calls out for your surprise, your lit silence


Atravesando muros, atmósferas, edades
Walking through walls, atmospheres, ages


Tu rostro, tu rostro que pareciera que fuera cierto bien desde la muerte
Your face, your face looks like it was something good even in death


Desde antes del primer día, que despertara al mundo.
Since the first day, that I woke up to the world.


Que claridad tu rostro, que terrnura de luz ensimismada
What clearness your face is, what tenderness of absorbed light


Que dibujo de miel, sobre hojas de agua
A drawing over honey, over water leeves


Amo tus ojos, amo, amo tus ojos, Soy como el hijo de tus ojos
I love your eyes, I love, I love your eyes, I am like the son of your eyes


Como una gota de tus ojos soy
Like a drop from your eyes, I am


Levántame de entre tus pies levántame, recógeme
Lift me up from your feet, lift me up, pick me up


Del rincón de tu cuarto que nunca ves en sueños
From the corner of your roon where you never see in your dreams


Levántame porque e caído de tus manos
Lift me up, as I have fallen from your hands


y quiero vivir, vivir, vivir.
and I want to live, to live, to live.
---
1st prize went to Fermin Robles, our Tequila Shot bartender, for:

El Jardin
The Garden

En mi casa hay una hermoso jardín
In my house there is a beautiful garden


Cuando lo riego es como regar mi amor sobre ti
When I water it, it is like watering my love over you


Ese rico olor que desprenden por la mañana
This rich scent that releases in the early morning


Es como el aroma que despide tu cuerpo al contacto de mi.
Is like the aroma that leaves your body when in contact with me.


Esos pétalos tan suaves
These petals so smooth


Son como las caricias que
They are like the caresses that


Brindan mi mano sobre tu espalda
Desire my hand on your back


Ese jardín el cual me hace a cada momento
This garden which makes me


Tu amor sentir.
feel your love every moment.


These and the rest of the poems were read aloud in front of the entire staff on Valentine's Day. It was a wonderful moment in which I saw my co-workers in a much different light.


EDITOR'S NOTE: Though these poems are much more romantic in Spanish, we have provided English translations for our readers.
---
Sylvie Scopazzo is the General Manager of Los Veranos Canopy Tour, an exciting eco-adventure that gives people of all ages the chance to explore the indigenous jungle canopy while zipping from tree to tree over the breathtaking Orquidias River in Puerto Vallarta, Mexico. For more information, click HERE.
Tell a Friend
•
Site Map
•
Print this Page
•
Email Us
•
Top