Vallarta Living | Art Talk | March 2009
Te Lo Aveva Detto Io! at Sol y Luna

John Bray - Vallarta Tribune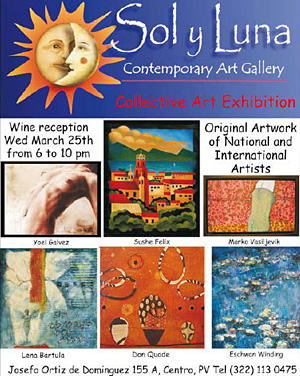 Click image to enlarge
Don't miss the new art exhibition at Sol y Luna Contemporary Art Gallery "Te lo aveva detto io!" opening this Wednesday March 25th with a wine reception from 6 to 10 pm and snacks served by two wonderful neighboring restaurants, JapaNice and Caio Tres.

Sol y Luna Art Galleries have been a successful business venture for the past three years in Puerto Vallarta. Alejandro Baez, owner and Director of the Galleries, was born in Mexico DF. and as a child, he studied in private schools, which enabled him to travel to places like North America and Europe. When he was in his teens, his parents sent him to one of the best private schools in United States, Culver Military Academy.


He has lived in many parts of Mexico and the world, such as Spain, Italy and different parts of the United States, including Maui in Hawaii one of his favorite places in the world. After his international studies and travels, Alejandro retuned to Mexico City where he obtained a degree in hotel management. Upon completion he left the big Metropolis.


For almost a decade he worked in the Sales and Marketing departments of top international hotel chains such as Westin, Camino Real and Intercontinental which provided Alejandro with the opportunity to live in many beach destinations of Mexico. One of them was Puerto Vallarta, where he fell in love with the town.


He also had the opportunity to travel to many parts of the world, where art museums, were always a major interest to him. After a successful career in the Hotel Industry, he decided to leave it and follow his passion which is in the Art world!


A decade later, Alejandro is a maestro at curating art exhibitions for the thirty-plus artists from Mexico and different parts of the world who he proudly represents. These artists are not only very talented but delightfully self-effacing, to which I can personally attest... There is no pretension and they are very warm and gracious to anyone that approaches them during their art exhibitions.


Both Sol y Luna art galleries exhibit unique, fresh, visionary art at affordable prices.


During High Season, starting off with his creation of the renowned annual exhibition "Altar de dia de los Muertos" up until May, Alejandro curates an entire new art exhibition every two weeks! Each exhibition gives his artists an opportunity to be hosted for a one man or one woman show. They are all invited to the Sol y Luna galleries to actively participate in the hanging of their art, as well as, to greet the clients during their Grand Opening nights, which always offer a great ambiance, food and wine.


This year, Alejandro hosted renowned international artists including, Escwhan Winding, considered to be one of the best artists working in encaustics. This resulted in the creation of a highly successful art exhibition which art lovers still come looking to admire her artwork.


Danish artist Benazir Braae, a famous actress in her home town of Copenhagen, moved to India seeking a lifestyle away from the glitter and glamour. This experience led her to a new found spiritual bliss. Now she practices Buddhism and paints. You can experience the spiritual vibrancy of her paintings which are currently showing at the Contemporary Sol y Luna Gallery.


Another example of a great talent who you will enjoy at Sol y Luna Galleries is Yoel Galvez, a fantastic young artist from Cuba. His male and female nudes show the power of passion, the rapture of love, and the beauty of the human form.


Other international artists, whose works appear at Sol y Luna, include Don Quade, Sushe Felix, Randy Cooper and Lena Bartula. These accomplished contemporary artists have had a long association, both professionally and personally with Alejandro.


Alejandro has represented them since he met them over eight years ago in Santa Fe, New Mexico. There, he successfully managed and sold artwork for these and other talented artists in the famous Canyon Road art district.


Alejandro's next art exhibition is entitled "Te lo aveva detto io!" In Italian it means "I Told You So!" Alejandro will have a wonderful selection of artwork from his veteran artists mentioned above, as well as Marko Vasiljevik, Eric Gibbons, Alessandro Mesia. Also included are Mexican talents such as Roberto Lopez Ramirez, Edith Orozco,Antonio Carranza, Cesar Padilla, Amador Toscano, Lourdes Zarain and Emmaneul Cruz.


I had the pleasure to interview Alejandro recently at his contemporary gallery, and here are some excerpts from the interview.


J: I noticed the titles you use in your art exhibitions fall into these three categories: Italian phrases, Love and Passion, and Spirituality; Why is that?


A: It's simple, I love Italy! The language, the people, their art of course, the country, the food! I lived in Naples for two years and traveled all around Italy and then went to other countries in Europe. I found Italians to be people that know how to live life with true passion, style and zero BS.


J: Why titles that talk about passion and Love?


A: Well ... I believe these are the important ingredients for a life well-lived! I think that people with true love are the happiest people. I like to celebrate the fact that in my life I have true love! And titles about Spirituality ... Well, what is a human being without a soul? NADA! That is why my titles always are in these categories. But most importantly, they also describe the art that my artists have created for their own art exhibitions.


J: What is your next project now that you have successfully created these two unique Art Galleries in Puerto Vallarta?


A: To find a Manager to run my Galleries. For the past three years I have worked 6 days a week NONSTOP! I have hundreds of people passing through my galleries admiring the art, and acquiring it, and I enjoy what I do. However, I am ready for a break! I am always serving the public. I have the only two art gallery in town that do not close even during the crazy heat of the summer. Since I moved to PV I have been getting invitations by my family, artists, clients and friends to different parts in the world to spend time with them. I LOVE to travel and so this summer I look forward to a fun trip. I have been invited to open a Gallery in another city in Mexico and also one in the United States. It's a wonderful feeling to be considered for these projects. So, who knows?


J: Will you bring in new artists to show their artwork in your Galleries?


A: I always welcome the artists that come into my Galleries looking for a chance to show their work with me. However, as you know there are many artists and I have to be very selective with whom I bring in, as I want to have quality more than quantity.


J: Have you had any problems showing male nudes in your Art for the Uninhibited Gallery?


A: When I first opened it, for the most part, the locals were not used to this kind of art, so I did get some complaints. You know, we have been taught in most cultures that a female nude is ok, but seeing a male nude, most people used to have a problem. I say "used to" because since I have had "Art for the Uninhibited Gallery" now most all the galleries in PV have male nudes. Even on the Malecon, the artists there have male nude art. That is something you did not see three years ago before I opened my gallery. I am very proud to have been able to help change that mentality in people so that we can all have the ability to appreciate our bodies. Male and Female nudes are the Creation of Art that God made. We must not exclude either but rather Celebrate it! I also have at my Contemporary Gallery male and female nudes and everyone seems to enjoy them very much.


As the interview was ending, I noticed the young man working so diligently in the gallery to make it so presentable. He was working on files and doing accounting, so I asked Alejandro who he was. He proudly replied, "Mi Media Naranja, Jesus Chui." He is the angel that God sent me to make my life and my Art Galleries work as smoothly and successfully as they have been doing. He and my dogs are the loves of my life!


Don't miss the new art exhibition at Sol y Luna Contemporary Art Gallery Te lo aveva detto io! opening this Wednesday March 25th with a wine reception from 6 to 10 pm and snacks served by two wonderful neighboring restaurants, JapaNice and Caio Tres.


Since 2006, Alejandro Baez has been bringing his years of art experience and education to the Puerto Vallarta art scene by highlighting a collection of contemporary and erotic art by both Mexican and international artists at his two Puerto Vallarta art galleries Sol y Luna Fine Contemporary Art and Sol y Luna Art for the Uninhibited. For more information, click HERE or visit solylunapv.com.
Tell a Friend
•
Site Map
•
Print this Page
•
Email Us
•
Top