Entertainment | Books | March 2009
Write, Publish, and Sell Your Book in Puerto Vallarta

David Lyons - PVNN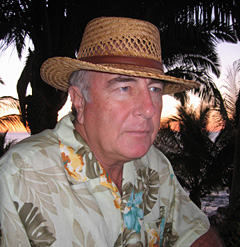 R.D. Lyons has written 3 novels, which can be purchased in Puerto Vallarta bookstores and at Amazon.com.
The idea of settling down in a tropical paradise to write that novel inside you has been the dream of many for generations. Every year, people arrive here on extended vacations, some looking for a more permanent residence, but with that same goal in mind - to write that book.


There are few more inspiring locations than ours for creativity. As an author of several novels written, published, and offered for sale in Puerto Vallarta, I'd like to share some first-hand experiences.


The most important single word about the process of writing is discipline. The sound of the surf can be an evocative background for your effort, or it can be a siren call luring you to get out there to play in the sun and sand.


Novels are written by following the tedious regimen of keeping your butt in that seat. I suggest that you have a good idea for your beginning and at least some conception of the end. Let your creative instincts take you from the first page to the last.


Like the adrenaline rush that comes from vigorous exercise, at some point in your writing your subconscious will come to the fore. The euphoria that comes to the long-distance runner is also a phenomenon that writers experience when they hit their stride.


To hit that stride, set a daily word count. Note I said daily. Devote at least four hours a day, and set a word count of from 500 to 2000 words per writing session. The former was the daily goal of Maugham, the latter of Michener, and they both stuck to their targets assiduously.


Do the math, and you can compute how long it will take you to complete a first draft of a commercial length manuscript of about 75,000 words, around 250 pages. With re-writing, a demanding process that I will gloss over here, you can expect to have a finished manuscript in a year más o menos, as we locals say. You can do it.


OK, you have your manuscript, now what? Traditionally, the next part of the process has been the search for a literary agent to handle your work. It still remains pretty much the only way to have your effort reach a mainstream publishing house.


Finding an agent means an arduous search. There are manuals listing agents and the genre of work they represent. You can also search on line. The problem with conducting this search from Puerto Vallarta is that your queries will number in the dozens (or hundreds,) and, though a few agents are coming out of the darkness and accepting submissions by email, most still require archaic paper submissions by regular post, return receipt requested, i.e., U.S. postage for them to respond, in itself a 2 to 6 month process at least.


It's tedious, time-consuming, expensive, and almost always disappointing. If you seek the Holy Grail of traditional publishing, it's almost the only way to go, and it's tough to handle the regular mail aspect from here. Been there, done that. There is another way.


The alternative of self-publishing has revolutionized the industry in recent years, and having tried the first route, I can say that this second avenue is far more rewarding. First, you don't need an agent. Rather than a search that can take 2 to 4 years and end up with nothing, you can get your work to the public as soon as it is finished.


Caution! - when I say 'finished,' I mean written, re-written, and edited, with a good title and attractive cover. When you have your truly best effort, you can get your work to the public at a relatively modest cost.


There are many self-publishing companies, sometimes called print on demand, (POD) publishers out there. I use BookSurge.com and have been happy with my experiences. A major reason I use them is that they are a subsidiary of Amazon.com, and when my book is printed, it is immediately available on Amazon. The cost is reasonable, and 2-3 weeks after my manuscript is submitted, online, in PDF format, it is in print and available for sale worldwide at Amazon.com.


Now here is another area where living in Mexico can complicate matters. If you wish to order your own books for sale locally, you need to order them from BookSurge, and they are shipped to your local address, which means going through customs. For me and other local writers, this hasn't necessarily been a problem, but it does add an element of uncertainty, especially as to time.


To avoid this, I had my first novel, Mexico's Hidden Gold published by Booksurge, thereby available online at Amazon, but also had it printed locally, so that I could distribute in-country without cross-border complications. This worked, but the printer required a print run of a minimum 500 books, and the process was expensive, almost prohibitively so. I have found an alternative.


There are POD printers in Mexico who will produce your novel in small print runs. The first I found is LibroTeca.com, with locations in Morelia and Mexico City. They have a one-time set-up charge, and reasonable per unit cost.


Recently, I've been referred to a printer in Guadalajara who has already worked with local writers, charges a modest set-up fee per print run and a very reasonable unit cost, and will print even a single copy. The owner, Carston Groppe, is very helpful, and you can find them at groppe.biz. Both companies offer short turn-around times.


So, my advice is to use a publisher like BookSurge.com to get your book in print, and online at Amazon.com, then if you intend to sell locally, find a local POD printer like Groppe.biz who can get your books to you here in Puerto Vallarta.


A word about ebooks. Making your book available online digitally in electronic format is the newest of the new waves, and you can do it easily while here in Puerto Vallarta, or wherever in the world you can plug in your computer.


You will already have your book in PDF format to send to your POD publisher. By the same process, you can make it available in this new media. Usually, it costs little or nothing to upload your work and make it available as an ebook, and thus available to those who have ebook readers, like Amazon's Kindle. No one knows the extent to which ebooks will revolutionize the market, but everyone is watching. If it costs you little or nothing, you have little or nothing to lose.


Now comes the part of the process that is limited only by your energy and your imagination - selling your work. When you reach this point, if you have not already, I strongly recommend you attend the Puerto Vallarta Writer's Group Meetings at the International Friendship Club every Saturday from 10:30 to noon. There you will meet other local, published writers who will be glad to share their experiences.


Internet marketing is a whole new world, but there are many experts like Dan Poynter and Brian Judd who make their knowledge available through free blogs, and by phone through a silly word, 'webinars.' (You need to have an internet phone service, to attend these.) If it's free, take advantage of it.


There are several bookstores in town offering English publications, including The Bookstore in Plaza Caracol, and The Bookstore NV in Paradise Plaza. Both owners have been extremely supportive of local authors.


Organize your own book signings. Puerto Vallarta offers community and cultural activities beyond counting. Many of these events might welcome an aspiring author promoting their new effort. The subject matter of your book might suggest particular venues. Don't expect to get rich, but do expect to have fun. It's a wonderful way to meet people. You may discover that your Internet sales will go up when you promote your book locally. This can only be attributed to tourists talking about the book when they get home. That's a pretty good feeling.


Well, there you have it; a cram course in writing, publishing, and a snippet of marketing. These subjects could easily take up a week-long seminar, or fill thousands of pages of how-to manuals, so there is much left unsaid. I hope the above gives you some ideas, and will spur you on with your own writing. I sincerely wish you the very best with all your creative efforts.


A long-time resident of Puerto Vallarta, R.D. (David) Lyons is an accomplished author who has published 3 novels and contributes educational and entertaining articles to several local publications. When not writing, he can be found singing jazz standards to his own guitar accompaniment at several of the town's most popular venues.


Click HERE for more articles by David Lyons.
Tell a Friend
•
Site Map
•
Print this Page
•
Email Us
•
Top