News from Around Banderas Bay | March 2009
PV Little League Week Five Report and Recap

PVNN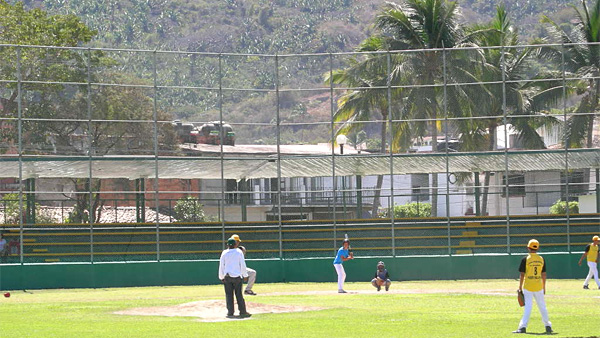 Standing behind 2nd base, the backdrop of the main baseball field is breathtaking with the Sierra Madres Mountains in the background.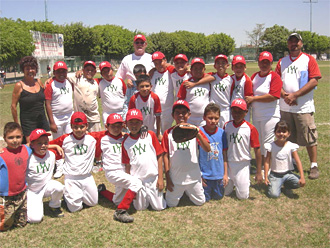 The PV Yankees, along with coaches and sponsors Dave and Dawn Marriner pose for a team photo after their thrilling victory.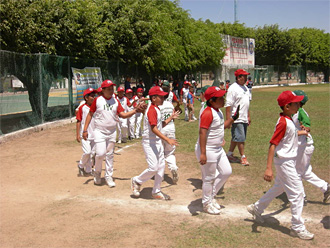 In a show of sportsmanship, Los Limones and Bucerias line up and shake each other's hand after the conclusion of the game.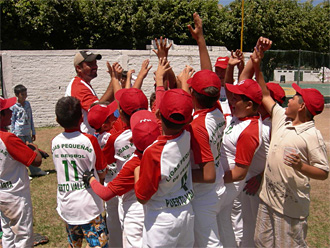 Sure it's all about teamwork, sportmanship, comraderie, fair play and the such, but theur is nothing like a hard fought victory.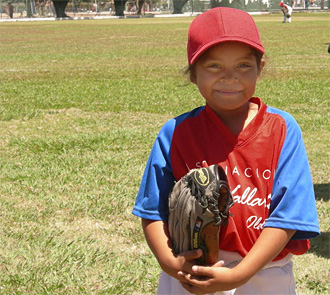 There was no way that this picture should be left out, as this adorable 7 year old donned a uniform to play for the Viejo Vallarta team. She actually had a plate appearance and played in the field for an inning as well.

Week 5 of the Puerto Vallarta Little League was played Saturday under sunny skies as the top teams went through their first round of playing their opponents in the 9-11 year old division, which is quite competitive and quite spirited. Still under league consideration are the games that were played in the abbreviated schedule of Week 3. Initially since only the first games were played it was considered an exhibition week, but upon further review, a vote will be taken to see if the early games will be counted in the standings and those that didn't play will make the games up.


More parents, family and others were in attendance this week as the kids came out dressed in their freshly cleaned uniforms for their Saturday competition. Many teams practice 2 or 3 times during the week and some are able to get one practice in. In speaking with some of the parents, they told me the kids are thinking about Saturday's games when they are in school the Monday prior. After the big opening day ceremonies, enthusiasm dipped a bit for the for the next two weeks, but the kids are taking to baseball and popularity is growing.


This past Saturday, Los Limones, sponsored by Teatro Limon Restaurant extended their unbeaten record to 4-0 with an 18-3 victory over Daiquiri Dick's Restaurant Bar & Grill, who fell to 0-4. The Viejo Vallarta Association of Old Town improved to 3-1, defeating the high scoring Brisas Pacifico squad 26-16, as Brisas fell to 1-3. The PV Yankees played Bucerias in a thrilling opening game and was clearly the game of the week. Proud sponsors Dave and Dawn Marriner were on hand as they always are when they are in town and they will be going back to Calgary this week.


The Yankees gave them an appreciative sendoff with a thrilling 11-10 victory. The Yankees seemed to have control of the game, leading 10-6 after five innings of the scheduled six inning game, the official length of a Little league game in the 9-11 age group. Bucerias exploded for four runs in the top of the 6th to tie the game at 10-10, giving the Yankees the bottom of the inning to push across a run to extend their winning streak to three games. The first batter crushed a ball past the right fielder and circled the bases for a walk off game winning home run. The PV Yankees improved to 2-2 and Bucerias fell to 2-2.


In the 12-14 year old division, Los Angeles, sponsored by Club Maρana once again flexed their muscles as they remained unbeaten at 4-0, defeating the winless Escuela 29 20-8. Los Angeles appears to be the dominant team in the older division and have had only one close game. In the afternoon game BanderasNews shook off a stinging one run defeat last week to soundly defeat Roberto's Camarones 17-3. BanderasNews and Los Camarones are both 2-2 and trail Los Angeles by two games.


This week will be the last game played before the spring break holidays, which will give teams two weeks off before they resume play again in mid-April. The marquee game will be the battle between Los Limones and the PV Yankees. The two played on opening day and Los Limones won an 11-9 thriller and the well coached Yankee squad is "ready for revenge".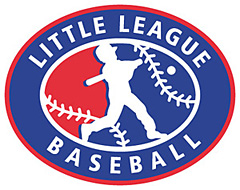 For donations, sponsorships and further information we urge you to contact:


• Bob Cohen at bob(at)banderasnews.com
• Miguel Vargas at tacos.park(at)hotmail.com
• Oscar Mercado at mercadooscar(at)hotmail.com




On Sunday, the 15-16 year old All Star team from Puerto Vallarta that will play in postseason competition played a doubleheader against a team that came down from Mascota. Scores are not yet available and the game was a practice for both squads. In the few innings that I watched, quality pitching and defense was the biggest difference in this age group compared to the younger kids. At each age level, different part of the game change and a good pitcher at 15 is far more dominant than a youngster at 11 or 12 years old.


We did pick up one more sponsor who will be named later this week and still have one and possibly two remaining openings for a business, group or individual to help. Please contact Bob Cohen at bob(at)banderasnews.com for anyone interested. The league is in need of financial support as expenses are mounting and we also faced the unexpected costs. We took on this project to help 150 youngsters that couldn't afford to play baseball and to bring Little League back to Puerto Vallarta after a 10+ year absence. We do have shared sponsorships available for $5000 pesos each and any cash or equipment donations are always needed and appreciated.


Your support provides endless benefits for Banderas Bay area kids, who will develop the qualities of citizenship, discipline, teamwork and physical well-being by participating in Puerto Vallarta Little League Baseball. To learn how you can help, send an email to Bob Cohen at bob(at)banderasnews.com, Miguel Vargas at tacos.park(at)hotmail.com or Oscar Mercado at mercadooscar(at)hotmail.com. For more information about Puerto Vallarta Little League Baseball and full coverage of this season's games click HERE.
Tell a Friend
•
Site Map
•
Print this Page
•
Email Us
•
Top