Vallarta Living | Veteran Affairs | March 2009
Little Known US Naval History

David Lord - PVNN
It is dangerous to be right when the government is wrong.
- Voltaire, French author (1694 - 1778)
The USS Constitution - Old Ironsides - as a combat vessel, carried 48,600 gallons of fresh water for her crew of 475 Sailors and Marines. This was sufficient to last six months of sustained operations at sea. She carried no evaporators, i.e. fresh water distillers.


However, let it be noted that according to her ship's log, "On July 27, 1798, the USS Constitution sailed from Boston with a full complement of 475 officers and men, 48,600 gallons of fresh water, 7,400 cannon shot, 11,600 pounds of black powder, and 79,400 gallons of rum." Her mission was; "To destroy and harass English shipping.


Making Jamaica on October 6, she took on 826 pounds of flour and 68,300 gallons of rum.


Then she headed for the Azores, arriving there November 12. She provisioned with 550 pounds of beef and 64,300 gallons of Portuguese wine.


On November 18, she set sail for England. In the ensuing days she defeated five British men-of-war and captured and scuttled 12 English merchant ships, salvaging only the rum aboard each.


By January 26, 1799, her powder and were shot were exhausted. Nevertheless, although armed with only bayonets and swords, a landing party of Marines and sailors made a night raid up the Firth of Clyde in Scotland. Her landing party captured a whiskey distillery and transferred 40,000 gallons of single malt Scotch aboard by dawn. Then she headed home.


The USS Constitution arrived in Boston on February 20, 1799, with no cannon shot, no food, no powder, no rum, no wine, no whiskey, and 38,600 gallons of water.


Vets Need to Know; WASHINGTON - President Obama's first proposed budget for the Department of Veterans Affairs (VA) expands eligibility for health care to an additional 500,000 deserving Veterans over the next five years, meets the need for continued growth in programs for the combat Veterans of Iraq and Afghanistan, and provides the resources to deliver quality health care for the Nation's 5.5 million Veteran patients.


If accepted by Congress, the President's budget proposal would increase VA's budget from $98 billion this fiscal year to $113 billion for the fiscal year beginning Oct. 1, 2009. This is in addition to the $1.4 billion provided for VA projects in the American Recovery and Reinvestment Act of 2009.


The 2010 budget represents the first step toward increasing funding for VA efforts by $25 billion over baseline during the next five years. The gradual expansion in health care enrollment that this would support will open hospital and clinic doors to more than 500,000 Veterans by 2013 who have been regrettably excluded from VA medical care benefits since 2003. The 2010 budget request provides the resources to achieve this level of service while maintaining care for lower-income and service-disabled Veterans who currently rely on VA medical care.


The new budget provides greater benefits for Veterans who are medically retired from active duty, allowing for the first time disabled military retirees to keep their full VA disability compensation along with their retired pay. The President's budget request provides the necessary investments to carry VA services to rural communities that are too often unable to access VA care. The President's budget expands VA mental health screening and treatment.


STIGMA! Fed Refuses Disclosure of Banks Receiving TARP!
March 5 (Bloomberg)


The Federal Reserve Board of Governors receives daily reports on bailout loans to financial institutions and won't make the information public, the central bank said in a reply to a Bloomberg News lawsuit. The Fed refused yesterday to disclose the names of the borrowers and the loans, alleging that it would cast "a stigma" on recipients of more than $1.9 trillion of emergency credit from U.S. taxpayers and the assets the central bank is accepting as collateral.


Fed secrecy was the focus of a Senate Banking Committee hearing in which the panel's top two members said the central bank's reluctance to identify companies benefiting from the American International Group Inc. bailout risks undermining public confidence in the government.


"If the American taxpayer's money is at stake, and it is, big time, I believe the American taxpayers, the people, and this committee, we need to know who benefited, where this money went," said Senator Richard Shelby of Alabama, the committee's top Republican. "There is no transparency here. We are going to find out."
---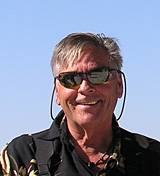 David Lord has been a National Veterans Service Officer doing veteran's benefits in Mexico for over a decade. David is a combat veteran, wounded by gunshot in Viet Nam 1968 and is a retired Marine. The Veterans Administration has played a critical role in his life, by his having both medical and compensation benefits. He uses his personal experience in the claims process along with having legal and credentialed Accreditation by the Department of Veterans Affairs. His use of Congressional approved Veterans Organizations, to steer veterans and dependants through the maze of regulations and entitlements due them from military service is outstanding. For more information, email him at david.lord(at)yahoo.com.
Click HERE for more Veteran Affairs with David Lord »»»
Tell a Friend
•
Site Map
•
Print this Page
•
Email Us
•
Top