Vallarta Living | Veteran Affairs | April 2009
David Lord: VA Health Care News

David Lord - PVNN
Do not fear death so much, but rather the inadequate life.
- Bertolt Brecht, The Mother, 1932
The American Recovery and Reinvestment Act of 2009 provides for a one-time payment of $250 to individuals who receive benefits from the Social Security Administration (SSA), including Supplemental Security Income (SSI), the Railroad Retirement Board (RRB), or Department of Veterans Affairs (VA).


However, the law allows only one $250 payment per individual. VA beneficiaries who are also eligible for SSA, SSI, or RRB benefits will be paid through the SSA or RRB, and will therefore not receive payment from VA.


To be eligible for the $250 payment, VA beneficiaries must have received compensation, pension, Dependency and Indemnity Compensation (DIC), or Spina Bifida benefits at any time between November 2008 and January 2009. VA will use its existing payment records to determine eligibility to the $250 payment. No application is necessary.


VA expects to release payments in June 2009. Beneficiaries will receive their payments in the same way they receive their monthly VA benefits (either by direct deposit or mail.) The beneficiaries must reside within the United States or its territories (Puerto Rico, Guam, Northern Mariana Islands, American Samoa, and the U.S. Virgin Islands.) David says - direct deposit will be OK.

As men, we are all equal in the presence of death.
- Publilius Syrus, 100 B.C.

Health Vet


Have you registered on My HealtheVet, the Personal Health Record for Veterans? If not, what are you waiting for? My HealtheVet is VA's award-winning online Personal Health Record. It offers Veterans anywhere, anytime Internet access to VA health care information, benefit information, online services, and more! With My HealtheVet, VA patients can refill their VA prescriptions, track their health vitals, keep online journals, and begin to create a Personal Health Record.


A Wellness Reminder lets a VA patient know that according to current guidelines and recommendations for good care, it is time to do something like have a test or examination done. This online feature lets VA patients view their VA Wellness Reminders and helps Veterans enhance their partnership with VA health care providers to monitor their health. Users can view their Wellness Reminders in the Get Care section of their My HealtheVet account. Some Wellness Reminders are for everyone, and some Wellness Reminders are specific to patients with known risks. To get the most out of My HealtheVet, visit your VA facility to get an upgraded account, a one-time process known as In-Person Authentication (IPA.) Register today on My HealtheVet at MyHealth.va.gov.


VA To Offer Health Care to Previously Ineligible Veterans


WASHINGTON - The Department of Veterans Affairs (VA) recently announced plans to re-open enrollment in its health care system by July 2009 to about 265,000 veterans whose incomes exceed current limits.


"We're pleased to be able to offer what has been called 'the best care anywhere' to many more new veterans," said Dr. James B. Peake, Secretary of Veterans Affairs. "We'll be able to provide these newly enrolled veterans with the kind of timely, high quality health care veterans who already use our system are accustomed to."


The change affects veterans whose incomes exceed the current VA means test and geographic means test income thresholds by 10 percent or less. Congress provided funds in VA's fiscal year 2009 budget to support the new enrollment.


In 1996, Congress established a priority-based enrollment system for VA and a uniform package of medical benefits for all enrollees. The legislation opened enrollment in VA's health care system to all eligible veterans and required that each year the Secretary of Veterans Affairs assess veterans' demand for services and determine if the necessary resources are available to provide timely, quality care to all enrollees.


Enrollment for the lowest priority of the eight groups-veterans who are not being compensated for a military-related disability and who have incomes above a set threshold-was suspended on January 18, 2003, although veterans in that priority group who were already enrolled for care were permitted to remain enrolled.


VA originally suspended enrollment for Priority 8 veterans because it was unable to provide all enrolled veterans with timely access to its health care due to a tremendous growth in the number of veterans then seeking enrollment.

After I'm dead I'd rather have people ask why I have no monument than why I have one.
- Cato the Elder (234-149 B.C.)
---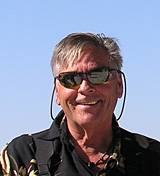 David Lord has been a National Veterans Service Officer doing veteran's benefits in Mexico for over a decade. David is a combat veteran, wounded by gunshot in Viet Nam 1968 and is a retired Marine. The Veterans Administration has played a critical role in his life, by his having both medical and compensation benefits. He uses his personal experience in the claims process along with having legal and credentialed Accreditation by the Department of Veterans Affairs. His use of Congressional approved Veterans Organizations, to steer veterans and dependants through the maze of regulations and entitlements due them from military service is outstanding. For more information, email him at david.lord(at)yahoo.com.
Click HERE for more Veteran Affairs with David Lord
Tell a Friend
•
Site Map
•
Print this Page
•
Email Us
•
Top