Health & Beauty | June 2009
len's life: blu is Blue, 'cuz We Miss You

len - PVNN

Because we miss you. Len, Clay, Betty and Daniel - not to mention the wonderful Sarah and Jessica in the spa - are all just waiting for you. We still have our most loyal regulars, but some of you are putting it off. And we have some of the most fantastic discounts running that you will find anywhere in Vallarta. So come see us soon!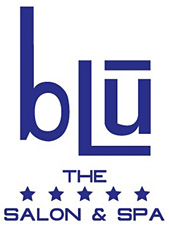 Clay and I are offering a 25% discount on any service we provide from now until the end of September. Betty and Daniel are offering a 15% discount to any new client for any service they provide. And there is a 30% discount from Sara and Jessica on any body service in the spa... facial, massage, etc. And the combination of manicure and pedicure, normally $500 pesos when you book both at once, are now just $400 pesos when booked together. You just cannot beat it.


So come see us soon, and laugh your way through a glass of water or wine while we offer you the most upbeat music and the best chisme (gossip) and the best hair and spa services in the entire Bay of Banderas. Follow blu, Blue as we are for missing you, into the future of the next fabulous high season. Meanwhile, you've got to take care of you hair and body through the summer, so let's talk about that.


The concept for staying cool in this unbelievable heat and humidity for June is less is more. Everybody, Mexican Nationals and gringos alike, are talking about how hot and humid it is for June. This normally comes in July or August. It's because it just can't seem to rain, which would cool things off considerably.


But, anyway, you look at it, rain or not, it's going to be a long, hot summer. And, as I said, less is more. So come in and get your hair cut. Get it up off your neck, and you will be a whole lot cooler. And it's just hair, Guys and Gals, so it will grow. That's the beauty of hair. Keep it conditioned and healthy, and it will grow and grow. It will be back by December, when the high season really begins in earnest.


And, Guys, if you are furry, think about a shave with clippers or even a waxing to get some of that hot, wet hair off your back or elsewhere on your body. We offer waxing, for the really macho of you, for the back, chest, arms, legs, whatever. And, Gals, we even do Brazilian bikini waxing for women.


Less hair. That's the secret. Less hair means a cooler body. Take a hint from Larry's and my little Pomeranian, affectionately known as Dulce de Chocolate, La Condesa de La Cima. If royalty like Dulce is doing it, it must be in fashion, so follow suit.


Take a look at these two pictures of little Dulce. The first is her full Pom haircut for the cool high season - complete with her regal pearls from Cassandra Shaw's Jewelry. Then look at the second photo, which shows the cut she told the salσn de belleza/doggie salon she wanted on Thursday. Except for her proud tail, her sign of her true race, Pomeranian, she is short, short, short. And so much cooler for it. If Dulce says it's right, who am I to argue. It is the rage for the summer.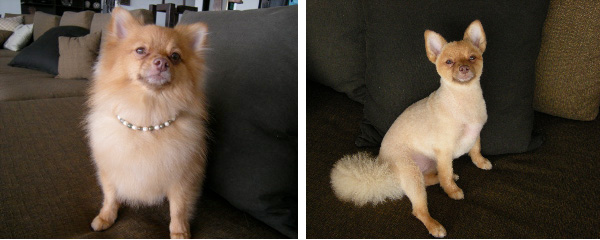 Dulce's high season full Pom hairdo - and her short, short, short "summer do"

And if you want to really do it right, get your hair cut and then get it colored. A few highlights, or maybe the often overlooked lowlights, to add texture and richness. Cover the short gray a little. And do it now, cheaper than you will ever get it anywhere in the world. At the Blue blu, waiting for you to smile on us.


Now there's the real secret to beauty. Smile. It makes you glow. The summer heat makes it small, but try this. I put a smile on my face when I approach my front door to leave. Then I just freeze that smile there, and keep smiling all day. People tell me I look younger. People tell me I look healthier. People tell me I look better than I have in months. And all because of a smile.


Just keep smiling, and do yourself a favor with a little short new "do." Male or female, you'll be happier and better looking for it. It will help you to keep a smile on your face. And that's all I have to say. Now you have it on the down low from len's life!
---

Given that Len's very first word was "more," and the second one was "pretty" it is no wonder that he now is the Stylist Manager in the #1 salon and spa in Puerto Vallarta, blu, but also writes an entertaining and informative beauty column, "len's life." Whatever you hair may or may not need, Len will know exactly what to do or where to go to find the answer - just send him an email at len(at)blusalonpv.com.
Click HERE for more articles by Len.
Tell a Friend
•
Site Map
•
Print this Page
•
Email Us
•
Top