IFC Cleft Palate Program: Making Miracles (cont'd)

Polly G. Vicars - PVNN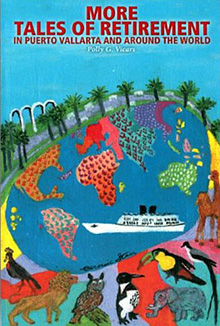 Polly G. Vicar's "More Tales of Retirement in Puerto Vallarta and Around the World" can be bought from Amazon.com, from any member of Becas Vallarta or at The Bookstore in Puerto Vallarta.
Sitting in on Dr. Fuentes' consultations with more than 35 families in the reception hall of the Regional Hospital was our real introduction to the IFC's Cleft Palate program. That was all it took for us to become members of the "Dr. Fuentes a.k.a. Dr. Milagro Fan Club."


You must realize that here, 35 families means upward to 150 people as Mamá and Papá are often accompanied by extended family members including grandparents, sisters, brothers, aunts, uncles and loving neighbors. Dr. Fuentes, after a day's work in Guadalajara and a bumpy flight to Vallarta, addressed this large group with the love and compassion that is so prevalent in this land of warmth and sunshine.


He dealt with every concern; answered every question. He wiped noses and shushed cries! He patted mothers, and awarded abrazos, those Mexican hugs these macho men exchange with gusto, to fathers. He explained that he and his team would only be able to operate on 10 to 12 children this visit. You could almost feel the prayers rushing up from mothers and fathers, pleading that their little one be in that number!


Dr. Fuentes next words, (whether or not divinely inspired) I'll never forget. In a voice that was strong and clear, he solemnly promised each Mamá and Papá that their child would get help - maybe not this visit, and maybe not even the next - but they would get help. Applause rang out in the hall! Prayers answered! Tears streamed down faces wreathed in brilliant smiles


As Husband's and my Spanish progressed, so did our involvement in the cleft palate program, as we were finally able to converse with families and staff with some ease. We ran errands, met the doctors at the airport, delivered the cold drinks and the wonderful comida, so more than lunch, that Señora Luz Cerna always lovingly prepared for the doctors and the staff, sat with the parents before, during, and after the operations, and anything else we were asked to do.


One visit Dr. Fuentes asked Husband to take the file photos of the children he needed before the operations. So he sat in, as Dr. Fuentes examined the little ones, and explained the operations to the parents. Husband was so in awe of the skill and compassion of Dr. Fuentes, the courage and faith of the families, that he forgot his usual squeamishness, and felt no revulsion at viewing the tiny little deformed faces he was photographing. He only saw, in his mind's eye, the new, whole, smiling faces that would soon be.


As the years sped by, Celia turned the Hospital Committee over to Marina Perez de Lugo, who kept the program going and growing. Marina passed the stewardship to the present Hospital Committee Chairman, the lovely and loving Carmen de la Torre. These three women, all close friends, all busy, caring Vallartenses, have been the shining lights of this dynamic program, which is now the envy of Latin America.


Through it all, the staff at the Regional Hospital has been steadfast. Yolanda Santana and Carmen Espino Diaz, the tireless social workers, set up the meetings, keep the records, console the families, never shirking on their regular work.


The head nurse, Esperanza Magallanes, works her shift, and then works another, and another if necessary. The Director, Dr. Sergio Ruvalcaba, like his predecessors, makes all the resources of the hospital available to the team, and assists in any way needed.


Now, Husband and I have gotten busy with other endeavors, and have not been very active members of the IFC. But others have stepped in, and more than filled our shoes, Nevertheless, we have retained our staunch support of the club, its goals, and especially its magnificent Cleft Palate Program.


Last Tuesday night, at the spacious new IFC headquarters, we were re-united with the good Doctor and his efficient (and beautiful) nurses, Emma Gonzáles Cerna and Ana Luisa Ventura. They were there to tender the annual report of the Cleft Palate Program to the membership.


Dr. Fuentes presented the program's facts and figures in words and with slides. He went through the year's cleft palate surgeries, as well as two special operations he had performed - one in which he removed a second thumb from the tiny hand of a precious little girl, and the other in which he is fashioning an ear for the little boy who was born without one. He reported that in 1995 they made 139 medical consultations and performed 46 surgeries - quite a contrast to the 6 consultations and 3 surgeries of that first year.


As always, during the report, the graphic slides of the lips and palates of the children, before, during, and after surgery, caused many to look away or grimace in revulsion. Not Husband or me! Not because we are more callous or have stronger stomachs, but because we have witnessed the miracles Dr. Fuentes works. Because we have seen faces, previously hidden behind hands, now whole, healthy, happy, and yes, handsome, with only a trace of a scar.


When we look at those bloody slides, that is not what we see. What we see is the future. We see lives, filled with pain and embarrassment, turned into productive, happy, ones. No, we don't turn away. How can we when we are rejoicing and sending out a silent, but heartfelt "Thank you, Dr. Fuentes!"


Can anyone wonder why IFC President Lynn Nokes dubbed him "Dr. Milagro?"

««« Go to Part 1
---

Polly G. Vicars and her husband of almost 60 years, Hubert (a.k.a. "Husband") retired to Puerto Vallarta in 1988 and soon became active members of several charitable organizations. Polly is the author of "Tales of Retirement in Paradise: Life in Puerto Vallarta, Mexico" [a sell-out!] and "More Tales of Retirement in Puerto Vallarta and Around the World." Proceeds from the sale of her books go to the America-Mexico Foundation, a scholarship foundation that is their passion.

Click HERE for more articles by Polly Vicars, or click HERE to learn more about Becas Vallarta and the America-Mexico Foundation.