Vallarta Living | July 2009
Fiction Corner: Outing Montezuma - Part 3

Jan Baumgartner - PVNN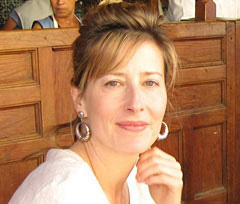 A native Californian, Jan Baumgartner is a freelance writer dividing her time between surviving in Maine and living in Mexico.
The Documentary Filmmaker from Chicago Bumps into Blue Artist on Cobbled Streets While Scraping Dog Dung from her Dansko Clogs

She was there to film a documentary for her local PBS station about the street dogs. She was maneuvering her way across the cobbles while fumbling with a heavy camera bag, a small boom, a water bottle, a bag of kibble, and a packet of warm tortillas that she bought from an old woman on the street even though she didn't want them and was already late for the shoot.


He had just bought a bottle of Rosé from the Loire and was eager to sit on the terrace, alone. Looking down to scrape her clog, she ran head on and into him, and he barely held onto his sunset in a bottle, and her boom landed smack between his legs with a rather unexpected jolt, and he wasn't sure if he was permanently maimed or had been born again, because when he looked up from his boomed crotch, he saw the Virgin of Guadalupe tiled on the wall next to him, and in front, an angel with a bag of kibble. And again, more worlds collided causing yet another shift in the prevailing waft.


They connected and commiserated about the unfairness of life, thus becoming fast friends. She listened to his woes about his lost love. She told him secrets about her love starved marriage and years of her husband's infidelity while she gave birth to their five children. She shot her footage of Dogs Gone Wild and flew home to The Windy City. She divorced. Little did she know just how temperate these small blows would come to feel.


She flew back. They made love. She fell in love, he could not. But still, she dreamed of a future with the blue New Yorker. But his heart was still in France, right there in Mexico. Another year came and went, nothing much changed, and the smell was so familiar that everyone seemed to either not notice or had gotten used to the subtle stench.


The Windy City woman continued to come and go and they maintained some form of a relationship even though he couldn't fully open to her. And for half the year and nearly every afternoon, he still saw his true love for a late déjeuner. The five of them would sit around the kitchen table for an hour and enjoy a large family style meal usually of roast chicken and garlic, a wedge of Manchego and tortillas for the kids, Brie and baguette for her, slices of ripe avocado and mango. A bottle of wine. He would then walk home, half of his heart on his sleeve, the other half left on the kitchen table alongside the leftover chicken bones and bread crumbs. She would call her husband in Toronto.


The lover in Chicago finished her film about the street dogs of Mexico and dreamed of the day when he would finally be there for her - his full corazón, untethered. She too, never gave up hope. And so everyone kept hoping - for something different - so out of sync it would make a dubbed Japanese horror film look and sound perfectly simpático. As if everyone's lips were moving in time with their words, but everyone spoke a different language and no one understood the other and they so wished they knew sign language because at this point, communication was left to the dogs.

The English Professor from Dartmouth who came to the Village of Magic with Cold Hands and Warm Heart, a Bullfighter, and the New Yorker from Blue to Red to Purple

A widow, she had survived her husband's painful and drawn out death from colon cancer, and a subsequent relationship with a certified sociopath, and now a few years later, did a solo journey to this mountainous village to bask in its healing powers, escape the wrath of winter, and to finish her book, Your Intestines and You: The Power of Colonics and How There Can be a Silver Lining for Any and All Intestinal Wall.


They met at the reception for his latest art show. The space was cramped, far too small for the tightly clustered knots of overly dressed people clad in magnificently bulbous stone baubles, the sea of wineglasses, and the massive canvases that seemed to suck the very life out of the ancient interior, tossing out and onto the cobbles the resident, and now, pissed off spirits.


She snaked her way through and collected her glass of inferior red wine and wondered how anyone could create such haunting paintings while surrounded by perennial sunshine and vibrant explosions of color. She felt it hard to catch her breath, suffocated by the looming daggers of gray and violet, shards and slashes of cobalt, and one particularly bleak canvas that took up an entire wall that was nothing more than solid black and nearly indiscernible to the naked eye, a tiny red tear stain, or was it a drop of blood, in the bottom right hand corner. Just then, a diminutive woman wearing a turquoise pinky ring the size of a golf ball, bumped into her and jammed the weapon into her ribcage, and it smarted, and that coupled with the gut wrenching death blow of paintings by such a disturbed mind, made her want to suck down a rather enormous pitcher of mango margaritas.


Fumbling her way toward the door she bumped into what had to be the devil himself clad head to toe in black, spilling her wine across his sleeve. Before words formed, their eyes locked and the blue New Yorker whose canvases depicted a life without meaning, and the English professor from Dartmouth who knew colons inside and out, felt that destiny had intervened, but to what length and end, only the irritated spirits knew for sure.


She fled onto the uneven streets and tripped her way through a group of inebriated tourists singing La Negra Noche alongside less than impressed Mariachis, disappearing into a swirl of darkness, a handful of leg humping street dogs hunkering close behind. He stood in the gallery, his half heart pumping so wildly for the first time in years that he deliberately splashed his glass of wine across the remaining dry sleeve, dousing the throbbing organ in attempts to calm down the very madness of its beating.

Tell a Friend
•
Site Map
•
Print this Page
•
Email Us
•
Top