Vallarta Living | July 2009
PEACE Needs Your Help

Carol Davenport - PVNN

Founded in 2005 by Molly Fisher, PEACE is a Banderas Bay area non-profit organization that works hand in hand with communities to develop and implement appropriate community programs to enhance the quality of life for all. English classes, after-school programs, recycling initiatives, and a free mobile spay/neuter clinic are among the various projects.


If there was ever a time in PEACE's history that we need your help and support, it is now. Due to a lack of funds we will be forced over the next few weeks to start closing programs.


What does this mean? It means...


• Dozens of PEACE employees will lose their jobs.


• Fewer children will receive English classes, special education, psychological services and after school programs.


• Our recycling program will falter and plastics will end up in the landfill, or worse, in the ocean


• Our alternative education programs will close and children will end up back on the streets and adults will no longer further their education.


• A slowdown of our spay and neuter services leading to the exponential growth of the canine and feline population.


I HOPE that you, a PEACE supporter, will find it in your hearts and pockets to donate today – right now! - your donation has the power to make a huge difference!


I HOPE that you will tell a friend or colleague about the great work being done for the community at PEACE and ask them to donate.


I HOPE that PEACE does not become another sad story of a great nonprofit having to cut programs or close due to budget constraints.


Here are some examples of what your donations can do:


• $25 USD spays or neuters an animal.


• $75 USD sponsors a primary school student for a 3 week camp session.


• $100 USD sponsors a middle or high school student for a 4 week summer camp program where they will learn English and business skills and form mini-businesses.


• $200 USD sponsors a teacher and 15 students in their after school program classes for a month.


• $500 USD a month keeps tons of recyclables from entering our landfills and oceans.


• $750 USD sponsors an entire month for over 40 women to benefit from workshops and begin earning an income (many for the first time in their life) from selling the products they make.


• $1000 USD sponsors everything we do for an entire day at PEACE.


• $5000 USD sponsors the entire construction of a recycled park in a kindergarten.


There are three easy ways you can donate today:


1. Visit the PEACE website and donate there via Paypal


2. Send a check to:


PEACE
c/o Katherine Fisher
1134 Monroe St.
Denver, CO 80206


3. Contact Molly Fisher at molly(at)peacemexico.org to make arrangements for donation in Puerto Vallarta or Nayarit.


So pick your amount and GIVE TODAY! You can make a difference! If you would like your donation to go to a specific program or cause, please let us know.
---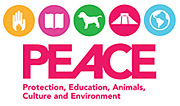 A Banderas Bay non-profit organization, PEACE acts as an umbrella organization for four charitable programs, Casa Comunidad, Ayuda Los Animales (Help The Animals), a Women's Co-Op (Manos de Mujeres Unidas) and Community Pride. It is a U.S. non-profit 501(c)(3) organization, which accepts tax-deductible donations and a Mexican Civil Association that issues facturas for donations. For more information, please visit PeaceMexico.org or click HERE to read more about PEACE
Tell a Friend
•
Site Map
•
Print this Page
•
Email Us
•
Top