Entertainment | Restaurants & Dining | August 2009
El Arrayán Wins José Inés Loredo Award

Patrick Harrison - PVNN
August 04, 2009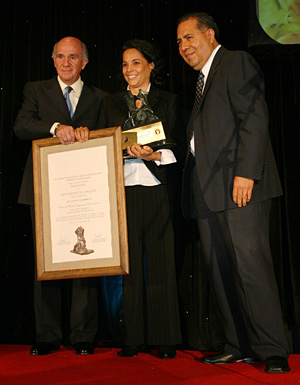 El Arrayán co-owner Carmen Porras receiving the José Inés Loredo Award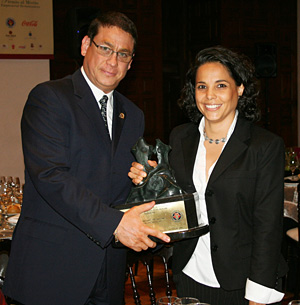 Carmen with local CANIRAC representative, Alejandro Desentis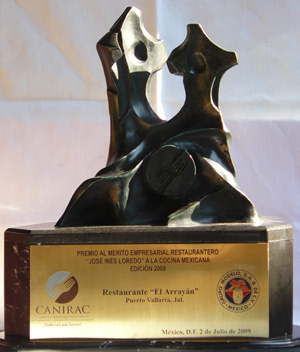 The prestigious José Inés Loredo Award
Puerto Vallarta - El Arrayán, dedicated to promoting the enjoyment of great food while defending the Mexican cultural identity tied to food and cooking traditions, announced this week that they have received a significant award from the National Chamber of the Restaurant and Seasoned Foods Industry (CANIRAC.)


Earlier this month in Mexico City, CANIRAC President, Francisco Mijares Noriega, presented co-owner Carmen Porras this significant award and Carmen accepted on behalf of her partner Claudia Victoria, Chef Mariano Valdés and each and every member of the El Arrayán team.


Named after "Don José Inés Loredo," this coveted prize represents Señor Loredo's invaluable and intense promotion of Mexican cuisine. He was an example of professionalism and enthusiasm for the national cuisine as a beloved restaurateur and recognized author.


Today, this prize is for restaurants that in their daily work, place Mexican gastronomy at the international level it deserves, extolling its concept and promoting its quality, while allowing each customer to be reminded of Mexico's roots and its traditions with pride.


CANIRAC awards prizes in several categories to restaurants that excel in the restaurant business. Regional CANIRAC representatives nominate candidates for each of the different categories. There were 12 nominated restaurants from Puerto Vallarta, and proudly, the only restaurant from Puerto Vallarta recognized this year was El Arrayán.


The official prize ceremony and gala dinner was attended by personalities from the national gastronomic and the tourism world, the chamber`s regional and national representatives, authorities, institutional purveyors, and restaurateurs.


Come enjoy El Arrayán's delicious and award-winning menu and discover for yourself all the flavors of Mexico at one location! While there, make sure to check out their list of imaginative and original cocktails, or their diverse wine list.

Located at #344 Allende, just a short stroll up from the Malécon in El Centro, El Arrayán is open Wednesday-Sunday (closed Mondays and Tuesdays) from 6 pm to 11 pm. Visa, MasterCard and American Express Cards are accepted. Reservations online at ElArrayan.com.mx or by calling (322) 222-7195.

Click HERE to learn more about El Arrayán.
---
EL ARRAYÁN Restaurante Acreedor al Prestigioso Premio "José Inés Loredo" Nacional
Patrick Harrison - PVNN


Puerto Vallarta - El Arrayán, dedicado a promover el disfrute de la buena comida y al mismo tiempo defendiendo la identidad cultural de México ligada a las tradiciones gastronómicas y culinarias, anunció el día de hoy que han sido reconocidos un importante premio, de la CANIRAC (Cámara Nacional de la Industria de Restaurantes y Alimentos Condimentados.)


El pasado 2 de Julio de 2009 en México DF, el Presidente CANIRAC, Francisco Mijares Noriega, entregó el significativo reconocimiento a la copropietaria Carmen Porras la cual a su vez lo recibió en nombre de su socia Claudia Victoria, el Chef Mariano Valdés y cada uno de los miembros del equipo de El Arrayán.


Este preciado premio representa la invaluable e intensa labor de promoción de Don José Inés Loredo, hacia la cocina mexicana. Él fue un ejemplo de profesionalismo y entusiasmo por la cocina nacional, como un amado restaurantero y reconocido autor.


Hoy, este premio es para restaurantes que por su trabajo diario, elevan la gastronomía mexicana al nivel internacional que se merece, exaltando su concepto y promoviendo su calidad y recordando a cada uno de sus clientes las raíces de México y sus tradiciones con orgullo.


CANIRAC entrega premios en diversas categorías a los establecimientos que se destaquen en el negocio restaurantero. La CANIRAC de Puerto Vallarta nomina a candidatos para cada categoría. Hubo 12 nominados de Puerto Vallarta y orgullosamente El Arrayan fue el único restaurante reconocido este año.


A la ceremonia oficial de premiación y cena de gala asistieron personalidades del mundo gastronómico y turístico nacional, los representantes regionales y nacionales de la cámara, autoridades, proveedores institucionales y restauranteros.


Venga, disfrute en El Arrayan su delicioso, premiado menú y descubra por si mismo todos los sabores de México en un solo lugar. Cuando esté allí, asegúrese de revisar su lista de imaginativos cocteles o su diversa lista de vinos.

El Arrayan está ubicado en El Centro, calle Allende 344, a unos pasos de El Malecón. Abierto de miércoles a domingo para cena de 6pm a 11pm. Se aceptan tarjetas Visa Mastercard y American Express. Cerrado lunes y martes. Reservaciones en linea en ElArrayan.com.mx o llamando 222-7195.
---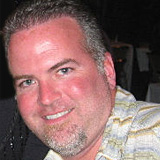 Born in Seattle, WA, Patrick Harrison has been living in PV since 2003. Drawing on his experience in entertainment, radio, retail and sports marketing in major US cities, Patrick opened his own business here in Vallarta, P. Gringo Marketing & PR, a successful Public Relations Firm that targets the English-speaking tourist and local communities. You can contact Patrick at patrick(at)pgringo.com
Click HERE for more articles by Patrick Harrison.
Tell a Friend
•
Site Map
•
Print this Page
•
Email Us
•
Top