Vallarta Living | September 2009
Becas Ball Prize — An Incomparable and Safe Trip to Michoacán

Polly G. Vicars - PVNN
Photos by Polly Vicars and Irene Johnson
September 01, 2009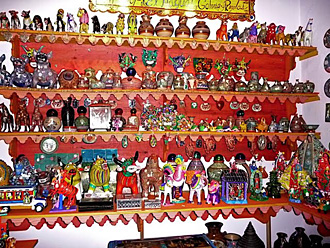 Some of the "dangerous" folk art collected by Las Casa de las Flores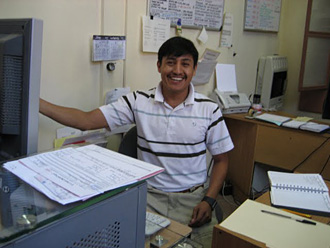 La Casa Encantada's genial Luis, the manager, greeter and all around fine young man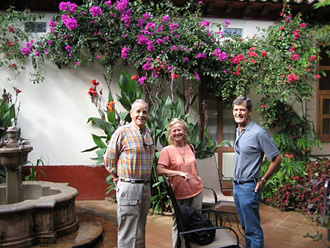 Husband, Irene and Carl in the flower filled patio of La Casa Encantada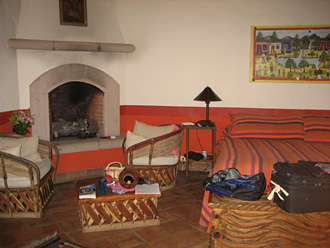 Our beautiful suite with the champagne cooling and the fireplace ready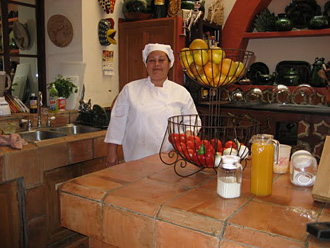 The charming and gracious Chef Josefina Ponce Ramirez, Jose to her friends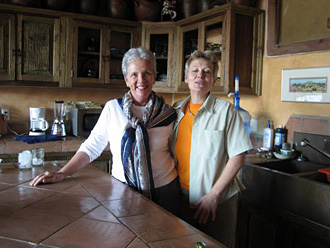 Our hosts, Victoria and Cynthia Ryan in the heart of their unusual home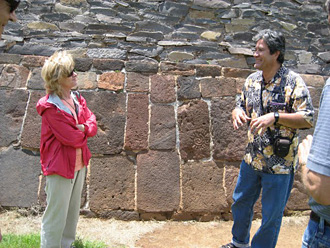 Miguel Nuñez telling Irene about the grand pyramids that had stood here almost 1000 years ago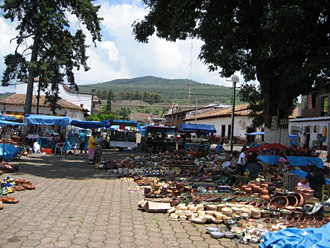 The "dangerous" display of crafts in the square of Tzintzuntzan just waiting to separate us from our money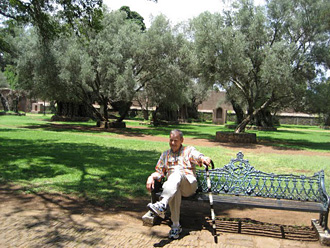 Husband resting among the centuries old olive trees in Tzintzuntzan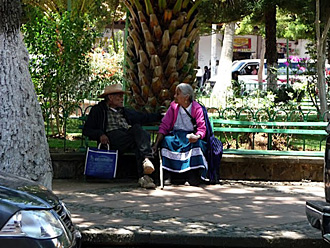 Purépecha people in the park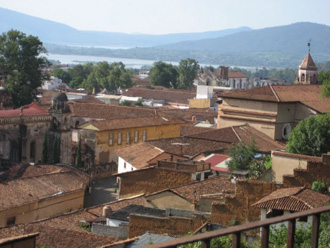 A magnificent view of the red tiled roofs on the ancient adobe buildings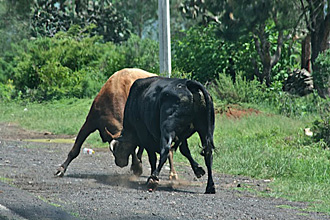 A bull fight in the middle of the roof sans matador, cape and sword
Despite the unwarranted warnings by the U.S. State Department, CNN and U.S. television channels of dangers when traveling to the Mexican state of Michoacan, Husband and I, along with Carl and Irene Johnson, put final touches on our long planned trip to Patzcuaro in Michoacán.


At the 2009 Becas Crystal Ball, Irene and Carl had been the high bidders for a three night stay for four persons at La Casa Encantada, generously donated by its proprietors, Cynthia and Victoria Ryan.


Through the years, Husband and I have traveled the length and breath of this country with only the most wonderful experiences with the Mexican people. We have been rescued when our old VW van broke down, shown the way when we were lost, invited into strangers home for a cool drink and made to feel like old friends after only a moment's relationship.


We have read of violence in specific places in Mexico, but we also have read of school shootings, jail riots, rapes, murders in our former state of Kentucky and all over the U.S. There have been no warnings against travel to Kentucky or the U.S. because of those incidents, nor should there be.


Mexico, like the U.S., is a huge, diverse country peopled with mostly hard working, law abiding citizens who live happy, productive lives with the same goals as people all over the world; a healthy, prosperous and happy lives for themselves and their children and their grandchildren. Of course there are also "bad people," but they are such a small minority that it makes my heart sick to see my adopted country branded as a lawless land when quite the opposite is true.


We began our trip beautifully with an overnight in the unique suburb of Guadalajara, Tlaquepaque, at La Casa de las Flores with genial hosts Jose, Stan and Carlos. This B & B, living up to its name of The House of Flowers, is located in the heart of the village surrounded by streets filled with galleries and stores displaying unusual and beautiful arts and crafts.


The B & B itself is a museum of Mexican crafts, lovingly collected by Stan and his partners. We were treated to a fascinating history of the collection by Stan. There Irene found a large painted pot with a reasonable price that she just had to have.


Soon Stan was preparing this treasure for travel by filling it with the dishes I had just bought at the El Palomar, a factory we had first visited 20 years ago when we selected dishes for our new home. The dangerous urge to shop for beautiful and reasonably priced objects de arte and crafts should have been the warning issued - not the possible criminal dangers.


In Michoacan, Patzcuaro and the surrounding villages of Tzintzuntzan, Erongarícuaro, the Lake Patzcuaro Isla Janitzio, as well as the capital city Morelia are shoppers paradises! Artists and artisans abound with incredible goods at prices that I just couldn't pass up. Irene and I bought tablecloths and bedspreads made from locally crafted colorful cotton, hand painted trays, exquisite hand made and hand painted pottery.


We learned of the area we were visiting from a fantastic guide, historian and anthropologist Miguel Nuñez. I'll share some of the history of this area in hopes of enticing you to make this trip yourself.


On our walking tour Miguel told us that Patzcuaro was first settled in about 1324 and is one of the oldest cities in Mexico. We marveled at the 300 year old one and two story adobe buildings that are still standing sturdily and in use after all those years and an untold number of earthquakes in the area.


Before the Spanish conquest, Pátzcuaro was one of three principal centers of the local Purepecha Indians (more popularly known as the Tarascans). It is said that its early inhabitants believed Pátzcuaro to be the doorway to heaven where the gods ascended and descended and it is easy to see why and to think that could still be true today as the land is fertile, the climate is temperate, the air is clear and the people are exceptional.


Miguel told us that the Spanish first came to Michoacán in 1521 and a violent decade of destruction followed. The Conquistadores tore down the magnificent pyramids, enslaved many of the people, brought small pox to the area and effectively ended this 300 year old culture that many say exceeded the heralded cultures of Europe.


The conquerors along with the priests who came from Europe set building their own churches as a priority. They used the stones from the destroyed pyramids to build them and put them right on the sites of the old pyramids. Those ornate churches stand today, purportedly Catholic, but strangely mixed with many of the old ways of the Tarascans.


When Cristobal de Olíd and his regiment of Spanish conquistadors first arrived in Tzintzuntzan, they found a city of 40,000 and the capital of the Purépecha Indian Empire. Today parts of this ancient city still stand guarded by gnarled olive trees surrounded by stone circles and one hears the purépecha language spoken by most of the artisans of the area.


We visited this sacred place overlooking Lake Patzcuaro and found it to be almost magical. You felt the beat of a thriving city of cultured and educated people and your heart hurt that man's inhumanity to man that destroyed this culture is alive and well in many parts of the world in the 21st Century. How can that be?


On our short drive back to Patzcuaro from visiting Tzintzuntzan, whose name means home of the hummingbirds, we encountered the real danger of driving in Michoacán (and Mexico in general.) Our driver braked as we all exclaimed, "Bull fight!" There was no matador, no pomp, no red cape, but there were several large bulls coming onto the road fighting each other ferociously!


We stopped for the fight, snapping pictures of the brawling bulls. Perhaps the danger everyone is writing about when visiting Mexico should be the fact that there are no fence laws here so that cattle, sheep, and other four-legged animals use the highways along with the cars and trucks! We continued to Patzcuaro and Miguel continued our education on the area.


He told us that in 1540 the Spanish moved their local government to Pátzcuaro from Tzintzuntzan. The Spaniards developed Patzcuaro as a government and religious center until they moved it to Valladolid (now named Morelia) in 1580.


It was central to the careers of two diametrically opposed characters in Mexico's colonial past: Nuño Guzmán de Beltrán, the vicious conquistador who plundered the area for gold ... and his eventual replacement ... Vasco de Quiroga, a former judge from Mexico City who had become a priest.


I learned more by reading on the Internet and found that "Vasco de Quiroga helped the Purepecha Indians in the Pátzcuaro area by introducing new crops, establishing schools and hospitals, and introducing craft cooperatives in various nearby villages. While the cooperatives (an idea Quiroga adopted from Sir Thomas More's Utopia) have not survived, village specialization in crafts still marks the region as one of the most culturally rich in Mexico."


Having survived two dangers, spending most of our money and dodging fighting bulls on the highway, we returned to our beautiful abode, La Casa Encantada. Enchanted indeed! When we arrived the day before we stepped into a courtyard surrounded by colorful flowers, fountains and folk art. We were welcomed and shown to our rooms by the genial Luis, the manager, greeter and all around fine young man whose command of the English language was exceptional.


Our spacious room had fresh flowers, a bottle of champagne chilling and a fireplace! A fireplace when in Vallarta all anyone wants is a well functioning air conditioner! Patzcuaro's altitude is 7,130 feet (a far cry from Vallarta's 1 to 20 feet) and has a temperate climate with sunny days and cool (for us cold) evenings year round.


The stay included breakfasts lovingly prepared by the charming and gracious Chef Josefina Ponce Ramirez, Jose to her friends. These breakfasts included fresh squeezed fruit juice using local fruits, home made yogurt, cereal, eggs cooked in imaginative ways with delicious breads and coffee.


One morning Josefina's Fritatta was so delicious that I pressed her for the recipe, which I will happily share with you if you like. The dining area was the meeting place for the guests and we were happy to meet a great group from Puebla with whom I am now corresponding.


Our hosts, Cynthia and Victoria invited us to cocktails in their unusual home overlooking all of Patzcuaro. They built it from their own design to accommodate the spaciousness they wanted on an extremely narrow lot. The house was filled with art, some by Victoria herself, and others by locals and well know artists.


We sipped our cocktails on the balcony with a full view of the rooftops of the ancient city and the beautiful Lake Patzcuaro. We were joined by 3 dogs and several cats who exhibited friendly, but proprietorial attitudes.


Victoria and Cynthia had found the secret, seemingly innate in most Mexicans, that brings strangers into the heart and makes them family. We were so at home and at ease with Cynthia and Victoria that in a matter of minutes we were firm friends. We dined together that night at their (and our) favorite restaurant, Mistongo's, an Argentine restaurant owned and run by vivacious Susie Santiago. We ate the local trout cooked to perfection and, of course, made a new friend in the lovely Susie.


We left La Casa Encantada, its owners, its staff and the beautiful surroundings with feelings that we would return soon and often. I had brought newsletters, copies of my book and my enthusiasm for Becas Vallarta with me. Obviously all of this was convincing as we had the promise of another donation of the three nights for four people for the 2010 Becas Ball.


Victoria, quite a gifted artist, offered to donate one of her lovely paintings as well. Miguel, our wonderful guide who would later meet us in Morelia to bring that city to life for us, offered his services as a guide to go along with the stay next year.


We went on to the capital city of Michoacán, Morelia. It is a beautiful city of no more than three story buildings, all maintaining the facades appropriate to the area. We toured with Miguel, ate in some great restaurants and looked forward to a longer visit in this city on a future trip.


We arrived home in Puerto Vallarta, safe and sound with the Johnson's SUV filled with our treasures and our hearts filled with memories of the people we had met and the places we had seen. So Becas Ball goers, be prepared to outbid all the others if you want to have this fascinating experience for yourself - or better yet, give the gals and Stan a call and schedule your trip right away. Travel to Michoacán. You will love it!


WHERE TO STAY:


La Casa Encantada
Dr.Coss No. 15
Patzcuaro, Michoacán Mexico
Tel: 01-434-342-3492 within Mexico
Tel: 1-619-819-8398 outside Mexico
Email: cynthia(at)lacasaencantada.com


Casa de las Flores
Santos Degollado #175
Tlaquepaque, Jalisco
Within Mexico but outside Guadalajara: 01-333-659-3186
Email: info(at)casadelasflores.com

---

Polly G. Vicars and her husband of almost 60 years, Hubert (a.k.a. "Husband") retired to Puerto Vallarta in 1988 and soon became active members of several charitable organizations. Polly is the author of "Tales of Retirement in Paradise: Life in Puerto Vallarta, Mexico" [a sell-out!] and "More Tales of Retirement in Puerto Vallarta and Around the World." Proceeds from the sale of her books go to the America-Mexico Foundation, a scholarship foundation that is their passion.

Click HERE for more articles by Polly Vicars, or click HERE to learn more about Becas Vallarta and the America-Mexico Foundation.
Tell a Friend
•
Site Map
•
Print this Page
•
Email Us
•
Top