Vallarta Living | October 2009
Church on the Move: Worship in Paradise on the Beach

Nisa V. Salmans - PVNN
October 20, 2009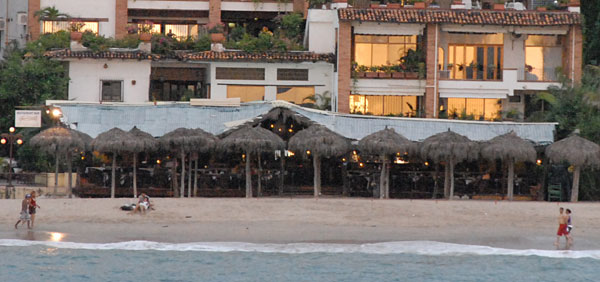 English-speaking church services will be held at El Dorado Restaurant on Playa Los Muertos, Sunday mornings from 9:30 am until 10:30 am. For more information visit WorshipInParadise.org.
The popular English-speaking Church at the Santa Barbara Theater is on the move. Because of extensive remodeling at the theater, the church which normally meets there Sunday mornings is now the Church on the Beach.


Temporarily, the Church will meet at the beautiful beach restaurant, El Dorado. El Dorado is located at the foot of Pulpito Street, south of the pier, on Los Muertos Beach, next to La Palapa Restaurant. The meeting time remains the same, Sundays from 9:30 am until 10:30 am.


The community of faith will soon celebrate its second anniversary worshiping in paradise. The church, with the byline "Love God. Love People. Period." is known for its service in the community. Members of the church teach English at several locations, sponsor the CompassioNet Kid's Computer Training Center, sponsor the Vallarta Bookmobile through the Community Christmas Eve Service, operate a mobile kitchen which provides hot meals to under-resourced colonias, and host volunteer service teams from the U.S. and Canada.


The vision of the church is to provide a community of faith for expatriates living in the area, to provide a church home away from home experience for vacationers, to serve the community, and to lift up the poor. The inter-denominational church is open to everyone. The service is casual, modern in style, and everyone is invited to stay for a great breakfast which follows immediately after.


Pastor Ric says, "We are excited about this change. As a community of faith, we don't want to get caught in ruts so moving onto the beach for this time period is an opportunity for us to try something new and make the appropriate adjustments. This is an opportunity for us to learn and grow. A 'church on the move' is how we'd like to be known; we just didn't expect it to mean actually moving locations. Also the staff at El Dorado has been wonderful, the setting is absolutely gorgeous, and we enjoy a great breakfast together afterwards."


Looking for a place to belong? You just found it! Come worship in paradise. For further information visit WorshipInParadise.org.
Tell a Friend
•
Site Map
•
Print this Page
•
Email Us
•
Top