Vallarta Living | October 2009
Veteran Affairs: Lesson Learned

David Lord - PVNN
October 27, 2009
Viewing the Empires and the successes and failures made by them I realized we travel the same old road and make many of the same mistakes.
I have been traveling and, by leaving my familiar and comfortable surroundings in Puerto Vallarta, a new perspective was gained. The trips challenges were outweighed by my anticipation. The trip meant flying to Mexico City then to London, spending four days exploring everything from Westminster Abby to the Tower of London. Evenings were spent with my wife Susan at great theaters presenting "The Phantom of the Opera" and "Les Miserable."


In Barcelona, having another four days to explore before boarding ship, underway for Monaco, then Italy, Sicily, Greece, and Turkey all with too many historical sites to mention. I traveled into the past glories or tragic loss of Western Civilizations spanning the past eight thousand years. The triumphs of Man, hearing of the legends with Heroes, Heroines and Villains, a full blown glory or a full blown hell. Being up close, seeing what was created in war, then enduring it for better or worse.


My lesson learned was simple, yet profound. I leaned that my Pride of Country is based on ideological doctrine passed to me as a child of Midwest America. The greatest of my life sacrifices was during a war that required me to risk my life. It shaped me then as it has ever since, by performing my duty to assist veterans.


My Country is so young in terms of History, we Americans think of two-hundred-thirty-four years as if we have some long chain of Democracy spanning back into democracies creation. We forget that Greek City-States were practicing Democracy over two thousand years ago.


We think of ourselves as the first (now only) Super Power, but the Romans were running the entire western civilization from Egypt to England two thousand years ago as a Super Power. We have so much to realize about ourselves as Americans. We are brave and proud, but then so was Rome, to a fault.


Viewing the Empires and the successes and failures made by them I realized we travel the same old road and make many of the same mistakes. That the wars fought always had some goal which had consequences never meant to be.


There is no end it seems, always another war to reshape the old war or a new administration reshaping alliances. Leaving the soldiers' sacrifice buried on a battlefield or in the hearts of family. I profoundly felt this when I sailed past Gallipoli, being so saddened by the half million lives of soldiers lost. Secret political agendas and/or military mis timing then, gave rise to a gigantic Monument today as tribute to those soldiers wasted on those beaches and hillsides.


My lesson learned is this, I write as one Marine come back, not to march in parades, but to honor the sacrifice of those fallen, to speak for those that did not return because if they could they would make claim for those that did. Veterans forgotten and walked over in graveyards, those that have monuments and those that don't. Those living Veterans who may have no legs or arms and carry the scars of war both inside and out.


I will write for the recognition of their sacrifice and work at providing these Men and Women information that government and bureaucrats do not share. They in the V.A. and Congress who exist to serve but lock away the access, the knowledge, while they bury Veterans not killed in battle under reams of paperwork and intentional delays. Their self serving barriers, barring benefits with purposeful intent, Democrats or Republican, they share equally in blame when they deny lawful benefits.


Sometimes I fight the very Government that provides these veterans services. I attack the nonsense that created and allowed the havoc at Walter Reed Hospital, the flagship of the Military. I exposed the V.A. Secretaries when Viet Nam, Gulf War, Iraqi, Afghanistan veterans all suffer chemical wounds, radiation exposures making cancers from the deadly forces used in war.


So I state when this season's articles go against the V.A. from my perspective, don't claim I am abusing President Obama's cabinet, like some readers claimed on President Bush's Cabinet. I have been cheered or jeered, depending on what Party the readers belong to, and I expect it will be no different in the future.


So remember this as you read my column, it is only my opinion on the issue, or the law. Take it or leave as you see fit, I am not claiming to be the final authority, although I do my best with the experience I have. I write for one reason, I share for one reason and I believe in myself for one reason. I am a U.S. Veteran with combat service that was up close and personal.


I do what every Veteran has always done by their service. Make a positive contribution for the good of other veterans regardless of the Nationality, Religion or Race. I write so you will know the rights and wrongs in the system, as well as the successes in treatment of veterans and their surviving families through Benefits They Earned.
---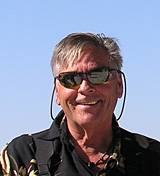 David Lord has been a National Veterans Service Officer doing veteran's benefits in Mexico for over a decade. Retired from the USMC, David received a Presidential Unit Citation for serving as a rifleman with the 1/26th 5th Marine Division at Khe Sanh Combat Base in Viet Nam in 1968, and a Purple Heart for the resulting gunshot wound. The medical and compensation benefits he has received from the Veterans Administration has played a critical role in David's life, and he uses his personal experience in the claims process along with his legal accreditation by the Department of Veterans Affairs and connections with congressional approved Veterans Organizations to steer veterans and dependents through the maze of regulations and entitlements due them from military service. For more information, email him at david.lord(at)yahoo.com.
Click HERE for more Veteran Affairs with David Lord
Tell a Friend
•
Site Map
•
Print this Page
•
Email Us
•
Top