Vallarta Living | November 2009
Living in Paradise is 'Paradise'

Polly G. Vicars - PVNN
November 24, 2009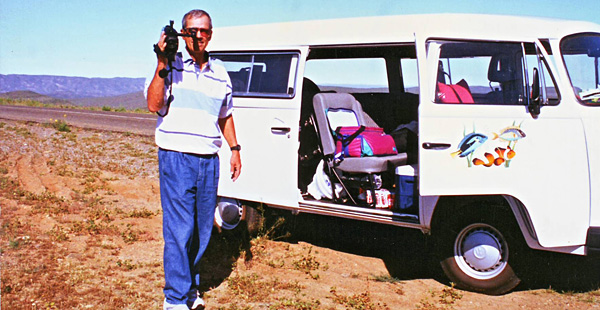 Husband traveling safely in the old VW van.
In reading Jim Sherrer's great article on BanderasNews today entitled "Dangerous Living in Mexico?" I agreed with almost everything he said. However, I have to correct a few misconceptions about Vallartenses or Mexicans from any part of this beautiful county. They do not need to be "taught to treat the Americans and Canadians with dignity, respect, kindness, and as friends" as stated in the article.


My bonafides are that Husband and I have lived here full time since 1988 in a condominium right on Los Muertos Beach in the heart of Old Town Vallarta, with no walls surrounding us. From our first days' encounters with native Vallartenses we were blown away by their friendliness, courtesy, openness, helpfulness and their delight in having us gringos from Kentucky, who spoke not a word of Spanish, move to their country. Those traits seem to be innate in Mexicans no matter where they live, no matter if their economy depends on tourism, no matter how ignorant we gringos sometimes seem to be about this culture.


We drove our old Volkswagen van all over Mexico in those early years and continue to travel Mexico, though now in a newer model automobile. Through those 21 years of traveling Mexico's byways, we have broken down, gotten lost, needed a place to stay on short notice, needed a doctor and a myriad of other problems small and large. In every instance a local Mexican came to our rescue, most of the time without our even having to ask, and took care of what ever problem we had and became a friend for life!


We have lived in safety and happiness in this beautiful paradise by the sea all these years without even a minor episode of rudeness or violence. When I read in the US papers daily of the incredible number of murders, rapes, mass shootings in offices and schools, as well as horrible hate crimes, I wonder how anyone could possibly think traveling to or living in Puerto Vallarta or Mexico could pose more danger to them than living in my former home of Lexington, Kentucky or almost any other city in the U.S.


Of course bad things can happen any place, here included. But here, it is the exception and the reason for that I attribute to the gentle and loving nature of the people of this culture who have exhibited such love and generosity to Husband and me.
---

Polly G. Vicars and her husband of almost 60 years, Hubert (a.k.a. "Husband") retired to Puerto Vallarta in 1988 and soon became active members of several charitable organizations. Polly is the author of "Tales of Retirement in Paradise: Life in Puerto Vallarta, Mexico" [a sell-out!] and "More Tales of Retirement in Puerto Vallarta and Around the World." Proceeds from the sale of her books go to the America-Mexico Foundation, a scholarship foundation that is their passion.

Click HERE for more articles by Polly Vicars, or click HERE to learn more about Becas Vallarta and the America-Mexico Foundation.
Tell a Friend
•
Site Map
•
Print this Page
•
Email Us
•
Top