Vallarta Living | Veteran Affairs | November 2009
November 11, 2009: Happy Veterans Day

David Lord - PVNN
November 10, 2009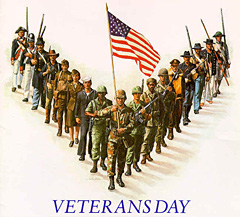 Veterans Day is celebrated each year on November 11th, let's all take some time to honor those who served in all American wars.
To all the Men and Women who have served in uniform I send my best and thank you for that service. Each of you has taken the step forward into the unknown for the defense and support of our Nation. You were not asked your opinion or consul on the direction you were duty bound to defend.


You trusted that those in positions of authority had well thought out the goals and intentions for the prosperity of our Nation and/or defense of others. I have seen many of the consequences of your service on your physical being and applaud the strength you exhibit in pursuit of claims for health care that are a result of the hazardous duties you fulfilled.


The words I use to convey my gratitude fall short, as we know the public acclaim for your service was speckled at best and sometimes sparse. In fact it fades with each new generation, with each new crisis, but do not let your dedication to truth and the Nation fade, it is a part of you more than anyone knows who has not served.


It takes special men and women like you to announce that your sacrifice for Nation was based on a belief that America was a force for good and freedom is a universal and fundamental right of the people; that Muslim's religion has now been replaced in some places by a fundamental fanatical religious belief that sacrifices the freedom for control of the people.


This choice now trumps all our efforts, leaving our goal unattainable with military force. Our sacrifices absorbed into an abyss where only tribal order survives and the brutal mentality of fundamentalist religion reigns.


The Ft. Hood Massacres is the true consequence of fundamentalist jihad within our country. They are not defeated even by death because each new death brings ten new converts from their deprived Muslims peoples.


I watch the Commanding General at Ft. Hood on T.V. explaining the shooting as under control. Saying that the one hundred Muslim solders on base are being supported as part of the Army team. I ask why are they so coddled?


I hear the General telling the Nation that the Muslims will be given the respect they have a right to, before our veterans are even buried. The General says this is a "isolated incident", I say it is not an isolated incident, it will continue and again they will strike.


We Veterans must apply our knowledge gained by our sacrifices to restrain the politicians that are seeking office at any price. Politicians declaring war but chasing oil, instead of Bin Laden, selling out by offering our military as the enforcer of policies that have no vision and no possibility of success.


We have spent Billions of dollars in Iraq to rid former President Bush Junior of Sadam. Why is Bin Laden still at large, the real enemy, the self proclaimed enemy of America? That mission is possible and we veterans should support any sacrifice in the pursuit and execution of that mission.


We pay in cash the one hundred fifty thousand private contractors in Iraq and soon more in Afghanistan. Those companies like Haliburton,. Now the number of projects is unknown for certain, the cash payments continue without any accounting of the exact amounts paid.


The point is you cannot defeat people's religious passion with money or arms, not there or at home. Imagine trying to stop a born again Christians from practicing their faith in America, it cannot be done. So why do the politicians think we can stop fundamentalist Muslims in a war against their religion they claim.


I thank God we are free to practice personnel worship as each of us wishes in the western hemisphere, with respect for all religions. This new fanatical worship demands their own self destruction if necessary against the Infidel, and there is no way to defeat that.


I, as a Viet Nam veteran experienced a war where Politicians and Generals were willing to burn a village in order to save it. Ridiculous it was and is, as we now know. Now forty years later it is as if the fourteen years of war and 58,000 plus American lives were like water poured out on desert sand.


Vietnam today welcomes us after our defeat there, these many years later. Lets give the Middle East a chance to do the same by getting out now, they will solve their problems eventually. Veterans have lives to lead after the military service is over, lets not waist the opportunity to thank them in person, bring them out now. Let some special Marines get Bin Laden.
---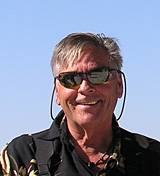 David Lord has been a National Veterans Service Officer doing veteran's benefits in Mexico for over a decade. Retired from the USMC, David received a Presidential Unit Citation for serving as a rifleman with the 1/26th 5th Marine Division at Khe Sanh Combat Base in Viet Nam in 1968, and a Purple Heart for the resulting gunshot wound. The medical and compensation benefits he has received from the Veterans Administration has played a critical role in David's life, and he uses his personal experience in the claims process along with his legal accreditation by the Department of Veterans Affairs and connections with congressional approved Veterans Organizations to steer veterans and dependents through the maze of regulations and entitlements due them from military service. For more information, email him at david.lord(at)yahoo.com.
Click HERE for more Veteran Affairs with David Lord
Tell a Friend
•
Site Map
•
Print this Page
•
Email Us
•
Top