Vallarta Living | December 2009
Posada for Becas Vallarta's Scholarship Students

Polly Vicars - PVNN
December 08, 2009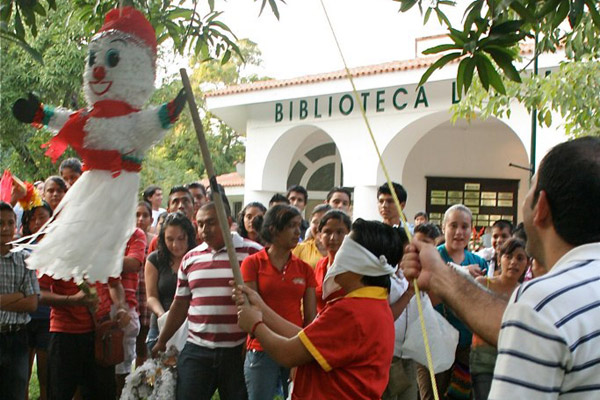 Hit that Piñata harder!
Almost 300 Becas Vallarta (America-Mexico Foundation) scholarship students gathered with the all volunteer cadre of the foundation to celebrate an eclectic Mexican Posada on Saturday, December 5, 2009 at the beautiful Los Mangos Library.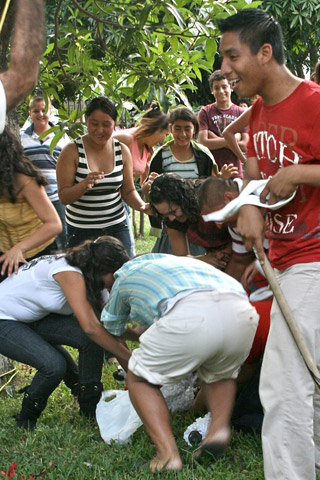 The mad scramble for goodies from the Piñata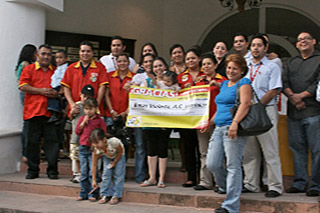 The Oxxo Group presents the Big Check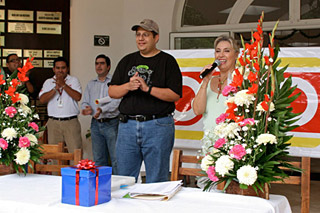 President Mariel thanking Max and Oxxo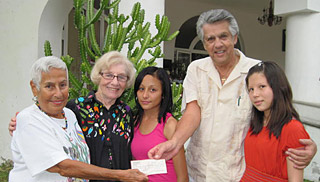 Len and Nellie Ambrose present the check to me with Isla and Mahanaim watching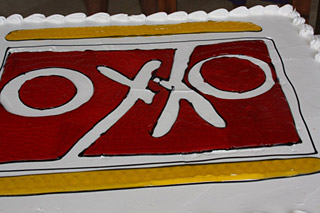 The Huge Oxxo Cake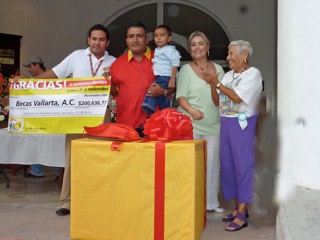 First Place Winner Armando Silvestre, from the Oxxo Decameron with his son, his new television, the big check, Mariel, Polly and an associate from Oxxo.
The traditional procession of Mary and Joseph, accompanied in song by President Mariel de Fregoso and a talented group of Mariachis, started the proceedings. The event then turned to robust gaiety to the stirring music of the Mariachis. Treasurer Cuquita Preciada blindfolded becado after becado to test their skill at swatting the beautifully constructed piñatas, artfully manipulated by Cheo Rangel.


The piñatas bounced up, down, and around as blindfolded girls and boys swung their sticks trying to send showers of candy raining down for the onlookers to pounce upon. Scraped knees and one sore head seemed worth it as becados scrambled on the grass picking up the spilled treasures.


When every Piñata was emptied, President Mariel, assisted by Linda Wirth and me, presented Certificates of High Achievement, signed by Mayor Javier Bravo Carbajal, to eighty of our students who had for the past school year maintained a grade point average of 9.5 or above. Amazingly, of this eighty, ten of them posted perfect 10.0's!


These remarkable 10.0 students are Debby Hernández Bernaldino, Daniela Patricia Hernández Martinez and Gabriela Yamile Peña Peña from Junior High La Eti #3, Alondra Yojaisa Hernández Preciado from Junior High Ixtapa #56, Paloma Anahy Aquino San Miguel, Sugehy Yadira Arechiga Gómez, Cinthia Dinorath Manzano Ramos from Senior High CONALEP, Verónica Saldívar Miramontes from Senior High COBAEJ and Alejandra Paola Castelán Chávez and Melissa Valverde López from Senior High CBTIS. We salute all of them for their hard work and dedication to their studies!


Then from the spacious front porch of Los Mangos Library, a very special event took place. Luis Maximiliano Alcalde Dominguez (Max), of Cadena Comercial Oxxo and several of his lieutenants, briefly addressed the gathered students before presenting to President Mariel a huge facsimile check (and a small real one) that represented the "rounding up" from the Oxxo stores in this area for the months of August, September and October.


This check is enough to pay for a one year scholarship for twenty-three university students or twenty-nine high school students or one hundred junior high students! Imagine that those centavos that you gave when you shopped at any of the Oxxo stores, added up to such an amount in only three months time! Becas Vallarta thanks Oxxo, their employees and you shoppers who were willing to "round up" on behalf of all of our scholarship students!


We were happy to present gifts, generously donated by local businesses Lans and Liverpool, to the five managers who brought in the most money: First Place: Armando Silvestre, Oxxo Decameron; Second Place: Rafael Rivera, Oxxo Hamburgo; Third Place: Jose Luis Michel, Oxxo San Carlos; Fourth Place: Aleyda Uriarte, Oxxo La Cruz and First Place for Tienda Six: Diana Leticia Robledo Garcia, Six Aeropuerto.


Another important event took place more privately. Longtime Becas supporters Len and Nellie Ambrose from Walnut Creek, California and Puerto Vallarta buy tickets to every event and pitch in to pay for needed items. Len holds the record for selling the most raffle tickets at our Becas Breakfasts.


This year, they decided to join our select group of Becas Compadres (which now includes Oxxo) who each year donate $5000 US or more to sustain the foundation that promises our students that as long as they continue to meet our requirements, we will fund their educations until they have reached their goals, whether it be high school or university.


We are very proud to have the Ambroses join this growing group that has doubled from seven last year and still growing. Leonard and Nelly wanted to present the check to me, as I am the one who always calls on them (they might say badgers them) for help, with two of the becadas, Isla Sareli Cortes Uribe who is in junior high in Buenos Aires #84 and Mahanaim Saldívar Martinez who is in high school at CECYTEJ. Len and Nelly have known the girls and their families for years and have watched the girls as they were growing up and are now very happy to be helping Isla and Mahanaim to change their lives through education.


During the festivities Becas members Suzie Erickson, Mary Ellis, Ana Caty Fenyvessi, Carlos Fregoso, Carl & Irene Johnson, Jerry Lafferty, Teresa Ryssemus, Sylvia & Vern Sorensen, Margaret Tolton and her guest Ruth, Sergio Valle and Linda Wirth were busy filling bags with tangerines, apples, pieces of sugar cane, cookies and candy, setting up the soft drinks, donated by Coca Cola, preparing to serve the delicious tamales made by Sergio Valle and donated by member Judy de Galeana and cutting the enormous cake donated by Oxxo. Earlier President Mariel had displayed an array of gifts she had purchased so that each becado would not only go home with fruit and cookies, but a small token of the love Becas has for each of the students.


Then came the awaited moment: the call "Tamales are served!" The always polite young people filed in an orderly fashion to get their tamales, soft drink, fruit, cake and gift. Then they spread out over the spacious lawn of Los Mangos to enjoy the food, drink and each other.


What a beautiful scene to see those handsome young people whose lives don't often include such largess, enjoying the day of conviviality and fun. And how gratifying that when it was over they all pitched in, unasked, to gather the trash, fold the chairs and tables and in no time the grounds and the porch were back to normal.


I only wish each of you could have witnessed this beautiful day of love and friendship that joined us North Americans from Mexico, Canada and the United States. Tentative Spanish and English did not always breach the language barrier, but the hugs and traditional cheek kisses that were exchanged did. Nothing can exceed the glow I felt as strapping young university men and tiny junior high girls took my hand, gave me a hug and a kiss and whispered "Muchisimas Gracias" to me. This is as good as it gets!
---

Polly G. Vicars and her husband of almost 60 years, Hubert (a.k.a. "Husband") retired to Puerto Vallarta in 1988 and soon became active members of several charitable organizations. Polly is the author of "Tales of Retirement in Paradise: Life in Puerto Vallarta, Mexico" [a sell-out!] and "More Tales of Retirement in Puerto Vallarta and Around the World." Proceeds from the sale of her books go to the America-Mexico Foundation, a scholarship foundation that is their passion.

Click HERE for more articles by Polly Vicars, or click HERE to learn more about Becas Vallarta and the America-Mexico Foundation.
Tell a Friend
•
Site Map
•
Print this Page
•
Email Us
•
Top