Vallarta Living | December 2009
Phacoemulsification Cataract Surgery in Puerto Vallarta

SF Productions
December 12, 2009
If you would like to learn how you can advertise your Banderas Bay area business on Spotlight on Vallarta, contact David Tarr in Puerto Vallarta at 044-322-133-0138, or call 1-877-824-1277 toll free from the US.
Can you say "Phacoemulsification?" Dr. Jose Antonio Rodriguez can not only pronounce it, he is the first board-certified ophthomologist in Puerto Vallarta to use this state-of-the-art cataract removal technology on cataract patients.


Cataracts are a problem for approximately 50 percent of people over age 65. 70 percent of Americans aged 75 or more have their vision significantly impaired by cataracts. Cataracts can be caused by numerous factors, from diabetes to frequent exposure to bright sunlight.


In phacoemulsification cataract surgery, the surgeon uses a local anesthetic, cuts an opening in the cornea, then uses a minute ultrasonic probe to emulsify the cloudy lens, which is then aspirated from the eye and replaced with a clear, plastic lens. The "phaco probe" is an ultrasonic handpiece with a titanium or steel needle. The tip of the needle vibrates at ultrasonic frequency to sculpt and emulsify the cataract while the pump aspirates particles through the tip.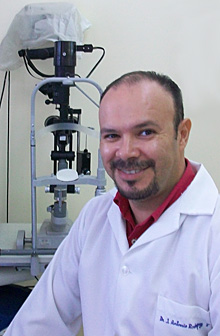 To arrange a consultation with Dr. Rodriguez, contact HealthCare Resources Puerto Vallarta at (322) 222-9638, 044-322-107-7007 and Nextel 145-6912 or info(at)healthcareresourcespv.com.
After removing the hard central lens nucleus with phacoemulsification, the softer outer lens cortex is removed with suction only. Aspirated fluids are replaced with an irrigation of salt solution. According to Dr. Rodriguez, this type of cataract surgery takes 20-30 minutes for each eye. An overnight stay in the hospital is routine. Complete recovery takes about two weeks.


Patients can save up to 40 percent on what they'd pay for the identical surgery in the US. But, that's not all. "The doctors, hospitals and surgical techniques in Vallarta are on a par with US," says Dr. Rodriguez. My American patients discover that the technology is up-to-date with well-maintained surgical equipment and clean, sanitary facilities."


You don't have to have 20/20 vision to see that having eye surgery in Mexico - especially in Puerto Vallarta - is a win/win proposition.


To arrange a consultation with Dr. Rodriguez, call HealthCare Resources Puerto Vallarta at (322) 222-9638, 044-322-107-7007 and Nextel 145-6912 or send an email to info(at)healthcareresourcespv.com.


Eliminate Guesswork and Jitters with PV MedTours


Considering elective surgery in Mexico? Now you can meet doctors, tour medical facilities and learn firsthand why so many Americans and Canadians have already chosen Puerto Vallarta for safe, affordable elective surgeries.


SF Productions TV is offering 4-7 day "Medtours" to introduce you to doctors and specialists who can address your questions and concerns in English. During your tour, you will also get a taste of the tropical Paradise that is Puerto Vallarta, with an insider's personal introduction to the best beaches, hotels, restaurants, galleries and shopping. To learn more about MedTours, Call Toll free from the U.S. - 877-824-14277 or 561-337-5879 or send an email to Dave(at)sfproductionstv.com.


Sources: Dr. Jose Antonio Rodriguez; AllAboutVision.com; DocShop.com; Wikipedia.com; MedicalNewsToday.com.

SF Productions is a full service production and marketing company in Puerto Vallarta Mexico, whose expert staff can design any film or marketing project to fit your needs at any budget. To learn more about SF Productions, click HERE or visit SFProductionsTV.com.
Tell a Friend
•
Site Map
•
Print this Page
•
Email Us
•
Top