Ortega Show at Corazon Gallery Fine Folk Art in San Pancho Jan 30

Ed Schwarz - PVNN
January 23, 2010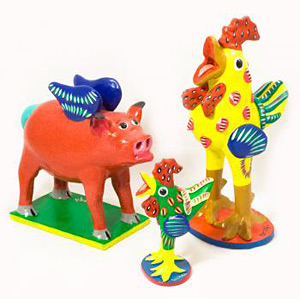 For one night only, Gerardo Ortega will be at Corazon Gallery in San Pancho to present his family's rich artistic heritage.
San Pancho, Nayarit - Corazón, San Pancho's fine folk art gallery, will present a special, one-night-only showing of the works of the famous Ortega family, with a wine and cheese reception for Gerardo Ortega, present head of the family, from 6 pm to 8 pm, Saturday, January 30. Corazón is in a new location in San Pancho on the corner of Calle Tercer at Calle Cuba, just steps from the beach plaza.


The Ortega family, from Santa Cruz de las Huertas in Jalisco, has been world famous for its colorful and boldly imaginative pottery since the 1930s. Well-known themes include bright, colorful roosters of all sizes, towers of dogs, towers of cows, pigs and cats. All the pieces that Sr. Ortega will bring to the opening are from a special collection and will be specially priced for collectors on that evening only.


Corazón owner Judi Levens said, "January 30 is a marvelous chance to meet a very famous artist whose work is seen in major Mexican folk art collections all over the world. We expect to be showing over 30 works, some never on view before and all for sale. This special exhibition is for one night only."


The other half of the exhibition space, Serendipity, will continue to offer the finest works by Huichol artists. Gallery hours are 11 am to 5 pm Tuesday through Saturday. For more information, contact Judi Levens at casaobelisco(at)gmail.com.