Vallarta Living | Art Talk
Own a Treasured Painting by Stefan Lökös, Early Master Artist of Puerto Vallarta

Polly G. Vicars - PVNN
January 25, 2010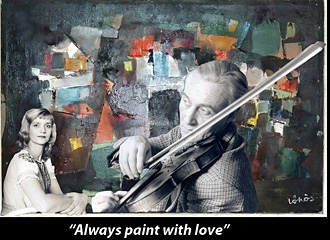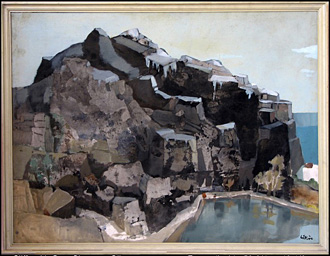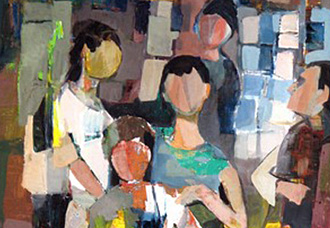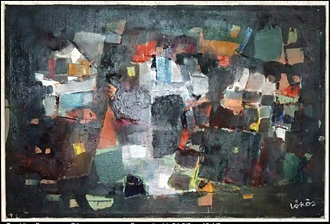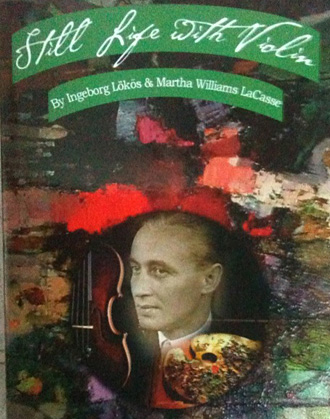 The website, lokos.hostei.com, created by close friend Lanaya Dix, consists of fabulous photos and descriptions of each painting.
A one-time opportunity just opened for art lovers worldwide! Inge Lökös the widow of internationally known abstract artist, Stefan Lökös, is offering an online website that will make it possible for collectors, as well as first timers, to own a "Stefan Lökös!"


Lökös, a Hungarian, was an accomplished violinist, as well as an artist. He graduated from the Royal Academy of Fine Arts in Budapest, Hungary in 1937 and from the City Law Academy in Miskoic, Hungary in 1942. He was almost immediately conscripted into the German army as Hungary and Germany had formed an alliance to fight the Communists.


Those were the early days of World War II and he was soon captured by the Russians and put into a concentration camp. There he used his wits and his skills to paint portraits for the officers and play his violin for them during their off hours.


This not only gave him a special rapport with his captors, but an opportunity to plan and execute an escape which led him to Vienna where he met the beautiful Ingé. She had made her tortuous way over the mountains from war torn Germany to Vienna to finally realize her dream of studying art.


Their story is right out of Hollywood (See "Still Life With Violin" by Ingeborg Lökös). Although Stefan had no country's identification papers they soon married and went through several years on the run in refugee camps in Italy, Syria and finally settling in Lebanon where Stefan's paintings made a significant donation to Lebanon's acceptance of 'modern art.' Their dream remained emigration to the promised land, the United States of America.


In 1954, their dream was realized and they established themselves in Woodstock, New York where Stefan gained much popularity for his abstract art and founded the successful Studio School and Gallery.


In 1967, Ingé and Stefan visited Puerto Vallarta and like so many of us, fell in love with everything about it. They began to make this paradise by the sea their winter home. Both in New York and Puerto Vallarta, Stefan's fame grew. He never gave up on his violin and frequently played concerts for friends and family. Sustained by his art, he enjoyed a successful career, with his works represented in many international private collections, universities and museums around the world.


Sadly, Stefan died in 1994, but Ingé is continuing their tradition of spending winters here in Puerto Vallarta. She has decided that she should sell the remainder of her beloved Stefan's paintings this year, with a private offering to provide her many friends in Puerto Vallarta, and around the world, the lowest prices possible.


Ingé, a long time supporter of Becas Vallarta, A.C./America-Mexico Foundation, Inc.'s scholarship program in Puerto Vallarta, is donating 10% of the sales from this dynamic website to help Vallarta's young people of great ability and little financial resources get the education they want and deserve.


The website, lokos.hostei.com, created by close friend Lanaya Dix, consists of fabulous photos and descriptions of each painting. In a personal message to friends and other art lovers, Ingé, wrote, "I truly hope that you will take advantage of this unique opportunity to enhance your homes with these treasured paintings from one of the early master artists of Puerto Vallarta."


You can contact Ingé at her home phone (322) 225-2361 between 9 am and 11 am, or between 1 pm and 3 pm or email her at ingelokos(at)yahoo.com to discuss pricing and schedule an appointment to personally view the paintings.
---

Polly G. Vicars and her husband of almost 60 years, Hubert (a.k.a. "Husband") retired to Puerto Vallarta in 1988 and soon became active members of several charitable organizations. Polly is the author of "Tales of Retirement in Paradise: Life in Puerto Vallarta, Mexico" [a sell-out!] and "More Tales of Retirement in Puerto Vallarta and Around the World." Proceeds from the sale of her books go to the America-Mexico Foundation, a scholarship foundation that is their passion.

Click HERE for more articles by Polly Vicars, or click HERE to learn more about Becas Vallarta and the America-Mexico Foundation.
Tell a Friend
•
Site Map
•
Print this Page
•
Email Us
•
Top