Entertainment
Award-Winning Singer Kim Kuzma Performs until January 16 at Bite-Me!

Twila Crawford - PVNN
January 02, 2010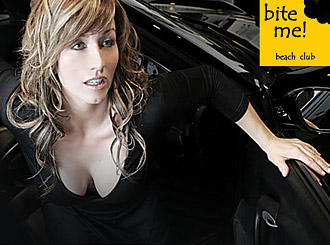 Kim Kuzma continues to perform at bite me! beach club every Monday and Saturday from 6-8 pm through January 16th.
What a party! Kim Kuzma displays her extensive vocal range with a big voice and sassy personality that makes her quite a dynamic performer at bite-me! Beach Club on the outside. She sings there until January 16, on Monday and Saturday from 6:00 - 8:00 pm.


Kim interacts extensively with banter with the audience. She sings everything from rhythm and blues to beat-driven dance tunes.


We were there with a group celebrating the first wedding anniversary of Donald and Patrice Tarkington. Donald had arrived just two hours before from his posting in Hawaii. Patrice's mother, Sybil Breitwieser, led the cheering and dance moves.


We were joined by little Briana (lovingly called Brianda) from the beach where her parents sell shrimp. She watches the performances and adds her own rhythm and clapping outside the glass doors. This particular evening, she was invited inside and sang, shook the tambourine, clapped and showed her rhythm. Someone in the audience offered to provide a scholarship for her education.


Another lively guest, drag artist Jamar (actual name Jamal), joined us in dancing in his beautiful gown. He performs at the Zenith club.


What a night!


Kim, who now lives in Palm Springs, CA, was voted Canada´s Best Independent Artist. She has written music for film and co-penned a song with singer Lara Fabian. She has performed in several countries. Kim has opened for legendary singer Harry Belafonte. Her CDs are featured at kimkuzma.com.



Kim, who is warm and caring, helps with charities for children here and elsewhere.


Tickets for her performances at Bite-Me! are $75 pesos, needing to be purchased before the sold-out shows. Tel: (322) 223-1521, ext. 234. Grant Hunermund runs a good operation in a beautiful setting. Fun, fun, fun!

Serving up yummy food, great drinks and a touch of attitude to the delight of many guests, bite me! beach club is located at Calle Malecon #167 on Puerto Vallarta's famous Los Muertos Beach (beside Hotel Tropicana). Open daily from 8:30 am to 6:30 pm. Events 6 pm to 8 pm. Credit Cards Accepted. For more information, click HERE or call (322) 223-1521 ext 234.
---

An award-winning journalist, Twila Crawford lives in Puerto Vallarta, where, in addition to contributing articles to BanderasNews, the PV Mirror and other local publications, she writes Out and About in Puerto Vallarta, an informative column that offers inside information about who, what, why, where and when it's happening around Banderas Bay.
Click HERE to read more articles by Twila Crawford.
Tell a Friend
•
Site Map
•
Print this Page
•
Email Us
•
Top