Entertainment
Welcome Addition to Vallarta Dance Scene

Sharon Benson - PVNN
January 07, 2010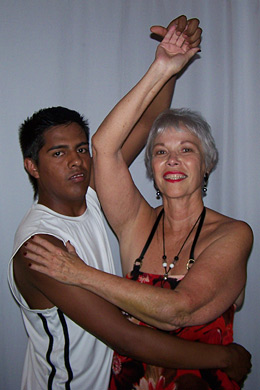 Love to Dance? Enjoy instruction of most Latin rhythms with Ziggy Alcaraz Mejia every Friday from 6:30-8:30 pm at bite me! Beach Club. For more information, call (322) 223-1521 ext 234.
Dancers are ecstatic to have found Ziggy Alcaraz Mejia, the new Latin dance instructor currently wowing students at Bite Me! Beach Club at Calle Malecon #167 every Friday from 6:30 – 8:30 pm. He has a special talent for demonstrating a dance in a way that students pick it up quickly and after only a few lessons they move gracefully and enthusiastically around the dance floor.


Ziggy, and his assistant, Gladys, grew up in Lagos de Moreno, Jalisco, a town with a genuine commitment to providing children and youth with creative and cultural activities. He started dance lessons at six years of age learning from Cuban, Argentinian, Spanish and Mexican instructors. He competed successfully with two first place awards ($5,000 pesos) for rock and roll dance in Guadalajara and Cumbia in Leon; and a second place award for Merengue in Mexico City.


Prior to coming to Puerto Vallarta he taught in Guanajuato and his hometown, Lagos de Moreno, where his Salon Latino Lagos de Moreno started with 20 students and now hosts classes of up to 150 people.


Latin Ritmo Dance Class includes Salsa, Cumbia, Merengue, Tango, Bolero and more for $50 pesos per session. The one hour class is followed by an hour of open dancing.


Serving up yummy food, great drinks and a touch of attitude to the delight of many guests, bite me! beach club is located at Calle Malecon #167 on Puerto Vallarta's famous Los Muertos Beach (beside Hotel Tropicana). Open daily from 8:30 am to 6:30 pm. Events 6 pm to 8 pm. Credit Cards Accepted. For more information, click HERE or call (322) 223-1521 ext 234.
Tell a Friend
•
Site Map
•
Print this Page
•
Email Us
•
Top