Entertainment | Restaurants & Dining
Tasty Morning Treats at Daiquiri Dick's

Laura Gelezunas - PVNN
January 02, 2010

Jump start your day at Daiquiri Dick's Restaurant in Puerto Vallarta. Breakfast is always a treat while watching the waves crash on the shore. This season dig into several new selections.


"I am always experimenting with new taste combinations," says Nacho Uribe, Executive Chef, "This is a corn cake, with fried eggs, topped with my special sauce made out of roasted poblano strips, corn and Mexican crème fresh."


The Deli, part of Daiquiri Dick's food services, bakes chocolate croissants, orange-liquor infused dried apricot scones, cinnamon rolls with raisins and spiced pumpkin raisin muffins. These are hot and fresh every day.


And no breakfast menu would be complete without a version of Eggs Benedict.


The chefs are braising spinach for Florentine-style eggs. The base is home made English muffins, which come from The Deli, topped with the spinach, smoked salmon, poached eggs and homemade Hollandaise sauce.


Omelets, Burritos, French Toast and many local recipes round out the wonderful breakfast menu, plus change is always good.


"We want to have something different, something fun," says Nacho, "I mean it's the season so we can play a little bit more in the kitchen and with recipes."


Don't forget to enjoy breakfast everyday starting at 9 am. Here are the latest menu options.


Home Made Pastry


• Fresh Baked Chocolate Croissant
• Orange Liquor infused Dried Apricot Scone
• Cinnamon Roll with Raisins
• Spiced Pumpkin Raisin Muffin


Fresh Baked Bagels - from 'our deli'- with whipped cream cheese or butter, or add smoked salmon, onion and capers


French Toast - homemade Challah bread; with cinnamon bananas and pecans


Eggs Benedict - over house baked English muffin with hash brown potatoes and fruit salad


Eggs Florentine - smoked salmon and spinach over house baked English muffin


Chilaquiles - crispy tortilla chips and red or green sauce with eggs any style or grilled chicken breast


Sunrise Burrito - filled with scrambled eggs, chorizo, tomato, onion, jalapeños and avocado salsa


Croissant Sandwich - filled with scrambled eggs, smoked ham and cheese


Eggs
all egg dishes served with hash brown potatoes and refried beans


Scrambled Eggs - "a la Mexicana" - tomato, onion and chiles


Scrambled or Fried Eggs - ham, bacon, breakfast links or chorizo


Scrambled or Fried Eggs with Poblano Cream - fried or scrambled eggs over corn cake with poblano sauce


Steak and Eggs - grilled flank steak topped with two eggs


Rancheros - fried eggs & ranchera sauce on corn tortilla


Divorciados - two fried eggs with red and green sauce on corn tortilla


Omelettes


• Ham and Cheese
• Shrimp and Goat Cheese
• Smoked Salmon and Ricotta
• Bacon, Onion, Pepper and Potato
• Chicken and Salsa Mexicana
• Spinach, Mushroom and Goat cheese


Breakfast at Daiquiri Dick's Restaurant in Puerto Vallarta is the perfect way to start the day. Watch the beach come alive in the early hours while lingering over an espresso. There is free WIFI access, so you can check your emails and get the latest information and news on your laptop.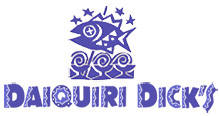 Daiquiri Dick's contemporary design exudes a quiet elegance that invites relaxation, and its tropical location at Olas Altas 314 on Los Muertos Beach offers the perfect atmosphere for enjoying spectacular views of Banderas Bay. For reservations call (322) 222-0566. For more information, visit DDPV.com.

Click HERE to read more about Daiquiri Dick's.
Tell a Friend
•
Site Map
•
Print this Page
•
Email Us
•
Top