Vallarta Living | Veteran Affairs
Gettysburg Address Tells All

David Lord - PVNN
January 14, 2010
It was November of 1863 when Lincoln stood before the field where thousands of souls lay buried and delivered his address to those gathered there in remembrance.
Fourscore and seven years ago our fathers brought forth on this continent, a new nation, conceived in Liberty, and dedicated to the proposition that all men are created equal.


Now we are engaged in a great civil war, testing whether that nation or any nation so conceived and so dedicated, can long endure. We are met on a great battle-field of that war. We have come to dedicate a portion of that field as a final resting place for those who here gave their lives that that nation might live. It is altogether fitting and proper that we should do this.


But, in a larger sense, we cannot dedicate-we cannot consecrate-we cannot hallow-this ground. The brave men, living and dead, who struggled here, have consecrated it, far above our poor power to add or detract. The world will little note, nor long remember what we say here, but it can never forget what they did here. It is for us the living, rather, to be dedicated here to the unfinished work which they who fought here have thus far so nobly advanced. It is rather for us to be here dedicated to the great task remaining before us - that from these honored dead we take increased devotion to that cause for which they gave the last full measure of devotion-that we here highly resolve that these dead shall not have died in vain - that this nation, under God, shall have a new birth of freedom - and that government of the people, by the people, for the people, shall not perish from the earth.

While reviewing topics for this week's article, I came across the above copy of the Gettysburg Address by President Lincoln. Although I write in a foreign country with many nationalities present, I hope the address makes my opinion clearer.


I thought how clearly he stated and how clearly people understood the principles fought for in war. That those soldiers both son's and brothers had given their life in a struggle that would determine the future of all the Nation. A deep commitment to principles and participation by all the people of the Nation was required in that war.


I wonder now what Abraham Lincoln would think about our current use of sons and brothers and now daughters and sisters in Iraq and Afghanistan. Would he understand support the sacrifice of soldiers without clear objective and defined goals?


I say no, an unfocused objective and war for war's sake does not secure America. This enemy must be fought one by one and not by our Armies used as a occupying force. We cannot buy the peace by spending billions of dollars on roads and infrastructures, because no amount of dollars will stop religious fanatics from destroying them again. In 2010 we face many problems at home, including security.


Our President should be taking action against Terrorist here at home. The Ft. Hood military massacre, the near death of 300 folks on Christmas day 2009, are not even treated as Terrorist attacks. How can we claim to be fighting a war on Terror, when we are afraid to act even at home against them?


Something is very wrong with a Government that refuses to see the danger on our doorstep. Forever spending money across the world and forgetting the peoples' concern and protection at home is dangerous.
---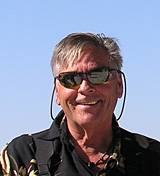 David Lord is a V.A. accredited Veterans Service Officer living full time as a resident of Mexico. David is retired from U.S.M.C. for a gunshot wound, his unit received the Presidential Unit Citation at Khe Sanh Combat Base. He was a rifleman with the 1/26th, 5th Marine Division in 1968 during the 77 day Siege at Khe Sahn, then awarded The Purple Heart for a gunshot wound in Quang Tri Province. For more information, email him at david.lord(at)yahoo.com.
Click HERE for more Veteran Affairs with David Lord
Tell a Friend
•
Site Map
•
Print this Page
•
Email Us
•
Top